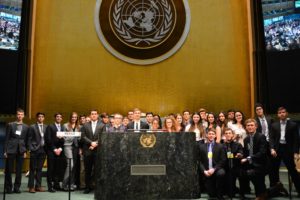 For the first time in its 43-year history, the National High School Model United Nations (

NHSMUN

) conference–the largest high school Model United Nations conference in the world–will host two conference sessions in March 2017.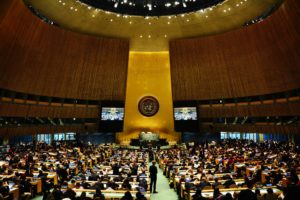 As
NHSMUN

's popularity around the world has soared, so too have the number of delegates that attend it. Just this year,

NHSMUN

2016 reached an incredible size of 3,800 delegates, placing it comfortably among the largest conferences in the world. However, even with such a large conference,

NHSMUN

must turn away more and more students every year that apply for, but don't make it off of 

NHSMUN

's waitlist. To better serve the most talented

MUN

delegates from around the world with smaller, more personalized committees, IMUNA made the strategic decision to break

NHSMUN

into two identical sessions.
This bold change to

NHSMUN

's conference programming is expected to increase the cumulativenumber of delegates able to attend the conference and improve the experience of delegates in committees at the same time. Because

NHSMUN

2017 will host 21 committees in each session–for a total of 42 committees overall–students will have more opportunities to engage in debate that is tailored to their experience and skill set, whether they are new to

MUN

and looking to gain exposure to debate and parliamentary procedure or experienced in debate and looking to hone their

MUN

prowess through small committees and late-night crises. Delegates this year will have more opportunities to represent countries that are more immediately involved in the selected committee topics, as obscure country assignments will be less common, and they will have many more opportunities to speak in debate, as most committees will face a 30-percent reduction in size.
On top of all this, the

NHSMUN

conference will continue to connect its outstanding 125-person staff with interested schools ahead of both sessions.

NHSMUN

's staff is composed of some of the best and brightest collegiate students studying a multitude of topics across the globe–resulting in a diverse experience for all delegates attending the conference. Further,

NHSMUN

staff will continue to develop and publish new online guides and resources for delegates and faculty advisors on the conference website, and they will continue to publish relevant stories for MUNers globally on the conference's social media platforms.

The first

NHSMUN

session will be held from

Friday, March 10 to Monday, March 13, 2017

, while the second session will be held from

Wednesday, March 15 to Saturday, March 18, 2017

. Both sessions will continue to be held at the New York Hilton Midtown Hotel and at the United Nations Headquarters, and they will follow the same schedules. As of October 1, conference registration is open! To learn more about the

NHSMUN

conference and how to register, visit 

NHSMUN

.NYC.
 This article is a
 guest post written by the National High School Model United Nations (NHSMUN) Team.