There are many definitions of success in Model UN, and awards are not the purpose of Model UN. Nevertheless, they have existed for decades in North America as a way to recognize delegates and teams for their accomplishments at Model UN conferences. Best Delegate created the North America College Rankings to find out which team is the best on the circuit and to recognize teams for their accomplishments across conferences throughout the school year. Read more about our purpose and philosophy here.
Circuits Overview & Disclaimer
There are two informal circuits in the North American college Model UN community. One circuit features teams that primarily attend competition-oriented, university-organized conferences such as HNMUN, UPMUNC, McMUN, and ChoMUN that give out individual awards and limited school awards. Another circuit features teams that primarily attend academically-oriented, independently-organized conferences such as NMUN, SRMUN, AMUN, and MUNFW that give out many school awards.
The North America College Ranking is meant to only capture the successes for the first circuit, informally dubbed the "World Division" after Harvard WorldMUN on this website. This is because the latter circuit, informally dubbed the "National Division" after NMUN, does not value the competitive aspect of Model UN nor does it give out individual awards and therefore does not have data that could be used in a rankings formula. Thus, please note that only about half of the Model UN community is recognized in these rankings. Many other high quality teams exist in college Model UN, such as the delegation award winners at NMUN Conference A and NMUN Conference B, that are arguably equally good as the teams on this set of rankings.
For teams participating in the university-organized conferences circuit, please note that rankings are relative to other teams' results. It is also best to compare year-over-year rankings with the 2012-2013 Final rankings rather than the mid-season fall 2013 rankings. Teams tend to perform consistently across the year, so teams tend not to move up or down much relative to each other from the fall rankings.
In addition, two college-level recognition platforms that are determined by votes from readers of this website include:
Methodology & Credits
The methodology uses the sum of weighted scores across all conferences that a team has participated in at university-hosted conferences in North America plus at WorldMUN. A full explanation of the methodology as well as insight into the purpose and philosophy of the rankings can be found in the link above. It has not changed from the one that has been used for the past two years, but new conferences such as &MUN and MUNE are included in the formula and weightings do change every year.
Notably for this year, HNMUN had a slightly lower weighting due to several top teams not being able to participate due to a snowstorm. McMUN and ChoMUN had slightly higher weightings as both conferences have slightly increased in size and competitiveness; McMUN's higher weighting helped a record twelve Canadian teams place into the rankings. However, many of the mid-sized and smaller conferences received lower weightings, as the proliferation of these conferences have spread thin the circuit and watered down the competitiveness of each conference. One small conference did not submit awards data.
The average number of conferences won per top-25 team has increased to 6.24. In comparison, this number was 6.04 in 2012-2013 and 5.32 in 2011-2012.
Credits: Huge thanks to the Best Delegate Media team members who helped put this article together by sourcing the conference awards data, the Head Delegate quotes, and the team photos. This year's project lead was Katherine Bonner, and she was assisted by Ashley Rhoades, Erik Leiden, Ellen Perfect, and Oliver Nacey.
Suggested Changes to the Rankings
Part of Best Delegate's social mission in Model UN is to promote the successes of the participants and organizations in the Model UN community. We find no value in promoting competition, which itself should not be the purpose of Model UN anyway. However, there are three types of Model UN teams that have been negatively impacted by rankings, and we would like to hear your feedback in the comments section.
1. Teams that do not attend university-hosted conferences feel that the rankings do a disservice to their success or community. About half of the college MUN community in North America does not participate in university-hosted conferences that give out individual awards (i.e. they attend conferences such as NMUN). Do these teams want to be recognized for their successes in some way, and if so, what would be the appropriate platform of recognition?
2. Teams that attend university-hosted conferences but feel it has become too competitive. Many Media Associates have reported that delegates have expressed concerns that the circuit has become too competitive this year. What can Best Delegate do to address this issue, either by modifying the rankings (e.g. they are now tiered at the high school level instead of place ranked) or by providing some other service?
3. Teams that attend university-hosted conferences but feel geographically or financially disadvantaged. East Coast teams and wealthier teams have the advantage of attending more conferences and therefore boosting their scores in aggregate scoring. Should a cap of six conference scores — about the current average of conference wins by top-25 teams — be implemented in future rankings?
**
Top 25 Final Rankings for 2013-2014
1. University of Chicago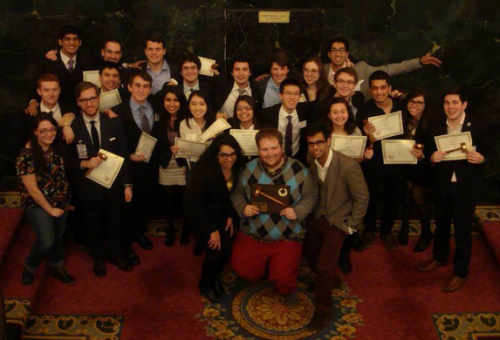 The University of Chicago is once again the #1 team on the college circuit and is the first team to achieve two end-of-season #1 rankings since they have been published. UChicago had a nearly undefeated season. UChicago absolutely dominated the competition at HNMUN and had a weighted score equal to the combined weighted scores of the next two best teams, FIU and Yale. That enabled UChicago to regain the Best Large Delegation at HNMUN. The dominant win also helped boost UChicago's score from HNMUN and made up for the conference's slightly lower weighting than usual due to a few top teams like UPenn and West Point being snowed out from attending.
Beyond HNMUN, UChicago won the Best Large Delegation at both UPMUNC and NCSC. The team also received the Outstanding Large Delegation at CMUNNY where it was barely edged for top honors by Georgetown. Finally, UChicago was one of several teams that tested out McMUN, a conference that takes place around UChicago's high school conference dates, and UChicago's smaller delegation there came away with a top ten finish. The McMUN result helped it make up scores it would have normally received by attending another mid-sized conference and helped it narrow Georgetown's advantage at McMUN. Overall, UChicago's higher quality first place finishes gave the team a slightly higher rank than Georgetown despite attending three fewer conferences. The team also hosted ChoMUN to end the season for the entire circuit.
Head Delegate Eric Wessan said of the team, "over the course of this year, the University of Chicago has strode toward excellence in all facets of Model United Nations.  We brought a record number of unique delegates to more conferences than we ever had before.  We introduced a training regimen that empowered first-years to grow both as delegates and as part of the Model United Nations family. We aspired to produce a culture of winning and success that will hopefully continue for years to come." Head Delegate Nisha Bala added, "UChicago Model UN tried to diversify itself this year not just in striving at excellence on the circuit, but also diversifying the campus population that we were able to reach. This year we more than doubled the number of first years we were able to take to conference, who have risen admirably to the occasion. We are incredibly proud of the team and all they have accomplished this year!"
2. Georgetown University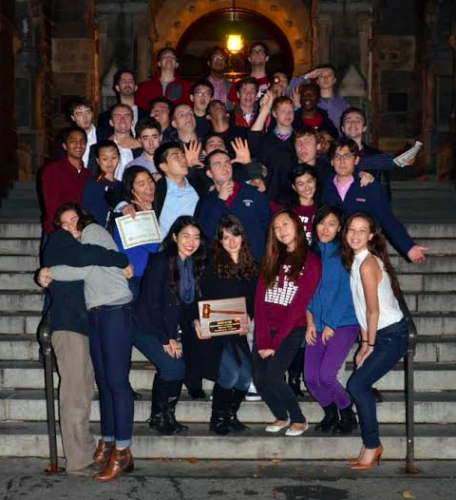 Georgetown is a world champion after winning the Best Small Delegation at WorldMUN in Brussels, Belgium this year. This is Georgetown's second time attending WorldMUN and the team has quickly adapted to the diplomatic culture there and made WorldMUN attendance a priority. In North America, Georgetown went head-to-head with UChicago for the top rank this year. The team defended its Best Large Delegation award at McMUN and won the Outstanding Large Delegation award at two other competitive conferences: UPMUNC (behind only UChicago) and ChoMUN (behind only Harvard). In addition, the team received the Best Large Delegation at CMUNNY and VICS, the Outstanding Delegation award at WPMUNI, and finished third at SCSY. With large delegation results of 3 first-place finishes, 3 second-place finishes, 1 third-place finish, plus one small delegation award,  it was obvious that the team would land at either #1 or #2, and ultimately Georgetown came very close to UChicago in aggregate scoring for the #1 ranking. The team also hosted NCSC in the fall.
Head Delegate Jeff Caso balances both awards and a broader mission, saying that "as someone who believes not only in the competitive elements of Model UN, but also in the teamwork that is forged among like-minded individuals from all over the world, I could not be any happier with how this semester has gone! At Georgetown, we prioritize the 'mission statement' of our Model UN team above all else, in the sense that we believe that everyone has something to learn from each other. Over the 2013-2014 academic year, we've gotten to know a tremendous bunch of underclassmen who will one day lead our team to new heights — but what's so special to me is that, even though older people have mentored younger people all year long, the underclassmen have taught us all something new! I sincerely can't wait for next year so we can show the circuit all that Georgetown stands for, both inside and outside the committee room!"
3. Harvard University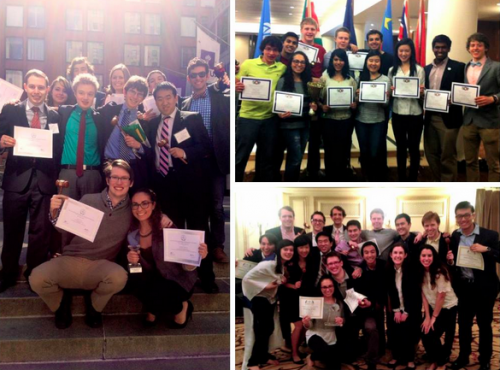 This is the best Harvard team since the rankings have been published, and expectations have changed in the past four years from attempting to win a small delegation award to consistently winning Best Large Delegation awards. Harvard's rise has been methodical and characterized with consistent improvement as successive head delegates have transitioned well and built upon the successes of their predecessors. The #3 ranking is also the highest Harvard could reasonably reach under the aggregate scoring formula given that it cannot compete at HNMUN or WorldMUN — there is considerable distance between the #2 and #3 ranks — unless it somehow dominates all of the rest of the major conferences.
Harvard was close to winning a delegation award in the fall, coming in third overall in terms of weighted score at UPMUNC, NCSC, and CMUNNY and fourth at SCSY. It tested out McMUN for the first time during the winter period where it traditionally focuses on hosting its own college and high school conferences, and was able to add a good number of awards there. Then in the spring, Harvard came out in full force, taking home three straight victories with a Best Large Delegation at ChoMUN, a Best Small Delegation at UCBMUN, and a Best Large Delegation award at NYUMUNC. Harvard also helped host or staff three college conferences: HNMUN in Boston, HNMUN Latin America in Natal, Brazil, and WorldMUN in Brussels, Belgium. HNMUN-LA will be in Lima, Peru next year and WorldMUN will be held in Seoul, Republic of Korea next year.
Head Delegate Delany Sisiruca said of the team, "throughout the past academic year, Harvard has stressed both preparation for conference and a cohesive team culture, two focal points that carried over even after the transfer of power between head delegates in the spring. Harvard's increased focus on training has resulted in especially strong up-and-coming underclassmen, as demonstrated by the Best Small Delegation win at UCBMUN by a team composed exclusively of freshmen and sophomores. Harvard's team has been very successful this spring: in addition to its win at UCBMUN, Harvard won Best Large Delegation at both NYUMUNC and ChoMUN."
4. University of Pennsylvania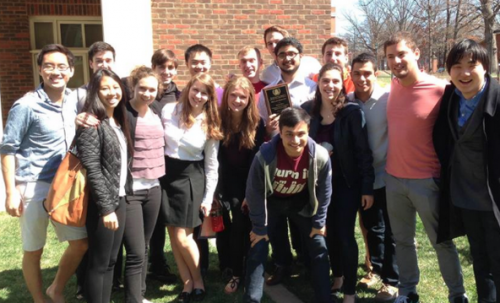 UPenn was one of several major teams that were affected by the snowstorm and could not attend HNMUN, but it still put together an impressive record across nine conferences. It had a strong start to its season when it won three Outstanding Large Delegation awards out of the four conferences it attended in the fall at NCSC, SCSY, and BarMUN. It also finished in the top five at CMUNNY in the fall and hosted UPMUNC, the fall championship on this circuit.
To UPenn's credit, they tried to give their members more opportunities to participate at conferences after missing out on HNMUN and signed up for several of the spring crisis conferences. In the spring, the team came in third behind only Georgetown and Harvard at ChoMUN, won the Best Large Delegation at VICS, dominated the field at PICSim to win Best Delegation, came in second at NYUMUNC, and won awards at WPMUNI. Overall, it is impressive that UPenn was able to put in enough consistently strong performances to garner a top five ranking despite not attending HNMUN, UPMUNC, or McMUN.
Outgoing and incoming Head Delegates Akhilesh Goswami and Stephanie Herrmann issued a joint statement about the team, statement that "Coming into this past year, the Penn team spent time training and traveling with incoming delegates.  Under the leadership of Akhilesh Goswami, highlights for the Penn team include Best Large delegation at VICS and at PICSim. This upcoming year, Stephanie Herrmann, a rising junior, will serve as Penn's head delegate. Penn looks forward to an amazing year ahead packed with many conferences and unforgettable experiences."
5. Florida International University
When the current class of seniors were freshmen four years ago, FIU was seen as a team from the NMUN circuit that would do well at HNMUN but for the most part was not part of the university-hosted conferences circuit. Four years later and guided by successive leadership that emphasized hard work and methodical improvement, FIU is now deeply entrenched in the circuit and expected to be a regular contender against Ivy League-type teams for best delegation awards. In fact, FIU has become so much of a mainstay that they did not even attend NMUN this year.
On the circuit, FIU got its big breakthrough when it won the Outstanding Large Delegation award at HNMUN, placing it only behind U.Chicago. For most of the rest of the year, it competed as a small delegation, taking home the Best Small Delegation at NCSC and a pair of Outstanding Small Delegation awards at UPMUNC and CMUNNY. The team also contended for a delegation award at ChoMUN and won Best Delegation awards at the smaller WPMUNI and UNCMUNC conferences. FIU was not able to leapfrog UPenn in the rankings this year as UPenn had higher weighted scores in all head-to-head matchups except at WPMUNI and UPenn won at more conferences and more awards per conference as a primarily large delegation. Nevertheless, FIU's top five ranking puts the team in elite company and in good position to challenge the rest of the teams in the future.
Head Delegate Mark Hodgson explained that the team's focus goes beyond winning awards though. "We were certain that our mission shouldn't be just about sending the proven to harvest awards, but to offer the conference experience to as many students as possible. Our goal to expand from a Small Delegation in the Fall to a Large Delegation in the Spring served the dual purpose of granting greater student access to conferences and creating a backbone of younger delegates for the future of our program," he said. He added that the team won the delegation awards at the spring conferences "with a historic number of new members in our MUN family, with half of our delegation having less than a semester of experience. We're so proud of the hard work our entire team put in this semester, and thrilled to be rewarded with success."
6. United States Military Academy at West Point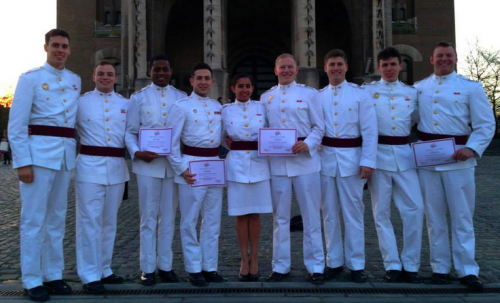 Although West Point was not able to attend HNMUN this year due to the snowstorm, it was able to showcase its highly respected team at other major conferences around the world. In North America, West Point captured the Best Small Delegation at McMUN and UPMUNC, won an Outstanding Small Delegation award at UCBMUN, and contended for delegation awards at NCSC and SCSY. In Europe, West Point received the Best Small Delegation at OxIMUN and came in tied with Best Small Delegation winner Georgetown at WorldMUN and tied for second among North American teams behind only Yale. A few awards at HNMUN may have pushed the team into the top five, but nevertheless West Point once again demonstrated that it is one of the best small delegations in the world.
Head Delegate Brandon Moore reflected, "looking back on this year, the team has truly made my job easy as Head Delegate. Though the Class of 2014 has been something of a dynasty (shout out to Claire Williams, Jack Worthington, Warren Geary, and Pat Brown), we've also been fortunate to recruit some outstanding talent this year. We anticipate next year will be a rebuilding year for the team, but I have complete confidence that Pat Beauregard and Megan McNulty will lead the team to another successful year on the circuit. Though my time on the circuit is now over, I cannot express enough gratitude to MUN for all the remarkable friends and experiences it has offered."
7. Yale University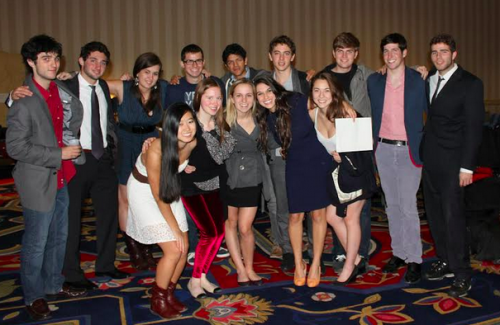 Yale had a great year despite not winning a delegation award this year. MUNTY won the most Diplomacy Awards among North American teams at WorldMUN where it contended for a Best Large Delegation award, and in fact Yale's large delegation doubled the awards intake of WorldMUN Best Small Delegation winner Georgetown. The team also narrowly missed out on a delegation award at HNMUN, where it came in third behind U.Chicago and FIU. In addition, Yale competed for a delegation award at UPMUNC where it finished in the top five. An elite GA team, Yale also won a few awards at crisis-oriented NCSC. Overall, the Yale team's high quality wins at prestigious, Harvard-hosted HNMUN and WorldMUN helped in rank once again in the top ten despite attending only four conferences in an aggregate-scoring based ranking. Yale also hosted SCSY in the fall.
Head Delegate Haley Adams said, "I have been very proud of the way MUNTY has performed this year, and although we did not take home a delegation award, I was incredibly pleased with the way individual delegates performed. While there is always room for improvement, I could not be happier with the amount of effort that our delegates put into the team."
8. Claremont McKenna College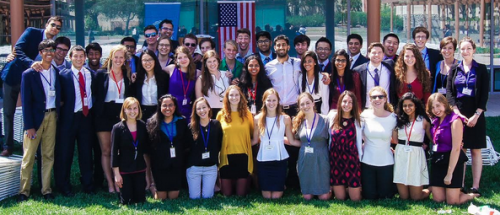 If the East Coast establishment has not taken note yet, it should now. No longer content with just winning the Best California Delegation at UCBMUN, this year Claremont McKenna took on the full circuit and topped Harvard, West Point, UCLA, Columbia, and others when it won the Best Large Delegation at UCBMUN. Of course, West Coast and WorldMUN teams had already taken note of CMC in the past few years, and the team's performances at other conferences this year was strong again. The team won multiple awards at WorldMUN, UPMUNC, and NCSC this year. The team was also able to hold off a strong challenge from Berkeley for West Coast supremacy in the rankings, and it "split" its head-to-head meetings with a Best Large Delegation at SBIMUN ahead of Berkeley and a Best Small Delegation at LAMUN behind the higher weighted score of the larger Berkeley delegation.
Overall, CMC's story is significantly different than where it stood just a few years ago. Incoming Head Delegate Aseem Chipalkatti remarked, "CMC's team has come a long way since I joined my freshman year, thanks in no small part to the cadre of seniors who are graduating this year. That said, we've recruited an exceptional freshman class, and look forward to picking up some more talented individuals for the next year, and continuing the trend of success that we've been having over the past few years. We're all very excited to see what the next year holds." Outgoing Head Delegate Kanupriya Rungta added, "I am unbelievably proud of all the team has achieved this year. Going forward, we want the team to continue its performance while building upon its skills, meeting people, and having fun!"
9. Columbia University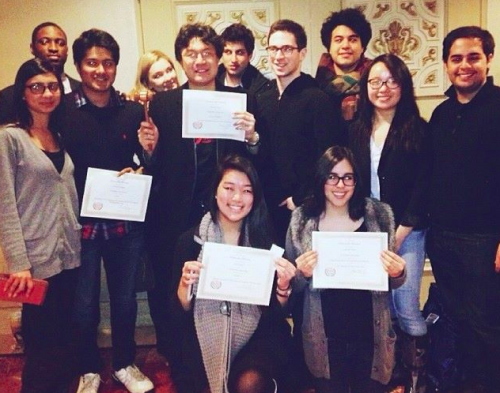 Columbia was a prolific at traveling this year, and it also displayed marked improvement in terms of success at the many conferences that it attended. The team did best at mid-sized crisis conferences, where it captured the Best Large Delegation award at SCSY over the likes of U.Penn, Georgetown, and Harvard, and placed in the top five at UCBMUN and NYUMUNC. The team also won awards at UPMUNC, ChoMUN, NCSC, VICS, and BarMUN. However, their one other notable win was finishing among the top ten North American teams at HNMUN, showing that Columbia may have potential for further success at large, GA-oriented conferences. Columbia also hosted CMUNNY at the beginning of this year, a conference that some felt was the best among mid-sized crisis conferences. The team was led by Head Delegates Michael Ying and Chris Crant.
10. Rutgers University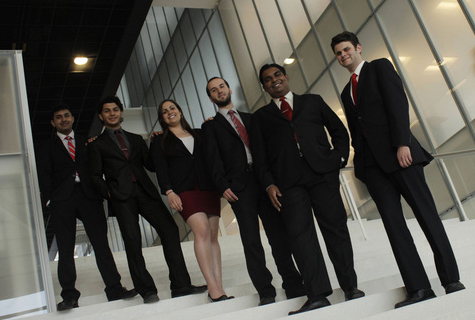 Rutgers is back in the top ten — tied for its highest rank to date — primarily by amassing wins across nine conferences. As one of the two top ten teams this year that do not host a college conference, they were able to fully load up its conference schedule with all of the most competitive conferences: HNMUN, UPMUNC, McMUN, ChoMUN, and NCSC. Similar to Columbia, its favorable East Coast location also allowed the team to field delegations to SCSY, CMUNNY, NYUMUNC, and FCMUN. Its nine conference schedule is also notable for being the most among public universities and among teams that do not directly also host a high school conference. The team did best with top ten finishes at McMUN and SCSY, and won a few awards at each of the other conferences.
Head Delegate Evan Gottesman said, "Rutgers fielded a very young team this past season: freshmen represented a plurality or majority in nearly all of the delegations we sent out. Despite this being a new activity for many of our delegates, both first-time freshmen and returning veterans put on an impressive performance for one of Rutgers' best years on record. 2013-14 was also our Head Delegate, Dan's final year, and with strong leadership and a lot of hard work from our delegates, he has left behind a team with a bright future. We look forward to the fall, to giving new delegates a chance to compete and to bringing back committed veterans, to seeing old friends and new faces and to another exciting season on the collegiate circuit."
11. Boston University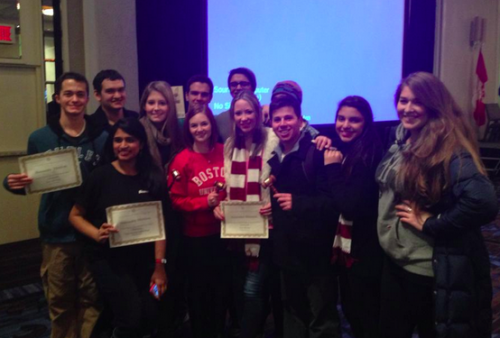 BU's results this year showed that it is closer to the top ten ranking they received last year than the top 15 range of rankings they have received in the past. That is despite the fact that the team was relatively young compared to previous teams. BU seems to be slightly better at crisis or smaller conferences than at large and competitive GAs. The team placed in the top three at NYUMUNC, top five at NCSC, top ten at McMUN, and right outside the top ten at ChoMUN, and had solid performances at HNMUN and UPMUNC with multiple awards each. The team also hosted BarMUN in the fall.
Head Delegate Alix Neenan said that this year, "BU focused on building a relatively young team to make sure that our success is institutionalized and consistent. Despite the focus on training this year, I am still very proud of the performance put forth by every member on the team. Now that it is the end of the year, I can say with great certainty that I am extremely excited to return to the circuit this fall with a team that is stronger than ever."
12. University of California, Berkeley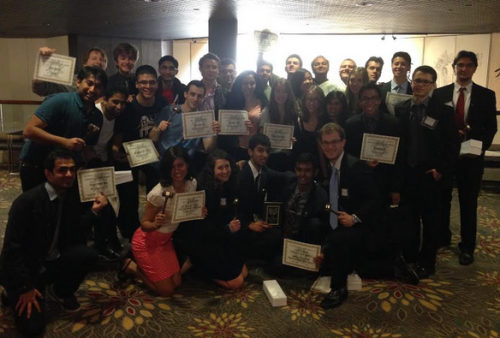 Berkeley fielded an all-around good team this year that did well in both GA and crisis committees, and that enabled the team to secure the #12 ranking. This is Berkeley's highest ranking to date and it also helped the team narrow the gap against top West Coast team Claremont McKenna. Berkeley did best at the end of the spring semester, winning the Best Large Delegation at LAMUN in a dominant twenty-award performance ahead of Claremont McKenna and winning Best Small Delegation at ChoMUN over rival Stanford. It also won the Outstanding Large Delegation at GA-oriented SBIMUN in the Fall. In addition, the team won its share of awards at GA-heavy HNMUN, UPMUNC, and McMUN and at the crisis-oriented CMUNNY. The team also hosted UCBMUN in the spring.
Head Delegate Apratim Vidyarthi explained the team's success this year, stating, "the UC Berkeley Model United Nations team has seen a vast jump in the quality of delegates, especially MUN freshmen, through increased and intensified training. As one of the few public and West Coast teams active on the circuit, and with delegates having to pay their own way to conferences, UCBMUN's achievement this year is an unprecedented first." He added, "While sad to see a senior class of 16 leaving UCBMUN, including MUN veterans like ex-head delegates Shannon Thomas and Anirudh Garg, as well as President Sebastien Welch, newly (re)-elected head delegates Anton Wideroth and Apratim Vidyarthi aim to build upon this year's work by further maximizing the efficiency of training, by closing the gap between the caliber and potential of novice delegates, and going to more conferences, while maintaining the work-hard-party-hard attitude that is intrinsic to UCBMUN."
13. The George Washington University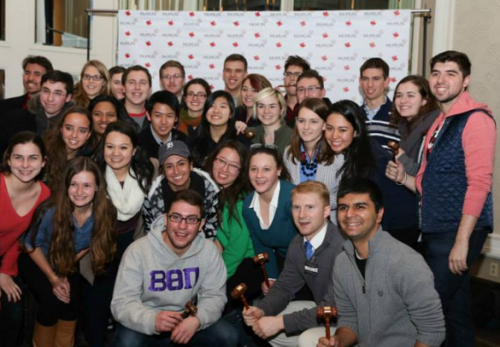 GW did not get the chance to attend HNMUN this year due to the snowstorm, but it still put in a good season. Namely, the team put in an impressive performance at McMUN where it finished third overall behind the two delegation award winners, Georgetown and West Point. The team also won awards at UPMUNC, ChoMUN, NCSC, SCSY, CMUNNY, and UCBMUN, plus a Best Delegation at &MUN. GW was missing a lot of its original junior class Colonial Cadets due to study abroad or internships in the Fall, but the strong second semester performance could indicate that the freshmen and sophomores are now good enough to help the team contend again.
Head Delegate David Berris mentioned the ups and downs, remarking that "we were no stranger to adversity this year, but coming away with a Best Delegation at &MUN and solid performances at every conference we attended in the spring semester, it was a total team effort. Looking towards next year we hope to come back in full force by emphasizing the "team" aspect of our Model UN program. I'm confident that we can take the momentum that we've built up into next season and have some fun while we're at it."
14. New York University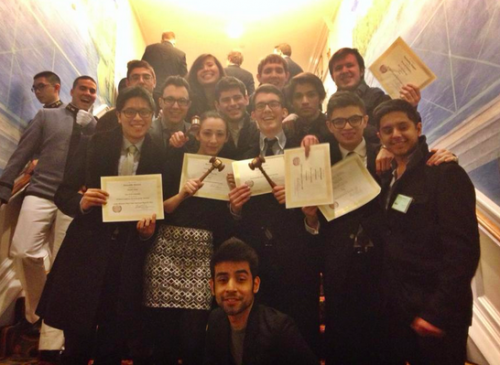 NYU loaded up its schedule this year with only competitive conferences and won awards at each one en route to another high ranking. This year, the team won awards at HNMUN, UPMUNC, McMUN, NCSC, and CMUNNY. In fact, NYU finished in the top ten at both HNMUN and UPMUNC, showing that it can go head-to-head with the best teams in North America and in the world. It also did particularly well at cross-town CMUNNY where it put in a top five performance. Finally, the team hosted its mega-joint crisis NYUMUNC in the spring.
Head Delegate Isabelle Klinghoffer said, "this past year has been a challenging yet extremely successful one for our travel team. We fielded a particularly young team, and have been blown away by both their progress and accomplishments. I am looking forward to expanding upon both our training program and recruitment process next year, and cannot wait to see what this incredible team will achieve!"
15. University of Miami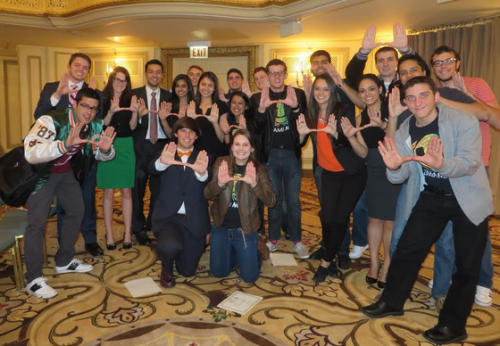 UMiami is not only a top-15 team but also a champion this year after capturing the Best Small Delegation at HNMUN. This is a big improvement compared to the last two years when it hovered in and out of the top 25, and the #15 ranking is tied for the highest ever for the team and is the second highest among teams that attended four or fewer conferences this year (Yale is the other but fielded a large delegation at HNMUN). Miami's strong spring semester included a top five finish at ChoMUN, a conference where they have done well in the past few years. The team also won the Outstanding Small Delegation award at SCSY and finished just outside the top ten at UPMUNC.
Head Delegate Marie Hanewinckel said, "seeing such a young team grow so much over the course of the year has been amazing. Our team set out with several goals this year – one of which was to win best small delegation at HNMUN – and they definitely could not have been accomplished without maintaining the fun and passion the UMiami MUN family is proud of. The countless hours of hard work put in by everyone have definitely begun to set a new standard for UMiami MUN that we hope to continue into next year."
16. University of Florida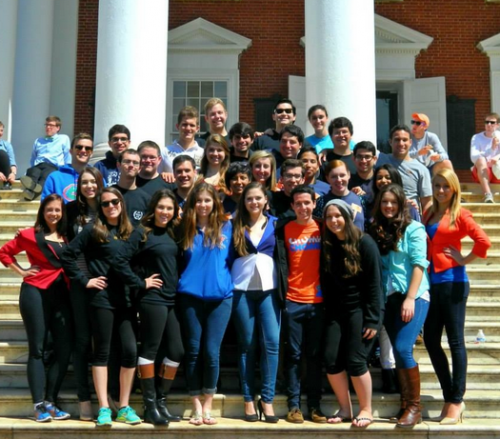 UF achieved its highest rank yet with a resume that includes top ten finishes at three of the larger conferences, UPMUNC, McMUN, and ChoMUN, a Best Small Delegation award at CMUNNY, and a third place finish at VICS in terms of weighted score behind Georgetown and UPenn. In addition, the team won an Outstanding Delegation award and a Distinguished Delegation award at SRMUN. In addition, UF is helping to expand the training conference opportunities in Florida with its continued hosting of FLCS.
Head Delegate Christopher Joyce said that the team achieved its three goals for the year: "First, we wanted to increase our presence and capitalize on last year's momentum. Second, we wanted to develop the young, but talented, members of our team. Finally, we wanted to bring home some hardware. Personally, I feel as though we accomplished all three. We attended more conferences than ever, including McMUN, we won more awards than any previous manifestation of UFs competitive team. Most importantly, fun was had by all. Taking all this into account, I would say that the state of MUN in the gator nation is good." Fred Kolb, who will return as one of the Head Delegates next year, added, "Receiving the Best Small Delegation award at CMUNNY was a very proud moment for all of us and while we did graduate some of our most talented members, I have no doubt that we will build on our achievements this upcoming Fall."
17. Clark University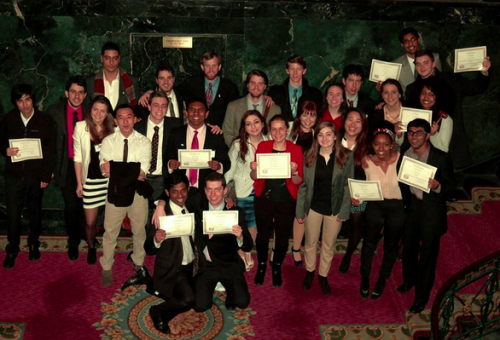 Clark greatly expanded its travel schedule this year and racked up awards at BarMUN, BUCS, CMUNNY, FCMUN, McMUN, SCSY, UPMUNC. But most important, it continued to prove that it is an elite delegation when it matters as the team finished fifth overall at HNMUN behind only three of the delegation award winners — UChicago, FIU, Simon Bolivar — and Yale.
Head Delegate Patrick Burchat said of the team's philosophy, "Clark has managed to stay in the top 25 for the last several years because of our absolute passion for and devotion to Model United Nations. This drive is represented by our philosophy of not focusing on winning awards, but about improving each member's self-confidence and public speaking, and maintaining a high level of integrity. We have expanded our travel regimen to 8 competitive North American conferences through the hard work of each and every member; most notably attending our first ever McMUN this past Spring. We pride ourselves in being a team, but also one big, bizarre and ticklish family."
18. Michigan State University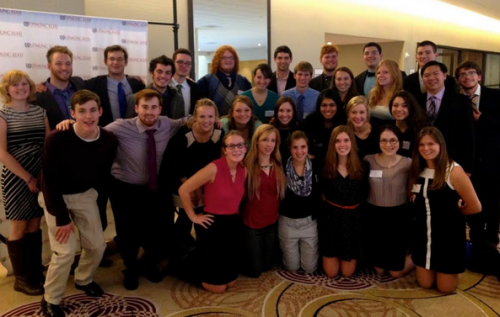 Michigan State had a strong season thanks to its top ten finish at UPMUNC and top five finish at McMUN. The team has traditionally been at full strength at McMUN and contends for the best large delegation award there. Its upset of UPenn at BarMUN also helped bolster the resume and show the potential of this team in going head-to-head with the best. Finally, MSU also won awards at ChoMUN. Much like this past football season, it held off B1G Ten rival Ohio State at the end of the MUN season, but OSU's higher finish and Secretary-General's award at ChoMUN means that MSU now has increased competition for bragging rights as the best Midwest team outside of UChicago.
Matthew McLaughlin will serve as Head Delegate for next year, and recaps that "this year has been a fantastic one for MSUIRO. With a great combination of veteran and rookie members, we have created a place of success and fun. I cannot express my gratitude for the leadership displayed by our veteran members this year and the executive board sees a bright future for our team in the coming year."
19. College of William & Mary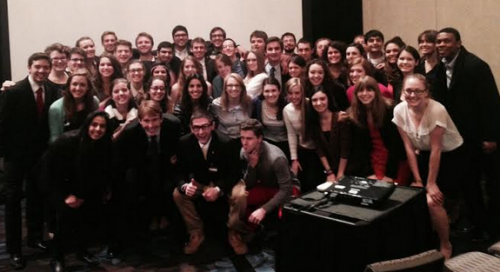 W&M is usually a top ten team, but they spent this season focusing more on investing for the future. That said, the team did contend for the best large delegation award again at McMUN with a fourth place finish, and it received a pair of Outstanding Delegation awards at smaller southern conferences, DISCon and MUNE. The team also won awards at UPMUNC, ChoMUN, WorldMUN, NCSC, and CMUNNY. Finally, the team hosted its second &MUN conference, a conference that has quickly developed interest among other college teams.
Head Delegate Connor Smith explained, "this was meant as an expansion year for the William & Mary team. We attended 9 conferences, inaugurated a new training curriculum, brought more of our delegates onto the circuit than ever before, and expanded our footprint to new places. I am really pleased at the level of experience this afforded our team, as well as how much perseverance they showed with such a packed travel schedule, as well as our conference hosting schedule. Next year, we plan to hone these skills and keep building all of the young talent we recruited this season!"
20. McGill University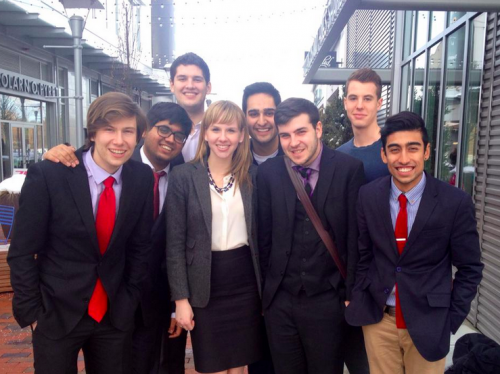 McGill has been improving every year since the rankings have come out and this year is no exception. This is McGill's highest rank to date and helps them maintain the title as the best Canadian delegation. This season's accomplishments include a solid performance at HNMUN, an Outstanding Small Delegation at VICS, a  top-five finishes at SCSY, awards at NCSC, and a Best Small Delegation award at CIAC. The organization also hosted McMUN in the winter, which was voted as tied with HNMUN for the best conference in North America.
Head Delegate Emmett Meacher seemed pleased with the team's strong performance this year. "The McGill delegations team is extremely satisfied which their performance throughout the year having unprecedented success on the circuit with numerous individual awards at and 2 delegations awards at 6 conferences. The team's accomplishments are a testament towards a new emphasis on training and preparation before the conference. With a great mixture of veteran and new delegates the team is quite excited to see how the next year will unfold."
21. Emory University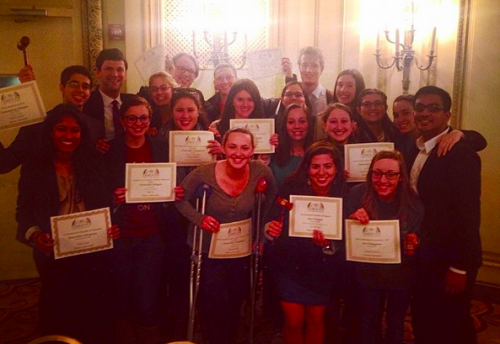 Emory is usually a top 15 team buoyed by a strong performance at HNMUN, but Emory was not able to attend that conference this year due to the snowstorm. The team also underwent some organization transitions this year as it is rebranding into the Emory International Relations Association and folding in more Model UN activities and conferences (including hosting MUNE) beyond the travel team. Nevertheless, the Emory team was able to win awards across many conferences including UPMUNC, ChoMUN, NCSC, CMUNNY, &MUN, and DISCon. Its best performance was at the end of the year at ChoMUN, where it finished fourth behind only Georgetown, Harvard, and U.Penn. That should give the team some momentum going into next year.
Head Delegate Kate Cyr said, "between MUNE II being so successful, our fantastic delegates, and our transition into the Emory International Relations Association, we hope to continue growing and expanding into an even better program in the coming year." Incoming co-Head Delegate Aaron Tucek has a positive outlook for the future, saying "the competitive success shown by some of our younger members is extremely encouraging for the future of our team." Incoming co-Head Delegate Orli Berman added, "EMUN is an incredibly young and dynamic team, and we have undergone significant growth and changes in the past year. The team is filled with incredibly talented delegates, and we could not be more thrilled to be a part in strengthening the foundations of our traveling team."
22. Stanford University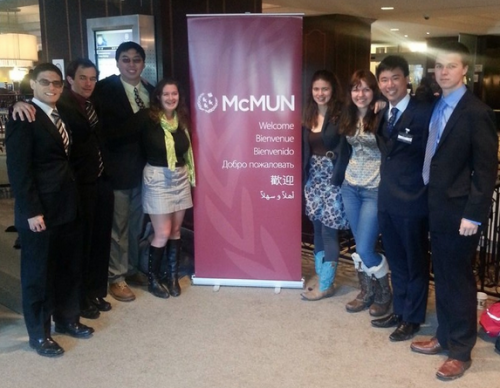 Stanford is pretty good at optimizing its delegations to win delegation awards, which enabled its relatively small team to receive prominent recognition during multiple closing ceremonies. Stanford won a Best Small Delegation at SCSY and a pair of Outstanding Small Delegation awards at ChoMUN and LAMUN. The team also won awards at McMUN, NCSC, UCBMUN, SBIMUN, and &MUN. The keys to a higher ranking for Stanford would be consistency across conferences and to put in stronger performances on the West Coast where it has been at times surpassed by top-50 teams such as UCLA, USC, and Northern Arizona in terms of weighted score.
Head Delegate Elena Stephenson said, "our seasoned veterans as well as a large group of talented freshmen led us to delegation awards at SCSY, LAMUN and ChoMUN, as well as good performances at the other conferences we attended. Above all, we're proud of the tremendous dedication and passion for MUN each delegate on our team has shown throughout this year. As a graduating senior, I'm thrilled to leave behind a MUN program at Stanford that is both a community and a group of highly motivated delegates." Head Delegate Alex Richard also added, "we're very proud of how our team's hard work and practice has paid off this year."
23. The Ohio State University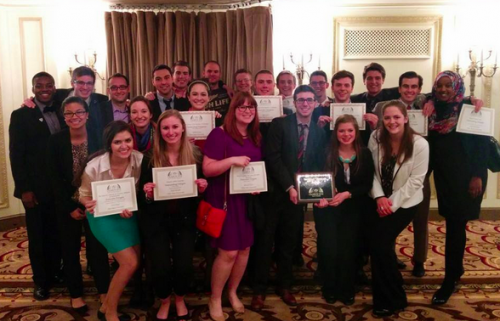 Ohio State finishes the season in the top 25 for the first time, and that is a very big accomplishment given that this is only the team's second year participating on the college circuit. On the East Coast, the team was able to capture awards at competitive conferences such as HNMUN, UPMUNC, and NCSC. The team did even better within B1G Ten territory — it won the Secretary-General's award at ChoMUN as the top team from the Midwest where its top-five finish surpassed traditional Midwest power Michigan State, and it also won the Best Delegation award at PUNC hosted by Penn State.
Head Delegate Erik Leiden credited OSU's quick ascent into the college rankings to credited it to the dedication, passion, and teamwork of the team's delegates. He compared last year with this year by saying, "One year ago we had finished the first year of our school ever competing at intercollegiate Model UN competitions, with one award to our name. Today, we just finished our second year with 23 individual awards, 2 delegation awards, and had a blast both in committee with our horrible-pun-directive-names and outside of it accurately representing how United Nations representatives actually conduct themselves."
24. Florida State University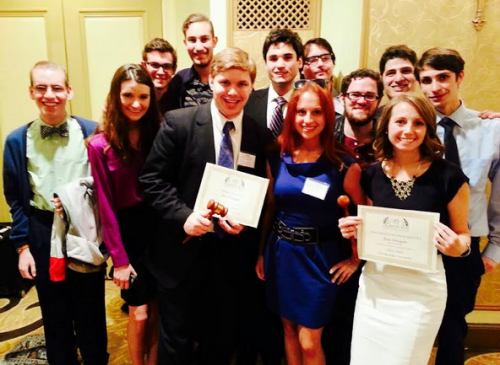 FSU was able to maintain a spot in the top 25 in the Fall after a top ten finish at NCSC and awards at UPMUNC, and they maintained that consistency in the spring semester with a top ten finish at ChoMUN, a Best Small Delegation at VICS, and awards at WPMUNI. The Seminoles and rival Florida Gators also interestingly finished close to each other at two spring conferences; they tied in terms of weighted score at ChoMUN, and FSU was fourth behind large delegation UF in terms of weighted score at VICS but came away with the Best Small Delegation award.
Head Delegate Hillary Harlan had some deep reflections about building foundations at FSU this year. "Florida State University has been through many ups and downs over the past four years. This year was more than just a building year, it was a year of foundations, shedding the starry-eyed reflections of top-5 finishes from our past from 2009-2011, and remembering that it is the foundations of a team that make the experience of Model UN worthwhile. We sought to lay foundations in delegate prowess, but even further, sought to form relationships across delegates, delegations and conferences. We are continually surprised and impressed with the professionalism and capability of other delegates across the circuit and are excited to continue working with them and cultivating these foundations."
25. Carleton College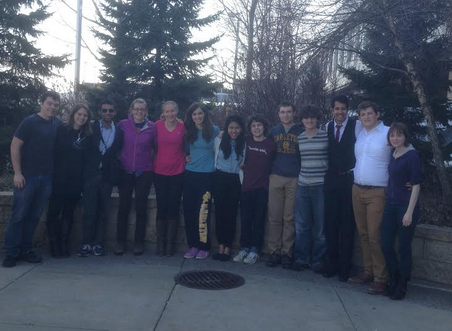 Carleton College enters the top 25 for the first time after a strong second semester performance with awards at three of the most competitive conferences of the year: HNMUN, McMUN, and ChoMUN. The team also attended CMUNNY last semester. Carleton's entry into the rankings is one of only a few examples of smaller liberal arts colleges being able to hold their own against larger universities.
Head Delegate Aditya Negendran said, "We're extremely pleased with the progress we've made over the past year, which is a testament to the passion, determination, and commitment shown by the team. We're fortunate to have a good mix of returning and new delegates on the team, which has enabled us to develop a driven and tightly knit team culture. We will continue to push ourselves at each and every conference we attend, while also expanding Model UN's presence on Carleton's campus."
Top 50 (alphabetical order)
Next five closest to the top 25 were: Carleton University, Vanderbilt, Cornell, UCLA, and Tulane. Over half of this year's top 50 teams rose into this tier compared to last year: Case Western, Concordia, Emmanuel College, Gordon College, Middlebury, MIT, Mount Holyoke, Northern Arizona, Pitzer, Tufts, Seton Hall, USC, and Virginia.
Boston College
Carleton University
Case Western Reserve University
Concordia University
Cornell University
Duke University
Emmanuel College
Gordon College
Middlebury College
Massachusetts Institute of Technology
Mount Holyoke College
Northern Arizona University
Pitzer College
Princeton University
Seton Hall University
Tufts University
Tulane University
University of Calgary
University of California, Los Angeles
University of North Carolina, Chapel Hill
University of Southern California
University of Virginia
University of Western Ontario
Vanderbilt University
Washington University in St. Louis
Top 75  (alphabetical order)
Acadia University
American University
Colgate University
Collège Jean-de-Brébeuf
College of the Canyons
Dawson College
Georgia Institute of Technology
Hartwick College
Nipissing University
Old Dominion University
Pennsylvania State University
Pomona College
Queen's University
Roger Williams University
Spelman College
State University of New York, Plattsburgh
United States Air Force Academy
United States Naval Academy
University of California, Davis
University of California, San Diego
University of North Carolina, Charlotte
University of Ottawa
University of Texas at Austin
University of Toronto
Wellesley College
**
Congratulations to all the delegations for a successful 2013-2014 school year. Good luck to all the graduating seniors, and we hope to see everyone else back on the circuit next year. Have a great summer!