North American High School Model UN Delegation Awards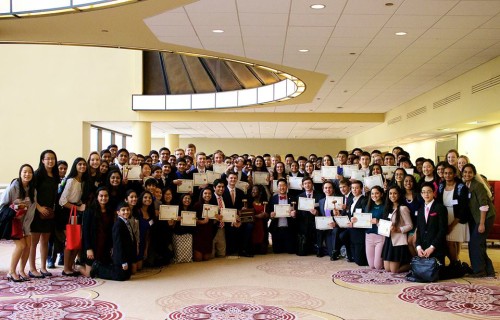 Model United Nations is not about the awards, however awards can be a great way for conferences to recognize teams for their diplomacy, knowledge of topics, debate skills, and leadership. High School Model United Nations in North America is very regional, and no two conferences are equal- while the University Circuits tend to be more centralized and standardized, every high school conference has different award metrics, different rules, different attendees, and sometimes even different awards. Because of this, it is almost impossible to properly rank High School teams, and this would contradict many of the educational objectives of High School Model United Nations. However, we would still like to recognize the delegation award winners from the biggest conferences in each region and nationally. At the end of the school year, we will release our annual Top 150 High School Model UN Teams list.
We've reached out to dozens of conferences so far and will continue to reach out to conferences throughout the year and continually update this page as conferences send us their delegation award info. If your North American conference of at least 400-500+ delegates is missing from this list, please tell us your delegation awards and we will update this list as soon as possible.
Interested in why conference give out awards? Check out "Why Awards Exist in Model United Nations".
Arkansas Model United Nations (AMUN)
Outstanding Delegation Award: Pulaski Academy
Outstanding Delegations (Runners Up): Conway High School, Haas Hall Academy (Fayetteville)
Honorable Mention Delegations: Bentonville High School, Fayetteville High School, Bentonville High School, Little Rock Central High School, Pope John Paul II High School, Mount St. Mary Academy, Little Rock Central High School, Valley View High School
Contra Costa County (CCCMUN)
Best Large Delegation: Foothill High School
Outstanding Delegation Award: California High School
EdisonMUN
Best Large Delegation Awards: Huntington Beach High School, Mira Costa High School
Best Medium Delegation Awards: Cerritos High School, Whitney High school
Best Small Delegation Award: High Tech High School
Georgia Tech Model United Nations (GTMUN)
Best Delegation: Gulf Coast High School
Outstanding Delegation: Port Charlotte High School
Honorable Delegation: McCallie School
Harvard Model United Nations (HMUN)
Best Large Delegation: Upper Canada College
Outstanding Large Delegation: The Dalton School
Best Small Delegation: The Lyceum School (Pakistan)
Best International Delegation: Karachi Grammar School (Pakistan)
Ivy League Model United Nations (ILMUNC)
Best Large Delegation: Langley High School
Outstanding Large Delegation: Thomas Jefferson High School for Science and Technology
Best Small Delegation: Instituto Cumbres de Caracas (Venezuela)
Outstanding Small Delegation:West Windsor-Plainsboro High School North
North American International Model United Nations (NAIMUN)
Best Large Delegation: Horace Mann School
Outstanding Large Delegation: West-Windsor Plainsboro High School South
Best Small Delegation: All-American Model UN Team
Outstanding Small Delegation: West-Windsor Plainsboro High School North
Regional High School Model United Nations (RHSMUN)
Award of Distinction: Huntington Beach High School
Awards of Excellence: Port Charlotte High School, Mira Costa High School
Awards of Merit: Marymount High School, Cerritos High School, Edison High School
Research and Preparation Awards:
Award of Distinction: Edison High School
Award of Excellence: Sekolah Perkumpulan Mandiri (Jakarta, Indonesia)
Award of Merit: The Grove School
Secondary School United Nations Symposium (SSUNS)
Best Large Delegation: Upper Canada College
Best Small Delegation: Sir Winston Churchill High School
Surf City MUN
Best Large Delegation: Cerritos High School
Outstanding Large Delegation: Edison High School
Best Small Delegation: Whitney High School
Outstanding Small Delegation: Palos Verdes Peninsula High School
UCLA BruinMUN
Best Large Delegation: Mira Costa High School
Outstanding Large Delegation: Huntington Beach High School
Best Small Delegation: Gulf Coast High School
Outstanding Small Delegation: Palos Verde Peninsula High School
Virginia Model United Nations (VAMUN)
Best Large Delegation: Langley High School
Outstanding Large Delegation: McLean High School
Best Small Delegation: Garfield High School
Outstanding Small Delegation: Bishop Ireton High School
William and Mary High School Model United Nations (WMHSMUN)
Michael Charles Coon Award for Representation and Diplomacy: Thomas Jefferson High School for Science and Technology
Best Large Delegation: Horace Mann School
Outstanding Large Delegation: American Heritage School Plantation
Best Small Delegation: Canterbury School, Fort Myers
Outstanding Small Delegation: Floral Park Memorial High School
Erica Chiusano Award for Devotion to International Service: Notre Dame High School