North American University Model UN Delegation Awards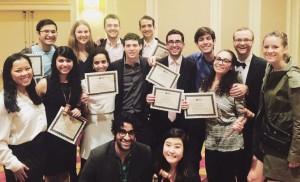 Model United Nations is not about the awards, however awards can be a great way for conferences to recognize teams for their diplomacy, knowledge of topics, debate skills, and leadership. While at the end of the school year we will release our annual rankings, we also want to provide this page as a running list of delegation awards from North American University Model UN conferences for the year.
We've reached out to dozens of conferences so far and will continue to reach out to conferences throughout the year and continually update this page as conferences send us their delegation award info. If your university conference of at least 300+ delegates is missing from this list, please tell us your delegation awards and we will update this list as soon as possible.
The North American collegiate Model United Nations community is informally divided into two circuits, which we refer to as the National Division and the World Division.
The National Division teams tend to be led by faculty advisors, focus on the academic and educational aspects of the conference, and attend about 2-3 organization-hosted conferences per year that give out many school awards but de-emphasize competition by usually not formally giving out individual awards from appointed chairs.
The World Division teams tend to be led by college head delegates, focus on the competitive and social aspects of the conference, and attend about 5-6 college-hosted conferences per year (with a majority of them being crisis simulations) that give out many individual awards but only a few school awards. More details about both divisions can be found here.
Interested in why conference give out awards? Check out "Why Awards Exist in Model United Nations".
---
National Division Delegation Awards
NMUN DC
Outstanding Delegations:
Irvine Valley College (2x)
California State University-Northridge
The University of Texas at Dallas
Clemson University
Collin College
University of Calgary (2x)
Bogomolets National Medical University
Santiago Canyon College
Distinguished Delegations:
University of North Carolina at Charlotte
University of North Carolina at Pembroke
De La Salle-College of Saint Benilde (x2)
University of Bridgeport
University of Colorado at Boulder
Syracuse University-Maxwell School
West Virginia University
University of New Haven (x2)
Hunter College-City University of New York (x2)
Uzhgorod National University
Osgood Center for International Studies
Montgomery College (x2)
West Virginia University
Salisbury University
Florida Atlantic University
Honorable Mention Delegations:
Mills College
Pace University New York City
Randolph-Macon College
Hostos Community College-CUNY
De La Salle University-Manila
Dawson College
Samford University
University of Colorado at Boulder
Stockton University
De La Salle-College of Saint Benilde
KEDGE Business School
Santiago Canyon College
Northwestern Polytechnical University
Texas Christian University (x2)
Manhattan College
Osgood Center for International Studies
Virginia Wesleyan College
Louisiana State University International Relations Club
NWMUN Seattle
Outstanding Delegation:University of Texas at Dallas
Distinguished Delegations:
Florida Atlantic University
California State University, Northridge
California State University, Chico
SRMUN Atlanta
Outstanding Delegations:
College of Charleston
University of North Carolina at Charlotte
University of North Florida
Distinguished Delegations:
Georgia State University
University of Florida (x2)
University of North Carolina at Charlotte (x2)
Honorable Delegations:
Georgia Institute of Technology (x2)
Georgia State University (x2)
Pace University at Pleasantville
Santa Fe College (x2)
State College of Florida
University of Florida
University of North Alabama
University of North Carolina at Pembroke (x2)
---
UN4MUN University Delegation Awards
WFUNA International Model United Nations (WIMUN)
Best Large: Carleton University
Best Small: University of Ljubljana
---
World Division Delegation Awards
BarMUN
Best Large: Georgetown University
Outstanding Large: Michigan State University
Best Small: New York University
Outstanding Small: Florida State University
CMUNNY
Best Large: University of Chicago
Outstanding Large: Harvard University
Best Small: Florida International University
Outstanding Small: USMA at West Point
DISCon
Best Delegation: University of Virginia
Outstanding Delegation: University of North Carolina
HNMUN
Best Large: University of Chicago
Outstanding Large: Yale University
Best Small: University of Miami
Best International: Universidad Simon Bolivar
McMUN
Best Large: Georgetown University
Outstanding Large: Michigan State University
Best Small: Florida International University
Outstanding Small: The Ohio State University
NCSC
Best Large: Harvard University
Outstanding Large: University of Chicago
Best Small: Clark University
Outstanding Small: New York University
SBIMUN
Best Delegation: University of Southern California
Outstanding: University of California- Los Angeles
Distinguished: Pomona College
SCSY
Best Large: USMA at West Point
Outstanding Large: Emory University
Best Small: McGill University
Outstanding Small: New York University
TrojanMUN
Best Large: Claremont McKenna
Best Small: University of California- Los Angeles
UPMUNC
Best Large: Georgetown University
Outstanding Large: University of Chicago
Best Small: University of Miami
Outstanding Small: University of California- Berkeley