This recap was provided by Neil Rotta, Secretary General of Northwest Model United Nations (NWMUN) Conference 2013.
On the weekend of November 22-24, 2013, Northwest Model United Nations held its 7th annual conference in downtown Seattle, Washington. The conference hosted nearly 350 delegates from 22 different colleges and universities, including many in the Pacific Northwest and two schools from outside of North America. The conference simulated six different bodies, including typical committees such as the Security Council, UN Environment Programme, General Assembly, and ECOSOC, along with more more innovative committees such as the Reformed Security Council (a larger council with no permanent members or vetoes). Also the Executive Board of the UN High Commissioner for Refugees negotiated a treaty protecting the displacement of people due to climate change. Other topics discussed included the situation in Syria, non-proliferation of weapons of mass destruction, and numerous other topics of pressing concern in the international community.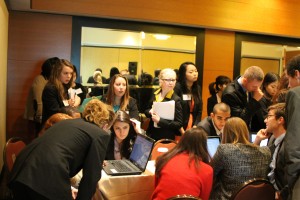 NWMUN was also honored this year to host Paula Schriefer, Deputy Assistant Secretary of State for the Bureau of International Organization Affairs at the U.S. Department of State as the keynote speaker for the conference. She spoke on efforts to promote human rights around the world during Friday afternoon's opening ceremonies. After her speech, Ms. Schriefer took questions from the delegates on issues ranging from joining the diplomatic service to life under the DPRK's repressive regime to reform of the human rights machinery at the United Nations.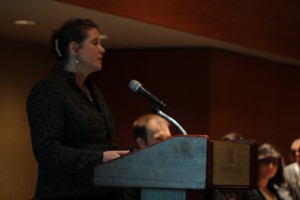 The conference successfully adopted resolutions on a variety of topics, and successfully negotiated a treaty on protections for people displaced by climate change, with the treaty being adopted by the conference and opened for signature on Sunday just before Closing Ceremonies. During Closing Ceremonies, several delegates were recognized with awards for both outstanding position papers and for their work in committee. Taking the award for overall Distinguished Delegation was Whitman College; the Outstanding Delegation award went to California State University, Chico.
Many thanks to all our participants, head delegates, faculty advisors and staff that make this conference a success. We look forward to seeing everyone back for NWMUN 2014, held November 21-23. More information is always available at our website, www.nwmun.org. We look forward to welcoming you to Seattle next year!