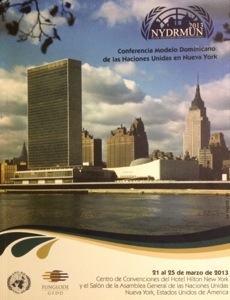 (This article was written with the help of testimonials provided by several delegates throughout the conference)
Under the leadership of the United Nations Association of the Dominican Republic (UNA-DR), the ninth edition of the New York-Dominican Republic Model United Nations (NYDRMUN) took place in the Hilton Hotel in the City of New York, from March 21st to March 25th of the present year. With over 500 high school and college students from Argentina, Colombia, the Dominican Republic, Haiti, Mexico, the United States and Venezuela present, the following committees were simulated:
1) First Committee of the General Assembly (High School) – Spanish
2) Security Council (High School) – English
3) Human Rights Council (High School) – Spanish
4) Commission for Crime Prevention and Criminal Justice (High School) – Spanish
5) Commission for Science and Technology for Development (High School) – Spanish
6) International Work Conference (High School) – Spanish
7) Assembly of the International Maritime Organization (College) – Spanish
8) Security Council (College) – Spanish
In her opening speech, Secretary General Cristina Zapata Taveras stressed how "it doesn't matter from where you decide to be involved, the United Nations will always make you feel a part of the Organization.", on her being a Publicist who was chosen as a Dominican Youth Delegate to the General Assembly in 2010.
After keynote speeches from figures such as the UNA-DR's Executive Directors Pilar Sandoval and Marco Herrera, schools were scheduled to attend briefings at several Permanent Missions to the United Nations such as Austria and Sweden. When the clock struck 7:00 P.M, delegates were launched into their first committee sessions; and thus began an exciting string of events that included passionate debates and quality decision-making by young teenagers and adults hailing from different countries of the world.
One of the conference's most noticeable traits was the crisis simulation, in which a terrorist attack by the Movement for the Liberation of Azawad at the French military base in Mali, taking the lives of several individuals including Colonel Thierry Burkhard. Delegates from both Security Councils were thus engaged in a single committee room where they had to work together in order to ensure the immediate solution of such dire situation. After hours of debate and resolution drafting, the final product was presented at closing ceremonies in the United Nations' GA Hall on the night of March 24th.
Being one of the conference's most competitive years yet, the announcement for Delegation Awards were highly awaited, and they are as follow:
High School
Best: Colegio Bilingue New Horizons
Distinguished: Colegio Los Proceres (Venezuela)
Honorable: Saint George School
College
Best: Universidad Autonoma de Santo Domingo
Distinguished: Universidad del Caribe
Honorable: Universidad APEC
Honorable: Escuela de Ensenanza Media y Superior No. 6
This year represented yet another success for the UNA-DR, which is on it's way to organize the present-year editions of conferences such as the Dominican-European Model United Nations Conference (DEUROMUN) in France and La Conferencia Internacional de las Americas (CILA) in Bavaro, Dominican Republic.