For a place renowned for its monochromatic palette, the United States Military Academy at West Point is a remarkably vibrant establishment. From a distance, its striking Gothic architecture cuts an impressive if not formidable figure against the backdrop of the snow-capped Catskills, instilling a sense of awe and trepidation in all who approach its hallowed halls for the first time. This past weekend, a whole new group of people were inaugurated into the West Point experience as the Academy hosted its fourth West Point Model United Nations Invitational (formerly known as WPSC, now WPMUNI), giving delegates the unique opportunity to develop a more colorful view of the Long Gray Line.
WPMUNI IV Commander Warren Geary, Class of 2014, aptly describes West Point as a "leadership laboratory."  In his opening remarks, he insightfully observed that a person can glean a lot about the character of the United States military academies by the way they decorate their respective campuses. Contrary to what you might expect, West Point is not adorned with the accessories of war, but rather with statues and depictions of great leaders. The burly bronze of George Washington valiantly charging into battle, the stalwart cast of General Patton standing sentinel over the fields, and the sage sculpture of Thomas Jefferson greeting those who enter the library that bears his name all serve as glaring reminders of a cadet's purpose at the Academy: to become one of the world's future leaders.
The beauty of WPMUNI is that it ties together future leaders from both sides of the spectrum. From its inception, WPMUNI was crafted as not just a conference, but an experience; one that would bridge the gap between the civilian and military sectors of society.  It is a sad truth of modern society that the civilian and military sectors have drifted apart; unlike in days of yore where the military was firmly integrated not only into the civilian population but also the government, today it is highly possible that many people can go their whole lives without personally knowing anyone in the military, and the amount of Congressmen and other government officials who come from military backgrounds is steadily dwindling. WPMUNI thus plays a paramount role in bringing together the younger generations of future soldiers, scholars, and statesmen. According to Geary, WPMUNI endeavors to provide the foundations for civil-military interaction by allowing delegates to experience both the military and West Point as an institution, both in and out of committee.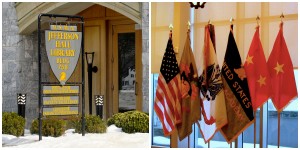 WPMUNI operates under the same basic principles as most crisis-driven Model UN conferences, with delegates being presented with issues to which they must formulate solutions on a largely ad-hoc basis. WPMUNI, however, boasts several features that make it quite unlike any other conference, crisis-based or otherwise. The conference consists of six separate but related committees operating in tandem to address a single, overarching crisis.  This year, as in years past, these committees included both military and civilian security bodies, namely the National Security Council, the US Senate Committee on Foreign Relations, the House Committee on Foreign Affairs, NORTHCOM, Special Operations Command-North, and the National Governors Association.  Over the course of the conference, these committees had to compete and collaborate with each other to address a crisis centered on Latin America.
As delegates battled it out in committee, cadets raced up and down the spiral staircases of Jefferson library with crisis notes and directives in hand, an image truly evocative of the whirlwind that is WPMUNI. The machine behind WPMUNI is the Crisis Tactical Operations Center (the "Crisis TOC"), a teched-up lab in the basement of the library that looks all too like Jack Bauer's former stomping grounds on the set of 24. Heading up the operation is Crisis Director Patrick Brown, Class of 2014, assisted by his Deputy Or Taylor, Class of 2016, and a corps of crisis cadets. In a rare moment of downtime, Brown provided insight into the driving force behind and the goals of the conference's crisis faction. "WPMUNI is unique from a crisis vantage point," he explained, "because not only are we running what is essentially a six-way Joint Crisis, but we are also equipped with the know-how and tools to lend an element of military realism to the simulation."
Through a series of articles, press releases, and multimedia produced in real-time in response to the actions delegates take in committee, Brown and his crisis team sought to emulate the difficulties agencies face in the "real world" in communicating and working effectively with each other. Each committee session takes place one to six months after the previous one, allowing delegates to actually craft policy rather than playing "geopolitical whack-a-mole," as is so often the case in situations where crises are sprung upon delegates in rapid succession. Ultimately, Brown relays that, "The goal here is to sow the seeds for future partnership and collaboration among the world's future leaders in both fields, civilian and military."
Upstairs, both delegates and chairs alike were feeling the effects of being constrained by the real-life limitations of their respective bodies. Cadet Brandon Moore, Class of 2014, has been involved in WPMUNI since its first iteration, and has seen the conference from every angle—Chair, Crisis Director, and Chief of Staff.  As this year's Chairman of the Senate Committee on Foreign Relations, he grappled firsthand with reconciling reality with the traditional workings of a Model UN simulation.  "My approach to parliamentary procedure was somewhat unique," Moore explained. "I wanted to incorporate both a realistic simulation of the Senate, as well as a functional means of maintaining relevance within WPMUNI. This resulted in a quasi-realistic parliamentary procedure that allowed delegates to motion for quorum, filibuster bills, and represent legislation in the House."
Moore also shared the crisis team's desire for delegates to learn how to deal with the crises through crafting policy rather than simply firing off directives at breakneck speed, stating, "From a more pragmatic perspective, I hope the delegates gained a greater appreciation for the function of the legislative branch in times of security crises. It is difficult to refrain from ordering troops to the border or picking up the 'red phone' in a Model UN crisis simulation, but given the nature of the Senate, we were burdened by the slow legislative process. As the political dialogue thickened and party lines were drawn, it became deeply interesting to see how the debate shifted. I found it immensely rewarding to observe the political intensity with which the delegates pursued their respective roles and ambitions."
WPMUNI Commander Geary elaborated upon the unique structure of the conference, stating, "At WPMUNI, we don't promote competition for competition's sake.  Instead, we have constructed a committee framework that breeds the cooperative aspect of Model UN through demonstrating to delegates that cooperation can lead to a solution that benefits all parties involved rather than simply being a zero sum game."
In keeping with the theme of WPMUNI being a catalyst of civil-military relations, in addition to the traditional committee sessions and social events, WPMUNI also incorporates several activities that allow delegates to engage with and experience West Point. These activities include observing formation, going to lunch with the corps of cadets in the mess hall, a tour of the grounds and facilities (complete with a demonstration of the Indoor Obstacle Course Test in the Arvin Gymnasium), and a session at the electronic simulation range. On the social side, the delegates were also given glimpses into West Point establishments through a reception at the First Class Club and an elegant gala at Cullum Hall. To complement what delegates were learning in committee, the staff of WPMUNI also arranged for a series of speakers as well-decorated as their campus. Kicking things off at the opening ceremonies was Major General Ricky L. Waddell (Deputy Commander for Mobilization and Reserve Affairs, U.S. Southern Command), who regaled delegates with tales from his extensive experience with regard to Latin America (including how he accidentally stumbled into his interest in the region) and engaged the audience in a thought-provoking question and answer session. Thursday night, delegates were given the opportunity to engage in further discussion with in-committee speakers, who included a host of West Point's best and brightest faculty, such as Major John Childress (instructor of American Politics), who spoke to the Senate and House committees about the challenges associated with defining grand national security strategies. On Friday, Dr. Scott Helfstein, Director of Strategic Initiatives at the Combating Terrorism Center at West Point, discussed similar challenges with transnational criminal organizations, prompting delegates to rethink their cut-and-dry definitions and perceptions of the issue.
Perhaps Chief of Staff Patrick Beauregard, Class of 2015, best encapsulated the non-stop nature of the conference in his closing remarks, when he drew upon a well-placed House of Cards reference and stated that, by that point, the delegates must "loathe the necessity of sleep."  Suffice it to say that not a second of the weekend at West Point went to waste; every moment brought something new to delegates and staff alike. In true Model UN fashion, WPMUNI brought together people from every walk of life—delegates from all over the United States and across the Pond, cadets who had never before been involved with MUN but eagerly threw themselves into the experience, advisors who keenly observed their delegates as they flourished in committee, and, of course, yours truly, who fully embraced the spirit of civil-military relations by toeing the line between cadet and delegate the entire weekend.
But for those of you who have already gone into WPMUNI withdrawal, never fear—the future of WPMUNI promises even bigger and better things.  In our final interview, Commander Geary hinted at ambitions of expanding WPMUNI from not just a joint crisis, but a joint conference, with simulations being held concurrently at both West Point and another international destination, a vision he credits to WPMUNI's founders, George LeMeur and Andrew Swick, Class of 2011. "Technology just keeps getting better," Geary remarked.  "I could see a future where we wouldn't need to simulate the Chinese response to a crisis, for example; we could have them respond and react in real-time directly on the screen.  At that point, it ceases to be 'model,' and I think we have a chance at promoting real international cooperation."
Awards
Congratulations to everyone involved in WPMUNI IV, and to the following delegations on their awards:
Best Delegation-Florida International University
Outstanding Delegation-Georgetown University
H. Norman Schwarzkopf Award*-The European Delegation
* The H. Norman Schwarzkopf Award is awarded to the the delegation which best exemplifies the spirit of civil-military cooperation for the duration of the competition. This award is named in honor of General H. Norman Schwarzkopf, a West Point graduate Class of 1956 and former CENTCOM combatant commander. During Operation Desert Storm, General Schwarzkopf served as the Commander of a multi-national coalition comprised of more than thirty countries acting in concert with United Nations Security Council Resolutions 660 and 678 to successfully restore territorial sovereignty to Kuwait.
Special Thanks
Best Delegate would like to extend a heartfelt thank you to the entire corps of WPMUNI IV staff for their hospitality and willingness to help with our conference coverage in every and any way.  Special thanks and recognition goes to the following cadets: Warren Geary, Patrick Brown, Patrick Beauregard, Sarah Brown, Brandon Vukelich, Dustin Santos, Brandon Moore, Jack Worthington, Jesse Nelson, and Spenser Copp.