Article submitted by McKenna Tucker, O-MUN Secretary General & Assistant Director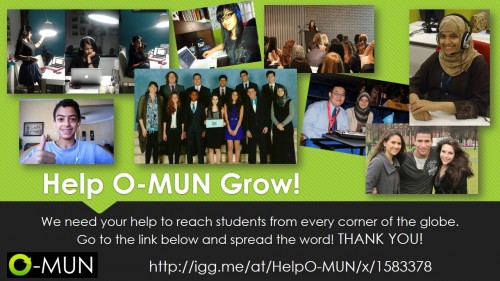 Fostering a network of delegates from every corner of the globe. Bringing Model United Nations to youth in both developed and developing nations. Cultivating a venue through which students from diverse—and even divergent—countries and cultures can learn about and debate pressing global issues, assume leadership positions, and equip themselves as powerful global citizens and emergent global leaders.
This is the vision behind Online Model United Nations (O-MUN), the first MUN program based completely online and open to students located anywhere and everywhere.  (To learn more about O-MUN, check out our website: www.onlinemodelunitednations.org.)
We are engaging hundreds of delegates in debates each month, building online communities in which students can consistently collaborate, hosting country programs where entire schools can dive into our organization, honing the skills and leadership of moderators and chairs, sending delegations of O-MUN students to upcoming THIMUN conferences (http://onlinemodelunitednations.org/thimun-2013/laptops-to-podium-tops-our-journey-to-thimun), and progressively democratizing MUN for youth across the face of the earth.
From the time that we began our efforts a little over a year ago, we have taken incredible strides. Through the resolve and dedication of our core leadership team, O-MUN has evolved from a revolutionary idea to a cutting-edge organization: for students, by students.
And now, as we work to further progress O-MUN for global youth, we need your help. We are currently hosting a huge financial campaign to support our expansion.
What can you do?
Here is the link to our campaign: http://igg.me/at/HelpO-MUN/x/1583378
You can "like" our campaign via the Facebook, share it on Twitter, recommend it on Google+, and email it to your contacts. This small act of networking helps us bump up our outreach immensely!
Most importantly, you and/or any contacts you know can donate! Any and all donations we receive are greatly appreciated by our staff and students. The money we collect in this campaign will help us advance our website, finance our delegates' travels to THIMUN and other MUN conferences, support the development of our country-wide programs, and enrich our development and expansion at large. Upon your contribution, you will receive a personal "thank you" from our global students and other gifts we have listed on our campaign page.
You can help us network. If you know any contacts who may be able to help sponsor and support us, you can contact O-MUN Director Lisa Martin at 3dragons.lm@

null

gmail.com or Secretary General McKenna Tucker a mckenna1010@

null

yahoo.com, and we will follow up.
On behalf of hundreds of our students across the globe, thank you!