The United States Department of State has provided a press release about a new Model UN resource: the Model United Nations Mobile App. 
U.S. DEPARTMENT OF STATE
Office of the Spokesperson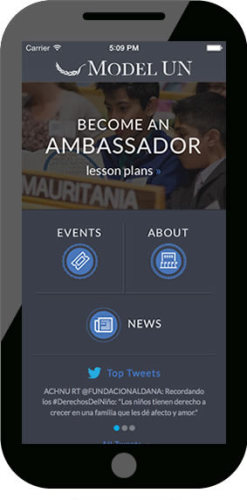 The U.S. Department of State's Bureau of International Organization Affairs, in partnership with the United Nations Association of the USA, is pleased to announce the release of the new mobile app, "Model United Nations."  Geared toward teachers, community leaders, and students of international affairs, this app uses step-by-step tools to engage users in the vital work of the UN.
This app educates and engages users though lesson plans on topics like climate change, poverty eradication, globalization, and the Zombie Apocalypse.  It also features country backgrounds on each topic, Model UN resources for any student preparing for a conference, and a calendar of events for Model UN conferences and other multilateral events happening around the word.
Without needing any previous knowledge of the UN or Model UN, students become UN delegates and hone leadership, problem-solving, and public speaking skills in a 60-minute lesson plan.
The app is free and available for download for both iPhone and Android devices.
Further information and to download the app, visit the Model United Nations App page.