As rightly pointed out by the Secretary-General of this year's Reading University MUN conference, Azed Butt, its third edition was a huge success. How did this come to be and who made it happen?
T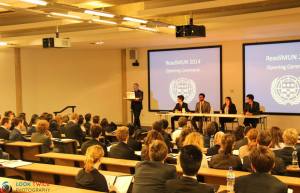 he conference opened on the 28th of November with guest speaker Ata'ollah Mohajerani; Iranian historian, politician, journalist, author and a keen supporter of the pro-democracy Green Movement in the UK. The peak of his political career was as Vice-President of Parliamentary Affairs under Ali Akbar Hashemi Rafsanjani, but he has held many other positions in his time. He delivered a speech of utmost relevance for many topics discussed in the committees of RUMUN, particularly in the Security Council, DISEC and not surprisingly in the Arab League.
The conference consisted of 8 committees (Security Council, DISEC, HRC, ECOFIN, Arab League, UNESCO, SPECPOL and SOCHUM) and 3 crisis cabinets. Chairs were not only well prepared, but also went the extra mile by amassing a collection of funny quotes from the delegates, some of which were read out in the closing ceremony (to the public's amusement). Despite the fact that many of the delegates were beginners, debate was intense and few committees managed to finish earlier than scheduled – but just in time to join the Crisis cabinets and share the fun wrought by the crisis scenario.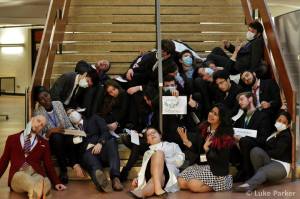 The crisis team worked hard to conjure a scenario of global pandemics, while delegates of the WHO Secretariat, the Asia Cooperation Dialogue and the mysterious Secret Cabinet (that was revealed to be an Eco-Terrorist Summit) managed to reach conflicting objectives despite the sudden moves in the scenario introduced by the Crisis Directors. The series of deaths, spies, reincarnations, territorial acquisitions, country mergers, and kidnappings would have been lost but for the endless energy and attention of the crisis team.
And of course, the Secretariat deserves a special tribute; sleepless nights spent in order to prepare the conference paid off in the form of outstanding success. The relatively small team did not only set up everything needed for an amazing conference, but also provided constant moral and physical support to the participants throughout the event.
Where there is time for business, there is time for fun. A very good but rather unusual in the UK MUN-circuit was a committee dinner where delegates sitting in a quiet atmosphere, enjoying good food and wine had a chance to get to know each other better. It sits as a nice contrast compared to the vibrant club nights also set up by the Socials Officer. Quiz night (a Reading tradition) is another contrast – as held on the first day, it is a good team building exercise simultaneously providing a good insight into strategies, strength and weaknesses of fellow delegates.
Well done and big thank you to all those involved!