Dear Esteemed Teachers, Administrators, and Prospective Delegates:
Canada International Model United Nations (CAIMUN) is an international high school MUN conference in Vancouver that has an educational philosophy admirably tailored towards unprecedented innovation and creativity. This year's 2012 CAIMUN Conference will be held from May 25th – 27th at the Vancouver Convention Centre, a two-time winner of the International Association of Congress Centres' "Best Convention Centre" award. It is with great pleasure that I invite you all to our conference, which has a focus on gathering talented and inspired MUN students from around the world.
With a variety of new features, CAIMUN promises to be one of the exciting, dynamic, and innovative experiences for any prospective delegates. This year's conference features the debut of the CAI-forum, an interactive message board where delegates can exchange ideas before and after the conference, the introduction of more non-state actors such as Wikileaks into the MUN dynamic, and a new position paper format that will demand of delegates a greater familiarity with their topics than ever before.
The secretariat of CAIMUN strives to make the conference of world-class calibre. We have created a comfortable microcosm for students to explore the macrocosm of global issues, diplomacy, debating, and international relations. With participation from forward-thinking students in all corners of the globe, CAIMUN 2012 seeks to provide students with the ultimate opportunity to exchange cultures, whether inside the committee rooms or out.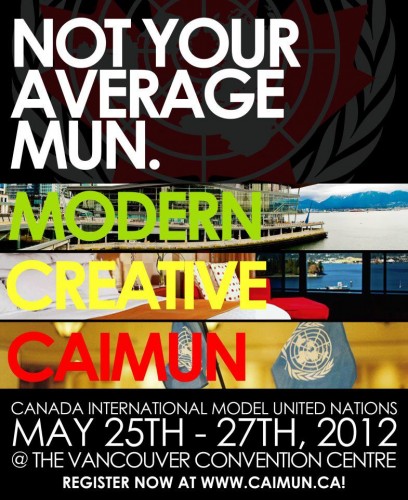 In addition, CAIMUN is pleased to present a variety of out-of-conference activities for delegates to partake in, like the NGO Convention, featuring representatives from Amnesty International, Unicef, Doctors Without Borders. Oxfam, and many more. As well, free guided tours have been organized to the University of British Columbia, ranked the 22nd best university by Times Higher Education in 2011.
Whatever your niche may be, Canada International Model United Nations 2012 has something for you, ranging from climate change in 2020 or Millennium Development Goals, to Lord of the Rings's Council of Elrond or the 1919 German repatriations at the Paris Peace Conference. International delegate registration ends on May 15th, 2012, so register ASAP (http://caimun.ca/registration.php) to finish your 2012 high school year with a bang, a trip to supernaturally beautiful Vancouver, and participation at an unparalleled international Model UN conference!
If you have any questions, please contact us at sg@nullcaimun.ca, or visit our website at www.caimun.ca. Join in on our pre-debates at the CAIMUN 2012 Discussion Forum, and "like" our official Facebook page to keep updated.
Signed,
Canada International Model UN 2012 Secretariat