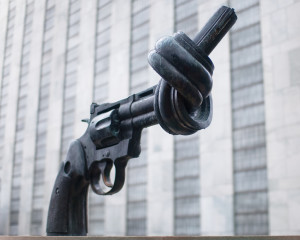 Representing a country in the Disarmament and International Security Committee (DISEC) can be both exciting and intimidating. Some of the most challenging contemporary security issues are debated on DISEC's floor, and it is also where much of international politics come out to play. As delegates try to navigate their assignment's role in this complex committee, we at Best Delegate have assembled a guide for DISEC delegates to follow:
DISEC's Story
The Disarmament and International Security Committee was first created in the United Nations Charter, under Chapter IV, with intentions of advocating, debating, and solving matters of international disarmament and security. Out of six General Assembly committees, DISEC is also known as the First Committee in the United Nations. Under the United Nation's Charter Article 9, all 193 UN members are automatically eligible as representatives in DISEC's body and have equal vote. It is important to note that DISEC, while it deals with important security issues, cannot specifically mandate individual state action, sanctions, or armed intervention. DISEC however can recommend all of these actions to the Security Council.
Funding & Relationships with Organizations
The majority of DISEC's funding is derived from the United Nation's organ, the General Assembly. The General Assembly's Administrative and Budgetary Committee allocates funds for political affairs, international justice and law, cooperation for development, humanitarian affairs, support services, and capital expenses that all contribute to the General Assembly's work in the international community. It is estimated that the 2016-17 budget is nearly $5.4 billion. DISEC will be able to play a part in promoting the 2030 Sustainable Development Goals (SDG's) within the United Nations Structure and the international community, especially in goal number 16, to "Promote peaceful and inclusive societies for sustainable development, provide access to justice for all and build effective, accountable and inclusive institutions at all levels."
DISEC works in close collaboration with UN organizations, such as the United Nations Disarmament Commission (UNODA), and the Conference on Disarmament. DISEC also works with various international and non-governmental organizations that contribute significant groundwork and insight to DISEC's work.
Common Topics
Some common topics that appear on the floor of the Disarmament and International Security Committee are Cyber Security and Warfare, Ethics of Drones, Fourth Generation Warfare, Nuclear Proliferation, Illicit Arms Trade, and the Illegal Drug Trade. With such serious issues to solve, many delegates rush to concrete solutions and forget that DISEC is the first stop before the Security Council. Because of this, DISEC delegates should solve these problems with remembering the Security Council political dynamic and P5 veto.
Strategizing in DISEC
To be successful in your DISEC committee, delegates should keep the popular international political division in the back of their minds. Outside of the Security Council, DISEC is a committee that typically sees polarization between traditional rivals, like the United States and Russia, due to controversial security matters brought to the floor. Because of this, blocs should make sense, in policy and politics.
DISEC is usually one of the largest committees conferences showcase in their General Assemblies. Their controversial, hot-button topics attract a colossus of delegates itching to solve issues with new technology, databases, and intelligence. As a DISEC delegate, you need to master the art of dissecting a lot of ideas all at once. Before gracing DISEC's floor with your presence, verse yourself in the latest military technology developing at Lockheed Martin, the phenomenon of Fourth Generation Warfare and why it is hard for states to solve, failures at border security, and the flaws and loopholes in previous strategies tried before.
DISEC showcases very delicate issues that plague the world today, and delegates should treat them as such. While social media advocacy campaigns and funny acronyms always bring a light note to such serious topics, make sure to always circle back to representing a concerned country that wants to see the world secured from conflict.
Helpful Research Links
We have compiled a collection of helpful links that will aid delegates in their research for DISEC:
UN Charter: http://www.un.org/en/sections/un-charter/chapter-iv/index.html
Best Delegate, DISEC Guide: http://bestdelegate.com/how-to-model-un-research-ga-first-committee-disec/
UN First Committee: http://www.un.org/en/ga/first/
Conflict Data Programs: http://www.ucdp.uu.se/gpdatabase/search.php
Best Delegate, MUN Made Easy http://bestdelegate.com/mun-made-easy-10-things-you-should-know-before-your-first-conference-2/
General Assembly Budget: http://www.un.org/pga/70/2015/12/23/general-assembly-adopts-un-budget-for-2016-17/