This guest article was written by Christine Ciganovich, the USG of Mains Committee at RHSMUN.

Walking around my committee room during an unmoderated caucus last RHSMUN, I overheard a group of delegates engaged in genuine discussion of a rather nuanced aspect of our topic. For a moment, I forgot that I was the Director of the committee and wanted to join their conversation. Now, coming up on my third RHSMUN, I have come to realize that this is an all too common occurrence in the ballrooms and meeting halls of the Hilton Union Square.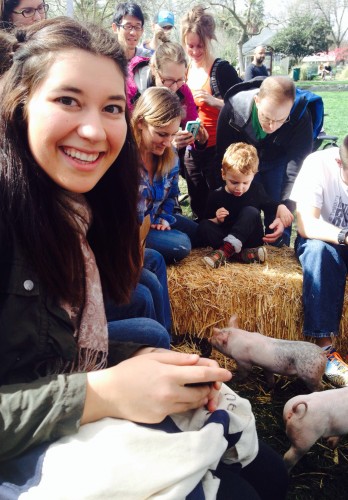 As an educational conference, our focus is not on individual awards or points, but on teaching delegates how to do MUN and why global issues are important. RHSMUN Directors spend nearly five months researching, writing, and editing Background Guides in order to provide delegates a strong knowledge base of the topics from which they can begin extensive individual research. The success of RHSMUN committees depends on how well-researched our delegates are. We strive for delegates to come prepared with a wide breadth of knowledge on the topics, and innovative and thorough solutions. In order to provide delegates with a quality learning environment, we also stress diplomacy. We deemphasize individual awards and regard diplomacy highly so that our Directors and Assistant Directors can truly provide delegates with a space to engage with what is at the core of MUN—becoming global citizens with the power and knowledge to alter our circumstances.
With conference staff and delegates from a variety of countries across the globe, RHSMUN presents delegates with unique perspectives most other West Coast conferences are unable to offer, especially at the high school level. However, RHSMUN's international draw should not worry first time delegates. As an Assistant Director, Director, and now Under-Secretary-General of GA Main Committees, I have spent much of my RHSMUN career with first-year and first-conference delegates. Exposing new-to-MUN delegates to quality substantive programming and being part of an unbeatable learning experience is one of the reasons I keep coming back to RHSMUN. Now in my sixth year of MUN, I can positively say RHSMUN stands apart from any other West Coast conference.
I do not believe that success in MUN should be measured in gavels, but in productive conversations had, diplomatic solutions made, and knowledge gained. I, along with the entire RHSMUN staff, am passionate about global issues education. MUN opens students up to some of the most important topics, but too often points and individual awards obscure any chance at having delegates engage in productive discussion. Set in the city where the United Nations Charter was signed nearly seventy years ago, RHSMUN refuses to be just another MUN conference. When a group of more than thirty college students choose to dedicate a year, for some of us many years, of our lives to one three-day conference, something special is happening. RHSMUN is definitely a conference to keep on your radar—I hope to see you all in December!
For more information about RHSMUN, check out their website here.