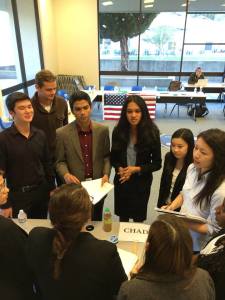 As the high school Model UN circuit becomes increasingly competitive, students from around the nation are taking the initiative to become more than just delegates. In the Northern California region, high school students are getting involved on the administrative side of conferences by partnering up with local organizations or hosting their own conferences.
On October 10th, Senior Ryan Sim at Dougherty Valley High School in San Ramon, CA, became involved with Inter-Generational MUN (IGMUN) hosted by UNA-USA Northern California Division at UC Berkeley. Sim helped promote the conference by recruiting high schoolers for virtually every position – from chair to delegate.
Other high schools undertook the job of running their own high school-level conferences. Henry M. Gunn High School in Palo Alto, CA, recently hosted its own one-day conference on Sept. 27, inviting local new and established Model UN teams to participate. This conference welcomed delegates of all level, while also focusing on Crisis committees rather than traditional General Assemblies.
This trend comes as no surprise to Chris Talamo, Program Manager of the nonprofit organization Education in Motion (EIM). Based in New York, EIM's mission is "to promote the advancement of education by developing interactive, student-led programs designed to foster leadership skills, complement and enhance educational curricula, and provide students with opportunities to actively engage with their own education."
Under this mission, EIM has been helping local high school students start their own MUN conferences through their two regional offices in San Francisco and New York. "We currently help achieve this mission by helping high school MUN programs start their own MUN conferences, providing valuable leadership experience for the host school and new, affordable MUN opportunities for surrounding schools," said Talamo.
EIM launched its pilot conference last year, World Humanitarian Improving Society MUN (WHISMUN), which received an overall delegate rating of 4.4 out of 5. Recently, students from California High School and Foothill High School in the greater San Francisco Bay Area have partnered with EIM to host the East Bay MUN (EBMUN) conference at California High School, in San Ramon, CA.
EBMUN, taking place on December 6-7, 2014, will feature a variety of crises and GAs, as well as some unique specialized committees, such as the International Labor Organization. The conference will be chaired by Berkeley MUN students and high-school vice chairs to facilitate a more educational setting.
Members of the EBMUN Secretariat described the process of planning and organizing the conference as "an exciting new venture," that gave them insight into a different aspect of MUN. Any questions can be directly sent to secretariat@nullebmun.org.
For more information, check out a BD article about EIM.