This recap was provided by Avik Chakravarty, Best Delegate Program Manager.

The Santa Clara Valley Model United Nations conference (SCVMUN) took place this past weekend, from January 30-31, 2015. This year, SCVMUN marked its 44th session, which is a remarkable legacy for a conference run only by a handful of talented high school students and dedicated advisers. SCVMUN's resilience was evident throughout the conference, and I was lucky enough to be able to attend and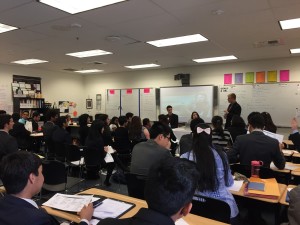 observe.
SCVMUN is an incredibly important part of the Northern California MUN ecosystem. There are a small amount of conferences run by high schools in the region, and most of the large conferences are run by universities. SCVMUN is unique in this way, and contributes to the MUN community by providing a chance for new delegates to practice and learn. SCVMUN adviser Bryan Phipps recognizes it as a 'training conference', which is fundamental to the growth of MUN in a region.
SCVMUN, held on the Santa Teresa High School campus, was impressive for a variety of reasons. These reasons include, but are not limited to, the items below:
Tremendous Growth
I personally attended SCVMUN as a high school delegate about 8 years ago, and what surprised me most when returning to the conference this year was its significant growth. A conference that once numbered around 200 to 300 delegates has grown to accommodate almost 1000 delegates. The conference size has basically reached the maximum capacity of the Santa Teresa High School campus. This year, SCVMUN added two new committees in anticipation of this size, increasing the number of available committees from 10 to 12.
Amenities and Innovation
SCVMUN shows considerable innovation in the services it is able to provide. Unlike university-run conferences, SCVMUN does not have an enormous secretariat to provide conference services and logistical support. Instead, much of the work falls on the conference leaders, like SCVMUN Secretary-General and high school senior Sam Schulteis, to find creative solutions to the challenges of running a large conference with a small staff.
A key example of this is the delegate lounge. Delegates can go to the delegate lounge at any time for refreshments, and it can also be used to access computers to type up resolutions. While the conference cannot rely on a secretariat to type and transport resolutions to committee, SCVMUN has created a channel through which delegates can easily do it themselves.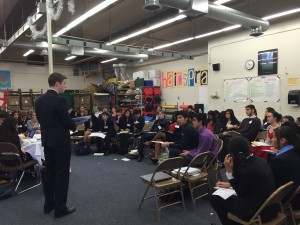 SCVMUN also uses pages for logistical support in and out of committees. These pages aren't drawn from the Santa Teresa MUN club, but instead are recruited from the general school population at Santa Teresa High School. Students not affiliated with MUN are offered a volunteer opportunity to serve as pages for a prestigious conference, and the conference thereby sidesteps the issue of limited capacity for logistics staff.
Excellent Chairs
One of the best elements of SCVMUN 2015 was the group of decorated and qualified chairs. SCVMUN recruits chairs from local universities, and this years roster of university students included some impressive names. Chairs ranged from schools like UC Berkeley (BMUN and UCBMUN), UC Davis (DMUNC), Stanford Unversity (SMUNC), as well as from conferences like RHSMUN run by IMUNA. These adept chairs created stimulating and productive committee environments that were recognized by delegates and advisers alike.
This year, SCVMUN began a new project to recycle the knowledge gained by the delegates that attend the conference every year. All high school seniors at SCVMUN 2015 were invited to apply to serve as chairs for the upcoming year, creating a wider pool of potential chairs to draw from. This is another example of the innovation demonstrated by the SCVMUN secretariat.
Conclusion
Best Delegate is incredibly proud to be partnered with SCVMUN, because it demonstrates the great potential for growth of high school conferences, and it shows the value that such conferences can offer to the local community. Conferences like SCVMUN allow new delegates an ability to learn the ropes of MUN in a low-pressure and educational environment, and allow intermediate and advanced delegates to hone their skills in preparation for large and international conferences hosted by universities. SCVMUN is one of the largest high school-run conferences in the Northern California MUN community, and other high schools should look to it as an example of how to run a conference, as well as to see the benefits that can be yielded therein.