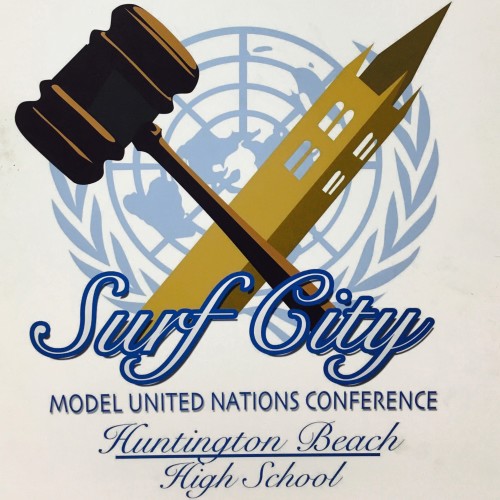 Last weekend, Huntington Beach High School  hosted the 13th session of Surf City Model United Nations. Over 850 delegates from 12 high schools in Southern California gathered in Huntington Beach, ready to discuss a variety of pressing global issues and threats to international security.
The conference on Friday evening with a dinner and reception, as delegates trickled in holding packed research binders and eyeing some burritos that would fuel them for an intense night of debate.  Surf City MUN XIII offered a total of 25 committees, ranging from the traditional GAs, ECOSOC committees, Security Councils, which included a crisis component for more realistic and exciting debate.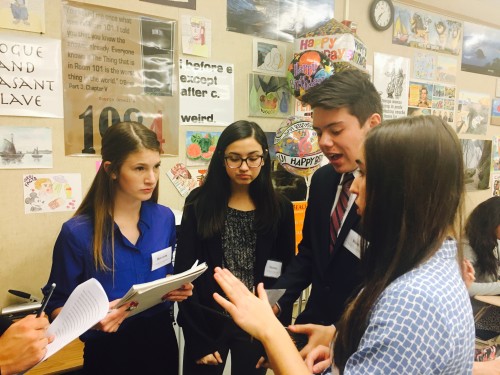 Surf City MUN XII announced the following school awards:
Outstanding Small Delegation – Palos Verdes Peninsula High School
Best Small Delegation – Whitney High School
Outstanding Large Delegation – Edison High School
Best Large Delegation – Cerritos High School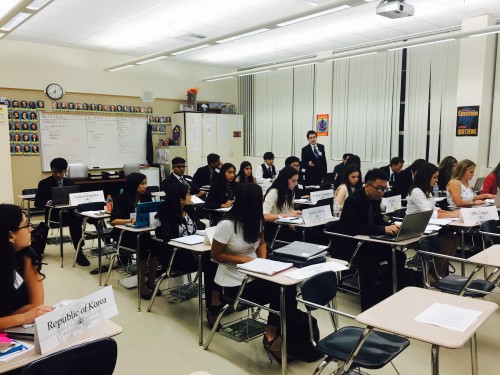 Best Delegate Interview With Surf City MUN XIII Secretariat
Best Delegate: Could you tell me a little about the history of Surf City MUN?
Secretariat: Surf City MUN is 13 years old, and our novice conference is 38 years old – our program has been around since 1972. This year, we have 25 committees with 850 delegates coming.
Best Delegate: How is the conference structuered?
Secretariat: There are two SGs and two USGs. We work as a team without much hierarchy. In each committee, there's a head chair along with two co-chairs. There are a few freshmen pages. We assign chairs to committees, and among themselves, they sort out who is going to be the head chair. Usually, it's a senior.
Best Delegate: So chairs are assigned their committees?                                                  
Secretariat: Since MUN is a class, you can chair one conference for a grade. They sign up to chair Surf City, and we assign based on what committee they wanted to chair and who they wanted to work with. But we ultimately have the say because we want all chairs to be professional. And within their committee, they will choose two topics, and our advisor will check over everything.
Best Delegate:  Could you tell us about your own MUN stories?
Secretariat: The way our system works is, you basically have to start in your freshman year. We have about four freshman classes, three sophomore classes, two junior classes, and two senior classes. Some people drop out, and some people are cut. It is competitive, and there is not enough space for all the freshmen to move on throughout the whole program. Personally, when I was in middle school, I really wanted to pursue a career in public policy. So I looked for a lot of activities that would help reach that goal and are related to that. Huntington has the biggest MUN program in the district, and we have an open district policy, so I actually asked for a transfer here specifically because I wanted to take MUN. Seniors always come back to our middle schools and tell us that if there is one thing in high school you should do, it's MUN. So I took their advice and I loved it. I'm now majoring in international relations – I would say that a solid percentage of our senior class majors in international relations if they're not sure what they want to do.
Best Delegate: So why did you all want to be a part of the secretariat? Was there an election? Or was it an application process?
Secretariat: Your junior year, you apply to be Chief of Staff, who registers us for conferences, a Senior Teacher, who teaches the freshman classes, or an SG/USG. These jobs can't overlap – that would be completely overwhelming! I think being on the Secretariat is a great way to give back to the program. I sense that at the end of junior year, everyone who's applying to these positions really wants to give back to a program they've enjoyed throughout high school. Also, Huntington cares a lot about its own conferences and we've had amazing experiences chairing, so we wanted to make sure that the legacy continued on. The advisors know all of us really well, and we are a very tightly-knit community. So when they choose people for these positions, the pairings work out very well. When you apply, you have to write some essays, then your advisor selects the people. And while there is no official interview, you've basically had three years of an interview. The advisors know you so well and there's nothing you're going to say in an interview that they don't already know about you.
Best Delegate: How does the program balance between competing at different conferences and hosting its own?
Secretariat: Our conferences are put in time periods when we don't have conferences to attend. We have an interclass in October, we host this conference, then we host our novice conference in a few months as SGs. The Chief of Staff registers us for other conferences and communicates with other schools. The logistics – flights, hotels – are done by the advisors. The Booster Club, made up up parents, is also very involved. They have a treasurer who takes care of all the finances and a trip advisor who plans the trips.
Best Delegate: As SGs, do you have any tips for other conferences?
Secretariat: The best thing to do is communicating with other members of the Secretariat. This conference went really well because we talked to each other and created a list of everything that had to be done. Another thing is using technology to your advantage. A lot of the times, you can use technology to do things for you, and it keeps things organized. Google forms has been a life saver! Organize yourselves in advance, and make sure everyone knows what they are doing. We started the first day of school – leave a lot of room for error! We have an "MUN Bible," and it's not a very organized book, but it is a binder with everything from the SGs before us. And we have a checklist of what we should be doing at what time. Also, we recycle a lot of things from past years – it saves a lot of time and money. Most of our placards don't specify what conference they are for, so we can use them for all three conferences. The only thing we don't copy from year to year is our topic synopses!
Best Delegate: What sets Surf City apart from other conferences?
 Secretariat: Our chairs take a lot of pride in making the conference well-run and fair. Everyone has had a bad committee experience in their career, so we encourage them to think about everything they hated in other committees and not do them in their own. We all went to this conference as sophomores and had a great experience, so we want to provide the same experience for our underclassmen. Also, for a lot of the delegates here, this is a practice before Berkeley. So a lot of the schools bring their senior delegates and it's super competitive.
Best Delegate:  Who trains the chairs?
Secretariat: Both the advisors and us. We start chair meetings and make sure everyone knows parliamentary procedure. About three months before, we make sure all the synopses are in and approved. They do have quizzes on parliamentary procedure. We also always pair younger people with older people so they can learn by experience.
Best Delegate:  Do you have any additional comments?
Secretariat: Shout to our advisors – Mr. Harmicar, Mr. Haney, Ms. Aiken! It's amazing how dedicated they are. They go to every single conference and put so much work into each delegate. On a different note, if anyone has any questions about our conference or program, feel free to email us at hbhsmun@nullgmail.com! We're happy to answer any questions.
Many thanks to Aurora, Zack, Ali, and Lauren  for a great interview and congratulations to all members of HBHS for another amazing session of Surf City MUN!
Check out Best Delegate on Instagram and Facebook for more pictures.