Are you shopping for a holiday gift for someone who lives and breathes Model United Nations? We figured some of the parents or participants who read this website may be, so our Global Media Secretariat compiled a list of recommendations divided into four categories: Delegate Supplies, Clothing & Accessories, Reading Material, and Educational Experiences. There's no need for a disclaimer since we do not get paid for mentioning any of these products (beside our own of course); these are just items that we would want ourselves as Model UN enthusiasts.
Delegate Supplies
Model UN delegates need to bring an array of supplies to succeed in committee, and this category had the most diverse suggestions. Note that it's preferable for many of these items to be customized because many delegates will have the same supplies, and they are easy to lose (or stolen in a competitive committee).
1. Padfolio or Clipboard: A padfolio or clipboard is mobile and allows you to carry your draft resolution around for signatures or key pieces of research while caucusing or bullet points for a speech if you need it. A padfolio looks more professional but a clipboard is cheaper. Try to customize the clipboard with a drawing and the padfolio with your Model UN team's logo. (Recommended by Kevin Felix Chan)
2. Coloured pen: Because #strategy. A coloured pen will distinguish a delegate's writing from a sea of black and blue, and will help that delegate brand and authenticate his or her clauses or notes to other countries (e.g. Greece always writes her notes with a green pen or the pink-coloured clause is Poland's idea). (Recommended by Marta Canneri)
3. Country-customized notes or heart-shaped post-it notes: Sending a note with the flag or a relevant icon from your country is not only creative but has practical value as delegates know that note is really from you. Sending a heart-shaped post-it note also has practical value… to get a message across to a particular delegate in the room 😉 (Recommended by Kevin Felix Chan and Yuji Develle)
4. Customized USB drive: The USB drive should be customized with the name and school of the owner. USB drives are commonly used in committees to save or transfer work but because it is so small it often goes missing (or gets stolen), so it's important that it's easy to identify the owner. (Recommended by Katherine Bonner)
5. Engraved gavel: Gavels are usually reserved for major accomplishments in Model UN such as winning Best Delegate. However, engraved gavels make for great gifts as they show a sign of appreciation toward club leaders who have done a lot for others. Examples could be anyone who served as Secretary-General, Head Delegate, or simply as a senior mentor. (Recommended by Nikita Barde)
6. Starbucks gift card: Every delegate spending their early morning weekends at a Model UN conference is going to need something to get them started for the day. (Recommended by Jessica Shin)
7. iPad or tablet: A great product for the Model UN delegate. Its mobility compared to a laptop makes it useful for usage before and during the conference for research, typing, or reading. (Recommended by Gabriela Taveras)
8. Nice tote bag for ladies or personalized briefcase for guys: Model UN delegates need something to carry all these supplies to committee, and it usually includes one major item such as a thick research binder or an electronic device like a laptop or tablet. A tote bag or briefcase looks more professional than carrying a backpack into the room. (Recommended by Gabriela Taveras)
9. Anything from the United Nations Bookshop: Model UN participants love swag from the real United Nations. See their gift shop website here. (Recommended by Natalia Daza)
10. Carry-on suitcase: The carry-on suitcase is the perfect size to pack for a Model UN conference since they are usually two to four days long. It also helps students avoid being charged airline baggage fees. (Recommended by Ellen Perfect)
Clothing & Accessories
11. Western Business Attire: Delegates are required to dress in Western Business Attire in committee and many delegates have trouble with Model UN fashion, particularly if they are just starting out. If you live in the United States or other countries where these stores are present, J.Crew, J.Crew Factory, Banana Republic, and Express have good sales on Western Business Attire around the holidays. If you're unsure of their sizes or measurements, then gift cards would do. (Recommended by Katherine Bonner, Gabriela Taveras, and Ellen Perfect)
12. Winter Wear: The peak of the global Model UN season is between January-March, when tens of thousands of delegates around the world will attend conferences that are mostly located in the Northern hemisphere. That means exposure to cold weather and snow as they are walking between conference facilities or to get food or to explore the new city they are in. Winter wear such as coats, scarves, gloves, thermals, or anything else to keep the delegates warm would make for nice gifts that they can use in major northern MUN conference cities such as New York, Boston, Washington DC, Chicago, The Hague, London, Montreal, and Beijing. (Recommended by Kevin Felix Chan)
13. Flag ties or flag lapel pins: Having a flag tie or flag lapel pin that matches the country the delegate is representing is a good touch to being in character. The generic alternative would be to get a UN tie or UN flag lapel pin. Another alternative is to get a tie with a design of flags around the world, which could be worn in committee or would be a nice gift for a faculty advisor. (Recommended by Prathm Juneja and Julia Burnham)
14. Pocket square, tie bar, or cuff links: these are fashionable accessories that make the male delegate stand out in committee. (Recommended by Kevin Felix Chan and Yuji Develle)
Reading Material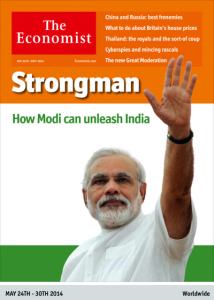 15. Subscription to a global affairs magazine: Delegates can stay up to date with global affairs and current events with a subscription to The Economist, Foreign Affairs, or other similar magazines. Alternatively, subscription to a major news source that has a pay wall such as the New York Times would also be very useful. (Recommended by Erik Leiden and Kevin Felix Chan)
16. Books on diplomacy, negotiation, or popular global issues: Such books would be interesting free time reading for Model UN enthusiasts and would probably be helpful knowledge to use in committee too. Several selected titles are included below. (Recommended by Katherine Bonner and Julia Burnham)
Getting to Yes
The Art of Negotiation
Kissinger's Diplomacy
Soft Power
Guns, Germs, and Steel
The Great Transformation
Power, Faith, and Fantasy
A Problem from Hell
Hard Choices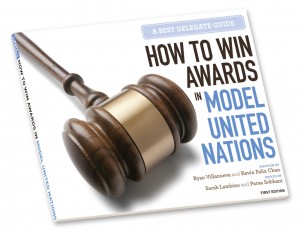 17. Books on Model UN: There are a few books or e-books out there that address Model UN strategy. Several selected titles are included below; you can find them at the online retailer you prefer such as Amazon. (Recommended by Kevin Felix Chan)
18. Barnes and Noble gift card: Or a gift card to any book store or online book store. Model UN delegates read and do research all the time. (Recommended by Gabriela Taveras)
19. Pocket-sized UN Charter: The United Nations Deputy Secretary-General, Jan Eliasson, carries a pocket-sized UN Charter with him at all times, as do many UN diplomats. Model UN delegates tend to have the UN Charter printed in their research binder, but having a pocket-sized one is much more mobile and useful to reference when writing pre-ambulatory clauses in a draft resolution. The UN Bookstore carries it. (Recommended by Liza Bell)
Educational Experiences
20. Paying for their Delegate Fee: Model UN delegates are always fundraising to attend their next Model UN conference. Delegate fees are usually within the same price range as a holiday gift. Most one-day and two-day conferences range from $10-$25, and multi-day conferences at hotels or universities tend to range from $40-$90. Covering the delegate fee for someone would go a long way in helping them attend their next MUN conference! (Recommended by Kevin Felix Chan)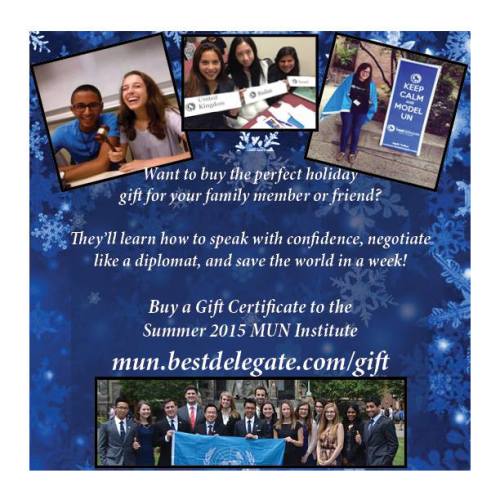 21. Gift Certificate to the Model United Nations Institute: The Model United Nations Institute by Best Delegate is our flagship MUN summer camp for high school and middle school students held at university campuses across the United States. We run the program and obviously highly recommend it for any Model UN student looking to improve and meet equally talented and enthusiastic peers.
Check out its website to learn more: http://mun.bestdelegate.com/.  Gift Certificates are now available (starting at $25) to help pay for their tuition to attend the program. (Recommended by Laurabeth Goldsmith)
22. Paid tour of the United Nations Headquarters: Every Model UN delegate secretly wants to visit the UN Headquarters and take a tour there one day. If you live in the NYC area or plan to take a trip to NYC one day, this would make a great gift! (Recommended by Gabriela Taveras)
**
Thanks to Best Delegate Global Media Secretariat members Ellen Perfect, Erik Leiden, Gabriela Taveras, Jessica Shin, Julia Burnham, Katherine Bonner, Laurabeth Goldsmith, Liza Bell, Marta Canneri, Natalia Daza, Nikita Barde, Prathm Juneja, and Yuji Develle for contributing suggestions! Hope this guide was helpful!
If you've bought a Model UNer a gift before or you'd secretly like a gift, what else would make for a great holiday gift?