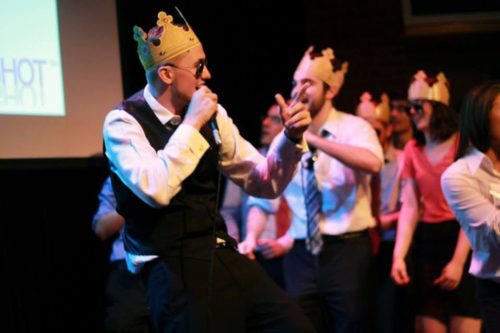 This guest article was provided FCMUN Secretary-General Thaenpaavai Kannan & Director-General Arielle Tait.
With the 10th Annual Five College Model United Nations Conference (FCMUN) right around the corner between March 24th and 26th, the Secretariat takes a moment to reflect on what is one of this year's most anticipated events.
100 delegates, 60 staffers, 18 schools, 10 committees, 5 events, 1 Secretariat, and let's not forget our personal favorite: New York-styled Halal cart. What more could you ask for? This is FCMUN in a nutshell. Since 2007, FCMUN has been held on Mount Holyoke College's picturesque grounds, reminiscent of the Hogwarts School of Witchcraft and Wizardry with its Gothic-inspired clock tower and chapel, lush grounds, and moving-stairs lookalike in the library. While the conference has evolved over the years to cater to changing global trends and an increased participation rate (both in terms of attendees and staffers) FCMUN has retained its creative start-up vibes.
FCMUN takes the word "unique" to a whole new level, pushing Model United Nations culture one step forward to add a personal touch that really give delegates the FCMUN [X]perience by providing an on-campus housing option. Delegates are given an inside look into what Mount Holyoke dorm life is like, and are able to forge lasting connections with their hosts and other students on campus.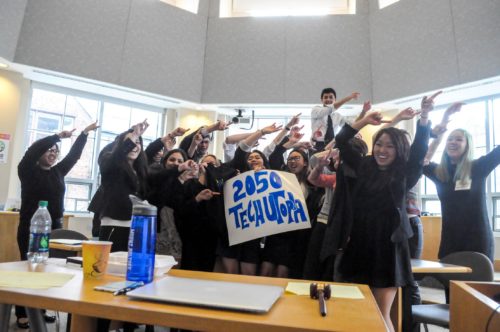 Despite being tucked away in the small town of South Hadley in Western Massachusetts, the Five Colleges (Mount Holyoke College along with Amherst College, University of Massachusetts, Hampshire College, and Smith College) are home to a large international student population that brings richly diverse perspectives from all around the world right to this very conference. Staffers hail from a range of academic backgrounds as well, affording creative discipline-specific elements to the committees and encouraging delegates to think beyond the realm of issues governing today's global media.
A training ground for aspiring leaders and MUN champions, FCMUN provides students with an opportunity to hone their crisis management, research, and public speaking skills without the pressure that comes with being in a large committee. Each delegate is placed within a 15-20 member committee that allows seasoned delegates and newcomers alike to gain individualized feedback on areas for improvement by Crisis Directors and Chairs. This creates an atmosphere where delegates are free to release their inhibitions, let their creative juices, and flow and come up with exciting (sometimes even downright crazy, yet not too implausible) solutions to some of the pertinent questions raised in committee.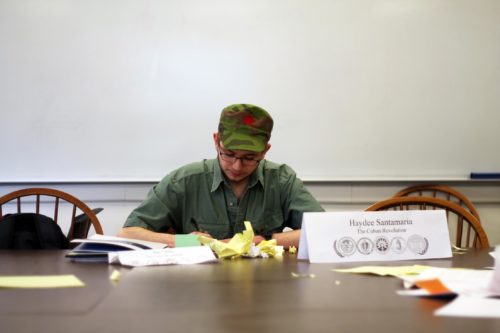 In addition, FCMUN ensures that USG's of Committees and Summits are seasoned delegates who recognize the importance of including an array of realistic and fictional committees that are flexibly both fast-paced and engaging, thereby enhancing delegates' experience. This year, FCMUN boasts an array of committees replete with topics such as: The Remarkable 100; Mount Olympus Summit; 2017's Democratic National Convention; the Geneva Convention; The United Nations Special Commission on Palestine; Arrested Development; The Futuristic Arctic; The Forbidden Palace; The Second Continental Congress; and The Cuban Missile Crisis.
Last but not least, the FCMUN secretariat has been hard at work to ensure that their socials are better than ever been before. They have retained their famed Karaoke night, where delegations have the chance to battle it out for first place songsters after a long day in committee. But the fun does not end there. The next day there will be a jiving Saturday-night Graffiti-themed party- a great opportunity for delegates to pull out their white and neon shirts, grab a couple of markers, and really make a statement!
And with that we present to you FCMUN X! Are you ready for the FCMUN [X]perience? We invite you to join us. Registration closes on March 15th – check it out!