It's that time of the year again: the holidays. Once again we find ourselves searching for gifts for our friends and family. If you have a Model UN enthusiast in your life and are having trouble coming up with a gift to get them, then we have the list for you. This is a list compiled by MUNners for MUNners that we feel would enjoy gifts such as these.
1. Anything to help them stand out in committee: We're talking colored pens, colored notepads, colored binders, colored post-it notes. Basically anything that differentiate your delegate from the rest of the crowd. After a certain amount of directives, working papers, or notes, chairs and other delegates will begin to notice your paper or pen color and will define you by it. This can be extremely beneficial as everyone will notice how much you are doing in committee because of it.
2. Western Business Attire: Because who doesn't like to look good? A new suit or article of clothing is sure to boost your delegate's confidence. You can find some great deals on Western Business Attire at stores such as J. Crew, Banana Republic, Men's Wearhouse, and Express. If you don't know their exact size or style then a gift card would definitely suffice.
3. Tie bars, Pocket Squares, Cuff Links: Though they may be small, simple accessories like these can really make a male delegates outfit pop and make them stand out into their fellow delegates or the chair.
4. Statement Ties: These colorful ties are sure to brighten up any outfit. Country flag themed ties are always a good idea, but any vibrant pattern is a safe bet. (Recommended by Sam Povey)
5. UN Lapel Pins: Because they look cool on any sports coat and instantly make you look better than the other delegates.                          (Recommended by Pinar Sezgin)
6. Anything with a UN Flag on it: Of course as Model UN enthusiasts we have to rep the UN, and anything with the UN flag on it is sure to make a great gift. You can find almost anything with a UN flag on it online whether it be a lapel pin, shirt, bag, or socks mug, just check out Amazon or related sites.
7. An Actual UN Flag: Because why not? A UN flag is sure to liven any delegates wall in their room.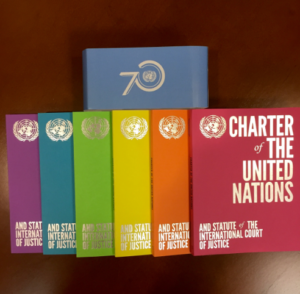 8. Various Colors of the UN Charter: As delegates we have all probably obtained a few UN Charters from conferences, but why stop at only a few colors when you could have the whole rainbow? The information may not change, but it is a cool novelty gift for the delegate in your life.
9. Gavel Stress Toy or an Actual Gavel: Gavels are usually an esteemed award for winning Best Delegate, but they can also be used to show appreciation. Because of its stature gavels can be a good way to show an advisor or mentor how much you appreciate what they have done for you while also keeping a MUN theme. It doesn't have to be a real gavel, for you can also find gavel stress toys on Amazon if you want a more light-hearted gift.
10. To-go Coffee Cups: For those early morning committee sessions when the only thing keeping you going is caffeine. To-go Coffee cups are also much more manageable than a flimsy Starbucks cup when rushing to committee at 8 in the morning. (Recommended by Caroline Bello)
11. Index Card Cases: Aside from looking cool, these things are sure to keep your crisis notes more organized while in committee. Instead of having to stuff all your notes into a binder or briefcase after committee, you can shove them in one of these and be all good to go. You can buy it here (Recommended by Natalia Daza)
12. Magazine Subscriptions: Not only can subscriptions to magazines such as The Economist and Foreign Affairs keep one up to date on global issues, but they also have stockpiles of old articles on their website. These websites are great sources for committee research and general knowledge but can only be accessed with a subscription which is why these subscriptions can be so invaluable to a delegate.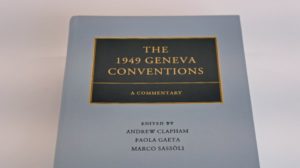 13. Pocket Version of The Geneva Conventions: Because you never know when you're going to have to school somebody on humanitarian issues in committee. (Recommended by Caroline Bello)
14. UN/International Relations Books: On top of being good reads, such books could also provide useful knowledge in and out of committee. Books such as War by Other Means, Diplomacy, The Art of Negotiation, and other related titles are great choices.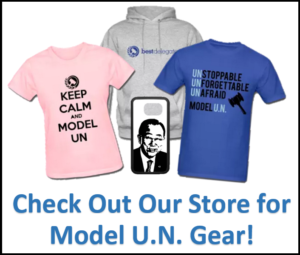 15. The Model United Nations Institute: The Model United Nations Institute by Best Delegate is our flagship MUN summer camp for high school and middle school students held at prestigious university campuses across the United States. We designed the MUN Institute to benefit Model UN student looking to improve and meet equally talented and enthusiastic peers. Give the gift of leadership, confidence, and the summer adventure of a lifetime – registration for MUNI is now open! More information about our awesome programs can be found here. Use code earlybird1 for $50 off your course package!
16. Any of Best Delegates merchandise!: Last but not least our shameless self promotion for our sick merchandise. We carry the best MUN gear on the market whether it be our Best Delegate Hoodies, MUN t-shirts, or Ban Ki-moon phone cases. Be sure to check out our shop here to check out what else we have to offer.
**
Thanks to Best Delegate Media Team Members Caroline Bello, Natalia Daza, Sam Povey, and Pinar Sezgin for their suggestions!
HAPPY HOLIDAYS FROM BEST DELEGATE!