This is a guest post by Liz Alarcon, a Fulbright Scholar in Costa Rica who was on the Miami Model UN team and is a Secretariat member for UNA-USA's GCIMUN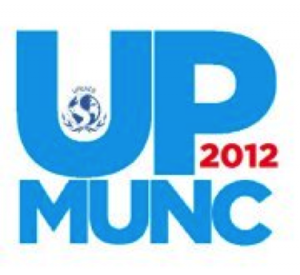 The March 1-3 weekend marked the 10th annual University for Peace Model United Nations Conference (UPMUNC) at the University for Peace in Ciudad Colon, Costa Rica.
Why is this conference unique? From the unique University framework, to the caliber of debate and heavy focus on delegate preparation, this conference is definitely attention worthy.
The University for Peace is a UN mandated university that offers eight one-year Master's programs ranging from Gender and Peace Studies to Environmental Security. With a current student population of over 150 students from over 50 countries, the student body undoubtedly represents the diversity of the real United Nations.
Led by a 12-student Board of Directors, this year's conference counted with the participation of approximately 100 delegates, most of which are enrolled at U Peace, although there was also participation from individual delegates and students from the IB school United World College.
The topic this year was "An Economy for All: Resolutions and Solutions" which was debated in the Security Council, UN Environment Programme, UN Women, Human Rights Council and ECOSOC. Heated debate abounded throughout the 3-day event including several attempts to try to abolish the IMF and the World Bank.
What sets this conference apart is the heavy academic focus. U Peace students participate as an opportunity to receive 1 academic credit. In order to be eligible they must have participated all three days, written a position paper and completed a reflection paper at the end of the conference.
Yet the spirit of friendly competition is still a big component of this conference. Each committee had 2 awards: Best Strategist and Best Orator. The winners were chosen by their fellow delegates in committee, and 2 awards were given for the best Chairpersons overall in the categories of Best Communicator and Best Mediator by the Board of Directors.
This conference is one of high academic and organizational caliber, with excellent facilities and an exceptional media team that kept the Breaking News updates and behind the scenes happenings of the conference entertaining and engaging for everyone. Next year UPMUNC plans to actively market their conference to international participants, and surely those that make it out to Costa Rica for this MUN competition will not regret it!