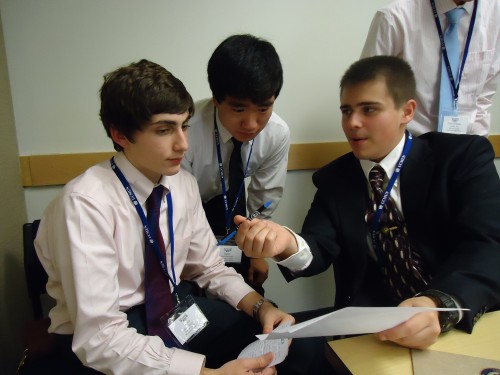 Position papers are supposed to help delegates with pre-conference research but are seen by many as a chore. It's a problem I've encountered countless times as a head delegate of MUN travel teams. I've cajoled, begged and threatened but there was always at least one delegate who failed to turn in their position paper on time or to an adequate standard. That is, until I started using "topic talks" as part of conference prep sessions…
These short presentations combine pre-conference research with debate practice and peer feedback. They make position papers an "event", to be planned and practised for, and focus delegate's research efforts in order to ensure that they enter committee properly prepared. In this brief guide, I'll explain just what a topic talk is, how to run them for your delegation and try to convince you why they are the best way to prepare your delegates for conferences.
What is a topic talk?
A topic talk is a short presentation given by each delegate on the topic or topics that they will be discussing at an upcoming conference. During the presentation, they are expected to explain all the necessary components that you'd find in a top quality position paper: topic background, past UN actions, national policy and proposed solutions. They may also share some proposed strategies that they hope to use during committee such as identifying potential allies.
Afterwards, delegates are invited to take questions and feedback from their teammates. For example, a teammate who has specialised knowledge in the topic being discussed can offer constructive feedback and suggest some sources that might be useful for further research.
How to do I run topic talks for my delegation?
The structure of topic talk sessions is straightforward: once committees have been assigned, schedule a prep session and assign time slots for each delegate. Depending on the size of the delegation, you may need to hold two sessions to allow enough time for feedback.
On the day, invite the whole delegation to listen to their teammates present. Try to keep the presentations short (no more than 5 minutes per topic) and give most of the time over to team feedback. After the presentation, allow the delegate to hold the floor and take questions and constructive criticism from their teammates.
It may be a good idea to give your delegates a generic presentation to fill in, with relevant headings to guide them. These should be along the lines of the position paper itself, for example, "Background, Past Actions, National Policy, Proposed Solutions, Strategy"). Of course, feel free to tweak as you see fit.
Topic talks are best held at least one week before the deadline for position papers. This usually allows enough time after study guides are released for each delegate to research and prepare their presentation.
Armed with the feedback from their peers and the structure of the presentation, delegates should find it easy to produce a position paper that will impress even the most experienced chair.
What are the advantages of topic talks? 
Topic talks are designed to help delegations/travel teams with a variety of needs. For delegations with a lot of newcomers, the presentations provide a clear structure to base their research on. This structure is then easily translatable into a position paper, following the presentation headings. If you have a delegation or team that has a mix of experience, split the talks over two sessions and have the more experienced delegates present first. This will demonstrate to the newbies what is expected of them when they give their talks at the next session.
For delegations who are having trouble motivating certain members, topic talks can harness peer pressure to productive ends. The peer feedback element provides a strong incentive to "keep up" with fellow teammates. Topic talks expose a lack of preparation, encouraging delegates to put in the necessary effort to avoid letting their teammates down.
Best of all, topic talks can keep experienced delegates on their toes. Best delegate awards can do funny things to the ego. There is a strong temptation for veterans to shun preparation and research, relying on "raw talent" to help them get by in their next conference. Topic talks, on the other hand, require the same level of research regardless of experience.
Finally, topic talks are a superb way of utilizing the collective wisdom of a delegation. Delegates are likely to have a variety of interests, knowledge and expertise. This is especially true at college, where students become increasingly focused in a particular discipline or on a small number of subjects. Topic talks are an excellent opportunity to share this knowledge throughout the team.
Have you tried using topic talks or something similar with your delegation in the past? Let us know your tips for using them most effectively.