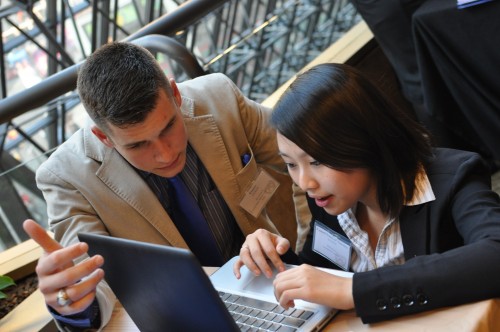 One of the first things I noticed walking into the University of Pennsylvania Model United Nations Conference (UPMUNC) is how big the conference is and a delegate next to me remarked "well that's because it's the fall championship!" Indeed it is with over 1,000 delegates from 70 universities around the world attending this conference in Philadelphia. Check out all the action in our UPMUNC liveblog below! Also, make sure to check out the UPMUNC XLV Official Blog.
Like usual, we try to take pictures of delegates who were leading the committee and other delegates in action. We have photos from Opening Ceremonies as well as photos from every committee (except for Ad Hoc which will have its own featured article):
Opening Ceremonies
Besides keynote speaker Geoffrey Pyatt, UPMUNC also hosted several other accomplished guest speakers over the weekend. Most notable was Jeffrey Sachs, the Director of The Earth Institute — anyone who has studied international relations or political science has likely read his work in their textbooks.
Now onto the committees:
Disarmament and International Security (DISEC)
Social, Cultural, and Humanitarian (SOCHUM)
UN Climate Change Conference 2009 – Copenhagen 
UN International Strategy for Disaster Reduction
Commission on Crime Prevention and Criminal Justice (CCPCJ)
United Nations High Commissioner for Refugees 
World Health Organization
Pirates of the Caribbean – Brethren Court 
United Nations Security Council 2020
Xenothreat Conclave
 Titans of Industry
Institute for Intelligence and Special Operations, Mossad
Crisis Staff
Overall, it looks like delegates are very engaged in debate and are enjoying UPMUNC!