Hello and Welcome to Best Delegate, the world's largest online resource for Model UN.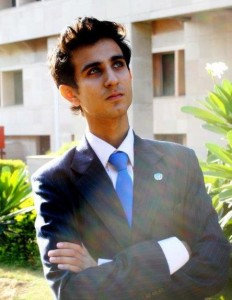 I am Rajat Rai Handa, and will be serving as the Under Secretary-General for Asia Pacific for my third annual term with Best Delegate. Though I have been involved with Model UN for 8 years now, I am not (to use the colloquial-term) an active participant in conferences anymore, restricting my involvement to serving here on the Best Delegate Team and occasionally advising different Model UN clubs and societies across the world. My lack of participation in conferences can primarily be credited to grad school, as I am pursuing a Master of Public Policy at the Hertie School of Governance in Berlin since the past one year and that leaves me with little to no time for a lot of things I would otherwise like to pursue.
Apart from Model UN and International Relations, I am interested in Peace, Conflict & Security Studies along with Good Governance & Democracy Studies which are also the area studies I'm focussing on at Hertie. I am an ardent fan of science fiction, epic fantasy, and superhero stories, books or series. I also find some time for swimming, climbing, and biking every now and then.
I have always maintained that Model UN has been fundamental in my growth as an individual, personally & professionally and thus I decided to remain involved with this brilliant extra-curricular activity in as much capacity as possible and for as long as possible, with the primary aim of trying to spread the learning curve of Model UN far and wide.
Over the past few years, Model UN has exploded and become probably the most popular extra-curricular activity in schools and universities alike all over the world, and this effect has been even more amplified in the region I manage, that is, of Asia and Pacific. After working with Best Delegate for three years on the region, and directly being involved in the conferences of the Indian Subcontinent in one way or the other, I can say with quite some assurance that the Asia-Pacific region holds more conferences than all the other regions, combined. But even as Model UN becomes more and more commonplace in this region, the quality of the conferences and the learning curve associated with the activity has been on a decline and thus one of the more important goals for me and my team here at Best Delegate this year is to try and propagate that learning curve in the upward direction. As I have witnessed and observed how the teachings of Model UN can help people personally and professionally, I continue to believe in Model UN and what it originally preaches. After all, we at Best Delegate exist to train the students of today into the leaders of tomorrow, through the brilliant concept that is of Model United Nations
So I look forward to interacting with you all over the year and addressing relevant concerns about Model UN!
Thanks and Best Regards
Rajat Rai Handa
rrh@nullbestdelegate.com