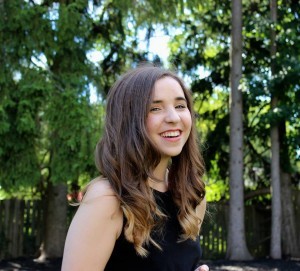 Greetings delegates!
My name is Julia Burnham, and I am honoured to be serving as your Media Chair of Canada for the upcoming year. I'm incredibly excited to be working alongside such enthusiastic, hard-working and dedicated individuals from all over the world! This is my first year working with Best Delegate, and I can't wait to get started.
I am a senior at Oakville Trafalgar High School, which is in a suburb outside of Toronto. It's hard to believe that at around this time last year I was preparing myself for my first ever Model United Nations conference. I was gearing up to represent Egypt on the United Nations Office on Drugs and Crime (UNODC), and I was, well, terrified. I would read through Best Delegate articles religiously in attempts to prepare myself – and it worked. The rest of the year was a whirlwind of crisis committees and historical roleplaying at conferences across Canada – I loved every single moment. Model UN has shaped who I am today; it has greatly improved my public speaking, leadership skills and overall confidence. A handful of gavels later, I'm anticipating an amazing last year of high school MUN!
Despite what some may think, Canada boasts a vibrant Model United Nations community. My goal as Media Chair of Canada is to ensure that the Canadian delegates and conferences are getting the spotlight they deserve. I'm looking forward to covering popular conferences like the Secondary Schools' United Nations Symposium (SSUNS) and McGill Model United Nations (McMUN), which are both held in Montreal for high school and university students respectively. If you do happen to spot me at a conference (I'll be at SSUNS and Upper Canada College Model United Nations (UMUN) very soon!), please come say hi! I would be more than happy to chat.
Best Delegate is such an important resource for every delegate – from the complete novice to the most experienced. As I'm a 'new' delegate myself, I definitely understand firsthand the importance of this site. I'm excited to be given this amazing opportunity to give back to such a fantastic community and spread my enthusiasm for Model UN worldwide.
Best,
Julia Burnham
Chair of Canada
Oakville Trafalgar High School