Hello Fellow Delegates,
My name is Prathm Juneja, and I am unbelievably excited to be serving once again as Best Delegate's co-chair for the United States Mid-Atlantic Region. I had a phenomenal time working with Best Delegate last Model United Nations (MUN) season, and cannot wait to once again begin attending conferences and publishing articles.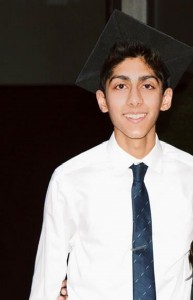 I am a current senior at the Middlesex County Academy for Science Math and Engineering Technologies in Edison, NJ, and I joined Model UN three years ago in my freshman year of high school. My quickly-found love of MUN also allowed me to become passionate about politics, leadership, and public speaking, and it has the been the single greatest influence of my high school career. I began my relationship with Best Delegate two summers ago, when I attended the Best Delegate High School Summer Program at the University of California, Los Angeles. My short time at the program shaped how I view my MUN experience, and as a result I now serve as the Secretary-General and Head Delegate of the Academy Model United Nations team.
Outside of MUN, I am actively involved in student government, serving as president of my school as well as president of my grade, and I am also a member of my school's soccer team. Model UN really inspired me to become more active in extracurricular activities, and as a result I am involved in a variety of clubs ranging in focus from computer science to trivia.
Overall, I am glad to once again have the honor of publishing articles and advice for the Model UN community, and I really hope to change the focus of Model UN in the Mid-Atlantic as well as in North America at large from awards to diplomacy. Now, as I begin my final year of high-school, it is time for me to give back to the high school MUN community, and Best Delegate serves as the perfect medium for me to do so. If you ever have any questions, concerns, or ideas for articles, feel free to email me at prathmj@nullbestdelegate.com.
Thank You,
Prathm Juneja
BD Media Chair of the United States Mid-Atlantic Region