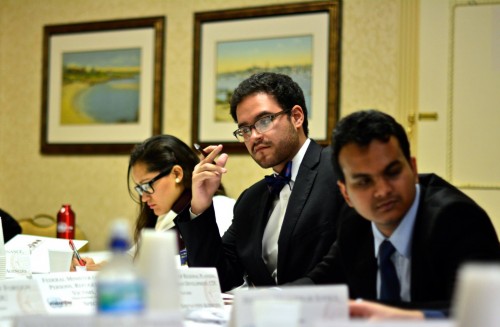 Hello, fellow delegates,
My name is Miguel Ruiz, and I am proud to serve as your Chair for Latin America University . I am currently a senior at Universidad del Rosario, in Bogotá, Colombia, majoring in International Relations and minoring in History and International Security & Democracy. I have participated in the circuit for close to four years now, dating back to my freshman year of college. During this period, I have served sparingly as training coordinator and member of the Board of Directors of Universidad del Rosario's top-ranked travel team and have attended around a dozen conferences in diferent regions of my home country of Colombia, and also have attended HNMUN twice and served as Head Delegate of my university's Model OAS delegation. I have also chaired my University's conference, MUNUR, twice, and served as Under-Secretary-General of Crisis for last year's Conference.
While I stumbled upon Model UN a lot later than I would have preferred, I have still learnt and experienced a great deal while participating in conferences and I can confidently say that it has been responsable for a good deal of my growth as person and as a student. This is mainly why I am glad to be working with Best Delegate, as my main concern is to be able to make this enriching experience available to as many young Latin American leaders as possible.
As such, one of the main endeavours we have undertaken collectively at our MUN Club at Universidad del Rosario is a training program for Grade 11 and 12 High School Students to introduce them to Model UN and the plethora of useful skills it develops in young men and women.
I will aim to share with you as much of my limited knowledge as possible, so as to enable other youths who are just starting up, to enjoy Model UN as much as it can be enjoyed and to pass it on, so as to make our Latin American Model UN Community grow even quicker.
I will also be reporting on some of the larger University conferences in Latin America and trying to bring you interesting news, profiles of the top-ranked travel teams which attend HNMUN, WorldMUN and NMUN yearly, and other relevant information from our region for your enjoyment.
I very much look forward to working for you and our community in this coming year. If you have any questions, feedback, or other concerns, please don't hesitate to contact me at ruiz.miguel@nullbestdelegate.com
Miguel Ruiz Botero
Media Chair for Latin America University
Colegio Mayor de Nuestra Señora del Rosario