Hello Everyone!
My name is Limabenla Jamir and I am honoured and excited to serve as the Best Delegate Chair for South Asia. I completed my masters in Applied Social Psychology from Royal Holloway, University of London and an avid MUN'er in the UK and India circuit. Having returned back home to Nagaland, India last year I initiated North East India International Model United Nations (NEIMUN), a non-profit educational foundation and hosted the first Model UN Conference in Northeast India in collaboration with our local government and Best Delegate.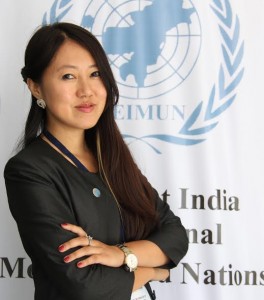 I firmly believe in the mission of Best Delegate to train the next generation of young leaders, and with similar objective NEIMUN was introduced. Thus, began my association with Best Delegate following our brief meeting at the Model UN Workshop organized by UNDPI at the UN Headquarters, New York. The Best Delegate website introduced me to MUNs across the globe and prepared me extensively, and it was an added advantage for me to bring Best Delegate to North East India to introduce Model UN.
Now in my 5th year in the MUN circuit, I have the pleasure of sharing my experiences and training the next generation of young leaders through Best Delegate platform, reaching out to an even wider Model UN Community.
During my term this year, it is my goal to introduce Best Delegate resources to the South Asian MUN Community, recorded as one of the largest and fastest growing MUN Regions. In addition to writing articles in helping you prepare for MUN conferences, I envision a larger exchange of delegates between the Global North and South MUN Conferences.
MUN made me realize how small I am and how I am a part of something much bigger than myself. Never before has the world given so much importance to Young People. It is important that we grab the opportunity to equip ourselves, through Model United Nations and prepare to involve in decision-making and start making a difference.
Now, I am off to work, final days before NEIMUN 2nd session kick starts on the UN Day.
Wishing all readers a great MUN-ing year ahead!
Cheers!
Limabenla Jamir
BD Chair for South Asia