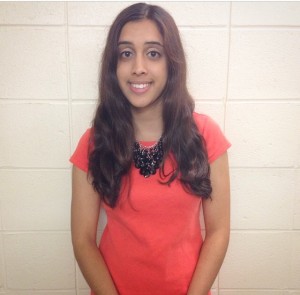 Welcome back to the Best Delegate community! I hope you are as excited as I am for what this upcoming Model UN year has in store.
My name is Nikita Barde and I will be serving on the Best Delegate Global Media Secretariat as the Undersecretary-General for the Middle East and Africa regions. I am currently double majoring in Economics and Political Science at Rutgers University, and have had a passion for Model United Nations since my freshman year in high school.  Model UN holds as special place in my heart, as it helped me transform from a shy, introverted girl to an outgoing and outspoken young woman. It helped me develop better leadership  skills, improve my knowledge regarding international affairs, and taught me how to be a better teacher and activist in my community. I hope to provide other students with the experience I had with Model UN by actively supporting the growth of the Model UN community.
To give you a little background on my Model UN experience, I have worked with Best Delegate since September 2012, previously serving as the Media Associate for the US Northeast region and the Media Manager for the North American region. In addition, I served as the President of West Windsor-Plainsboro High School North MUN team for the 2012-2013 school year,  and attended many competitive conferences in the Northeast region.  I am currently a member of the Institute for Domestic and International Affairs at Rutgers University, where I have served as a staff member for several conferences including Rutgers Model United Nations, Philadelphia Model United Nations, and Rutgers Model Congress.
My role on the Best Delegate team includes communication with the Chairs responsible for the Middle East and Africa regions, developing educational materials for readers, and inter-connecting different regions through strategic and informational content regarding Model UN. Best Delegate has an expansive reach, through platforms including the website, summer program, educational resources, and more, which engage my passion for teaching and expanding the reach of Model UN. My personal goal is to increase the unity between different regions, and have Best Delegate readers explore the Model UN community on an international level. I believe that students can take the knowledge and skills gained from Model UN and use them to make a difference in their community.
If you have any article ideas, questions regarding content, or feedback on Best Delegate resources, please feel free to contact our team at media@nullbestdelegate.com. Cheers to a promising year!
With regards,
Nikita Barde
Best Delegate Undersecretary-General, Middle East and Africa regions