WIMUN 2018 registration is open! Want to learn more? Read our WIMUN 2017 recap here.
WFUNA International Model United Nations (WIMUN) program is the most accurate simulation of the UN with both opening and closing ceremonies held at the UN Headquarters in New York, US. By using the WIMUN approach, we are the only conference to precisely simulate the United Nations in Model UN programs and provide students with the most realistic UN experience possible.
WFUNA's flagship program WIMUN 2017 took place on 1-4 February 2017 with the theme of Building Peaceful, Just, and Inclusive Societies. It brought together over 800 participants from over 70 different countries and every inhabited continent. With our delegates and stuff coming from all over the world, WIMUN truly reflects the diversity of the United Nations. Unlike many MUN conferences, WIMUN hosts both a high school and university division, with delegates participating in the First, Second, Third, Fourth, and Sixth Committees of the General Assembly and two separate UN Security Councils.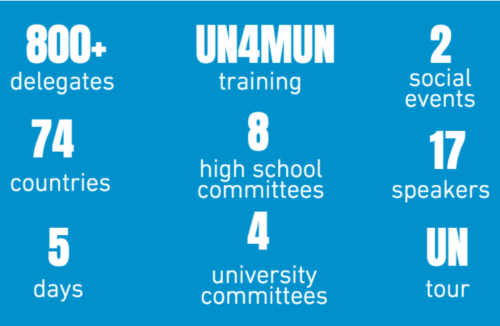 Every WIMUN begins with UN4MUN training by Mr. Bill Yotive, who developed the UN4MUN procedure while working at the United Nations Department of Public Information, as well as workshops led by the experienced WIMUN staff on practical delegate skills in a UN4MUN simulation. Since many of our delegates are participating in UN4MUN simulations for the first time, and it is important to ensure that everyone is comfortable and confident in getting the most out of their experience.
Each WIMUN brings participants the opportunity to hear from the high level UN officials. At WIMUN 2017 Opening Ceremony, the conference received an address from Mr. Bonian Golmohammadi, the Secretary-General of the World Federation of the United Nations Associations (WFUNA), and H.E. Dessima Williams from the Office of the President of the General Assembly. Also, the UN Secretary-General Antonio Guterres greeted participants in a surprise video message and wished all delegates the best of luck with the conference. In his inspiring speech he also thanked participants for contributing to the UN efforts to establish peace, secure human rights and enable all people to live in dignity. Mr. Guterres reminded everyone that we all have to work for the common cause for our common humanity.
At Closing Ceremonies, delegates had the privilege of hearing from Under-Secretary-General for Communications and Public Information Christina Gallach, as well as Mr. Chris Murgatroyd who is a Policy Advisor for Governance and Peacebuilding in UNDP's Bureau for Policy and Programme Support.
Furthermore, WIMUN features current UN officials and Delegates from the missions to the UN as speakers on the topics for every committee. The topics are selected from the actual UN agenda. Hearing from the real experts helps delegates understand their topics in-depth and in how they are debated, negotiated, and implemented in real life. At WIMUN 2017, the following speakers briefed our young delegates:
Ronan O'Laoire, United Nations Office on Drugs and Crime

Anne Schintgen, Office of the Special Representative of the Secretary-General for Children and Armed Conflict

Alexandra Hiniker, PAX International

Katja Boettcher, United Nations Office for Disarmament Affairs

Sophie-Grace Angeles, United Nations Office of Drug and Crime

Kevin Cassidy, International Labour Organization

Louis Charbonneau, Human Rights Watch

Jonathan Perry, United Nations Department of Economic and Social Affairs

Daniel Palmer, International Labour Organization

Hahn Choong-hee, Deputy Permanent Representative of the Republic of Korea to the United Nations

Yu Ping Chan, United Nations Office of Drug and Crime

Maria Vardis, United Nations Mine Action Service

Henk-Jan Brinkman, Peacebuilding Support Office in the United Nations
WIMUN hosted 2 simulations of the UN Security Council, presided over by Caleb Oh from Hankuk University of Foreign Studies (University division) and Angela Hou from the University of Toronto (High School division). University students discussed the topic of Maintenance of Peace and Security – Security, Development and Root Causes of Conflict, while the high school students discussed the issue of Children in Armed Conflict.
In the General Assembly Committees, delegates discussed everything from Small Arms Trade to Achieving Sustainable Development through Employment Creation, and formulated intense policies on each of their topics. All 10 of the General Assembly committees were able to find consensus on their resolutions after some tense line-by-line reviews of each resolution, and each resolution was eventually adopted by consensus in the UN General Assembly Hall during the Closing Plenary.
At WIMUN 2017, delegates had the opportunity to speak in the actual UN GA Hall in front of the entire conference, just like at the real UN, Member States have the opportunity to speak during plenary sessions, either to discuss the agenda or specific resolutions before or after their adoption. The elected Chairs and Rapporteurs from each committee also had the opportunity to present in the UN GA Hall, surrounded by 800 of their peers.
To cap off the conference, each division also had their own Delegate Social on Saturday night. The High School division had their social and dance at a beautiful Prince George Ballroom in Midtown Manhattan. University students went Downtown to gather at a local venue and say farewell before delegates headed back to each of their own corners of the globe.
Feeling like you missed out last year on an awesome WIMUN? WIMUN 2018 will be held February 8-11, 2018. Click here for more information!