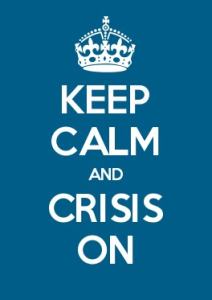 There's no denying that crisis committees are having a moment of popularity right now in the MUN world. Crisis committees are innovative, exciting, and demand quick thinking – so it's no surprise that many delegates are beginning to choose these committees over general assemblies. Although general assemblies are typically more related to the actual workings of the United Nations, crisis committees offer a new challenge that many delegates crave. To a seasoned delegate, general assemblies can become repetitive. Trying a crisis committee will help to improve your critical thinking and impromptu debating skills, both of which can be beneficial in GAs.
Unfortunately, many delegates are wary to branch out from their standard committee. Some find it difficult to try a different type of committee when they have already crafted a formula for success in their standard general assembly. Putting yourself in a different committee and exposing yourself to the crisis side of model UN will help you become to become an interdisciplinary, diverse delegate. Still not convinced? Take a look at the following testimonials from delegates who have tried crisis and never looked back:
"I think there are a couple of ways crisis committees can really help delegates. They're often significantly smaller than GAs or other committees, which can allow delegates to speak more and be more involved in the debate. Given the dynamic nature of crisis, it can also push delegates to think on their feet, an important skill to learn."
– Aleksei Wan, Upper Canada College
"The atmosphere surrounding crisis is one I've found in few other places. The clamour of notes coming in and out of the room, the constant updates, the scramble to write something intelligible before the scenario has changed entirely and your solution is irrelevant. It's a simulation of the highest calibre."
– Joey Decunha, McGill University
"As a dedicated MUN delegate, I adore crisis committees and try to be placed in them as often as I can. Historical crises in particular are my true passion. It is definitely not your average general assembly when your given task is to organize illegal weapons deals with South American anti-communist rebel groups. It is even better when instead of doing that assigned task, you embezzle $11 million from the US government and move to Mexico. I love historical crises especially because your actions in committee change the course of real events, and can quite literally redefine history. I have been in a crisis committee where we changed the outcome of a war that shaped Europe. There is never a dull moment, and you never know what will happen next. Also, I am not a huge fan of writing resolutions because they take forever to make and discuss, but in crisis, directives can be sent even without letting your committee know. In crisis, your actions will incur swift reactions such as news bulletins, kidnappings, scandals, or deaths. I definitely rank crisis committees ten out of ten and I highly recommend them to any delegate interested in having an amazing time at your next conference."
– Sammie Roper, Branksome Hall
"Crisis committees get so intense that you think everything is happening in real life until someone calls motion for recess. After 6 crisis committees, I think I'm ready to fight a war… and win."
– Daniel Mogilny, Holy Trinity School
"Crisis helped me think on my feet and deal with situations as they came. When you're in a crisis, the first hour you can get along with just knowledge. However, if you rely on that alone, you'll get your butt kicked. To succeed in a crisis you need to think outside the box all the time; it teaches you to be creative and cunning."
– Alexander Jager, Bayview Glen
"Everything about crisis makes it a pressure cooker, especially a joint crisis. Be it the sometimes cloak-and-dagger tactics or the constantly-changing resolutions or the lightning fast chain of events, it is a fast-track MUN like no other."
– Christian Métivier, Crescent School
"I think my favourite part about crisis committees is how the delegates can truly make the committee their own. The crisis directors allow the delegates to take control of the committee and use personal and group directives to achieve anything, so long as it follows the law of physics."
– Hannah Barltrop, Oakville Trafalgar High School
"Not as much research is required in most situations, which is nice. Also, discussion is a lot more spontaneous, and you can assassinate other people, so I really don't see any downsides."
– Shakir Lakhani, Upper Canada College
"I started my Model UN career with a crisis committee, and since then, with rare exception, it's the only committee type I participate in. What makes crisis so special is the issues that can arise at any given moment, and you are not prepared for them. They encourage quick thinking and are very enjoyable, as you have to make decisions quicker than problems come your way. These skills that you develop in my opinion are more valuable than those in a general assembly, as it is no longer a matter of who did the most research, but rather who has the best natural abilities of diplomacy and conflict resolution."
– Skylar Cotnam, St Francis Xavier
Convinced? Take a look at the following articles and prepare for a dynamic crisis experience at your next conference!
Crisis 101: 5 Strategies for the Crisis Newbie
 Maps, Guns and Games of Risk: How to Succeed in a Military Crisis Committee
Five Steps for Starting a Crisis Committee
Are you a crisis fan? Tell us about your favourite crisis committee experience!