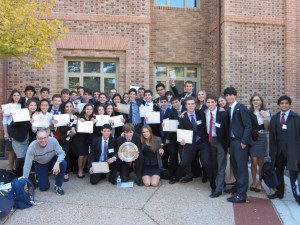 From November 9th through 11th, the William and Mary International Relations Club hosted its 26th year of WMHSMUN, one of the east coast's most competitive conferences.
A unique feature of the conference was the three general assembly novice committees, which debated topics ranging from Palestinian Refugees to Measel outbreaks in Europe. Additionally, the Ad-Hoc committee of the secretary-general debated a fictional revolution in Saudi Arabia.
One of the unique aspects of WMHSMUN is its focus on diplomatic discourse. Above all else, chairs focus on delegates' collaborative skills and their ability to work together with others to achieve effective solutions. Throughout the weekend, it became clear that this philosophy really inspired the diplomatic and cooperative nature of the delegates.
The Coon Award for Diplomacy is WMHSMUN's equivalent of best delegation. However, the award not only rewards a school's success in the committee, but also their abilities to be diplomatic and respectful delegates. The Coon award is special in that it encourages delegates to focus on what Model UN is really all about – collaboration. This year's Coon Award was awarded to The Horace Mann School, which won best delegate on 8 out of 16 committees on which they were represented.
School Awards
The Coon Award – Horace Mann School
Best Large Delegation – Langley High School
Outstanding Large Delegation – Thomas Jefferson High School
Best Small Delegation – Huntington Beach High School
Outstanding Small Delegation – American Heritage School-Plantation