The William & Mary High School Model United Nations conference carried its tradition of excellence, professionalism, and diplomacy through its most recent chapter, WMHSMUN XXIX. This year, over 1,400 delegates heard from keynote speaker, Counselor Thomas A. Shannon, Jr., Counselor of the State Department, and were charged by Secretary-General Brendan McNamara '16, to see the conference as an invitation to consider their role is sharing diplomacy.
WMHSMUN continued its practice of fundraising for an international charity by supporting the Building Goodness Foundation, a Virginia based nonprofit that connects skilled volunteers from the design and construction industries with vulnerable communities at home and abroad. Our service branch, IRCares, assigned individual committees projects of the Building Goodness Foundation relevant to their committee to support.
Delegates came from all over the country to Williamsburg, Virginia, for our committees covering a broad range time and location. WMHSMUN presented 13 General Assemblies and 14 Specialized Agencies. Undersecretary-General for General Assemblies, Jason Nykorczuk '18, oversaw traditional GA's for Novices as the World Health Organization and International Atomic Energy Agency, and more advanced committees with the GA structure like the Fortune 500, Seneca Falls Convention, and Berlin Conference, 1885. Specialized Agencies, led by Undersecretary-General for Specialized Agencies Jack Nicol '18, covered issues of the Thai Coup, 2014, New York Times Board of Directors, Joint Crisis Committee on Extremism 2016, and beyond.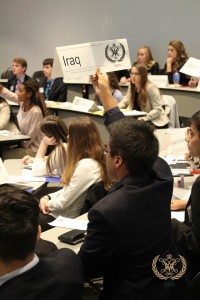 The flagship committee, Secretary-General's Committee on Negotiation, under the direction of Secretary-General Emeritus Clayton Southerly '15, challenged delegates to address national security threats as the NSA. Delegates in this committee fielded a midnight crisis session Friday night, organized by Director-General Alyssa Harrison '17.
The WMHSMUN social events, organized by Caroline Nutter '18 and Claire Kartoz '19, included an updated WMHSFair which provided William & Mary cultural organizations the opportunity to engage with delegates. WMHSMUN also presented the Leadership Summit for head delegates, Committee Speakers, a Secretary-General's VIP Speaker Reception, and Delegate Dance. Conference preparations were presented to delegations on WMHSMUN's new website and conference mobile app, created by Greg Wicks '17, with design by Sam Houmoui '18, and school communication through Hannah Berk '16.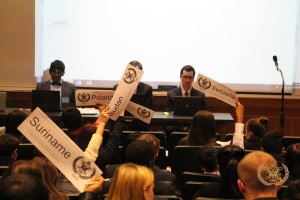 WMHSMUN's highest award, the Michael Charles Coon Award for Representation and Diplomacy, is presented to our delegation that most encompasses Mr. Coon, Secretary-General of WMHSMUN IX's commitment to progress, diplomacy, and engagement to Model United Nations. This year's Coon Award went to the Thomas Jefferson High School for Science and Technology.
Other delegation awards went to:
Secretary-General's Best Large Delegation – Horace Mann School
Secretary-General's Outstanding Large Delegation – American Heritage School Plantation
Undersecretary-General's Best Small Delegation – Canterbury School, Fort Myers
Undersecretary-General's Outstanding Small Delegation – Floral Park Memorial High School
Erica Chiusano Award for Devotion to International Service – Notre Dame High School
WMHSMUN is the largest and oldest conference at William & Mary. This year WMHSMUN operated with its largest staff to date, under the direction of Kelly Dodd '17, and overall our International Relations Clubs also organizes WMIDMUN, for middle school delegates, and &MUN, for collegiate delegates. This year WMHSMUN was proud to take greater strides in becoming a paper-less conference through committee operations and gender-inclusive in all its conference publications. We look forward to introducing WMHSMUN into its next decade next year with WMHSMUN XXX.
Brendan McNamara, Secretary-General
Alyssa Harrison, Director-General
Hannah Berk, Registration Director
Jason Nykorczuk, Undersecretary-General for General Assemblies
Jack Nicol, Undersecretary-General for Specialized Agencies
Kelly Dodd, Chief of Staff
Sam Houmoui, Media Director
Greg Wicks, Director of Technology
Caroline Nutter, Conference Development Director
Claire Kartoz, Assistant Director of Conference Development