WorldMUN lives up to expectations in both committees and socials. The second day of WorldMUN proved to be both enjoying and exhilarating with no signs of stopping, as the week has only just begun.
Last night's Global Village was truly global with delegates in national dress, draped in flags and selections of food and drinks from across the world.
A late night of dancing didn't stop delegates from turning up to committee sessions early in the morning, full of ideas, enthusiasm and vigor. MUN Society Belgium truly outdid themselves with conferences venues, with committees held in The Hotel, Egmont Palace and the European Council in the European Council itself! This meant that many committee rooms were purpose built for this very kind of diplomacy with circular layout, personal microphones and desktop computers. This facilitated debate in a way that chaos in a room of up to 400 very eager delegates!
The day constituted of a 9-5:30pm committee session where diplomacy and dialogue prevailed in the heart of Europe. Delegates were not shy in their approaches and by the closing of the session, blocs had been formed and working papers and draft resolutions had already been submitted. The committees move at an extremely fast pace and if you don't move at the same pace, you may feel a little left behind. The competitive nature of many delegates was very apparent, but it didn't stop friendships being formed and substantive ideas being communicated on some very engaging topics. In addition to committee sessions, WorldMUN held afternoon workshops with Allen & Overy and McKinsey & Company in order to facilitate delegates to work on their career and employability skills as well leadership and teamwork.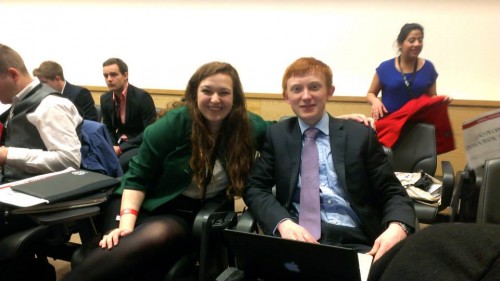 So far, WorldMUN and the weather in Brussels have been treating us very well, we hope the rest of the week will only get better!