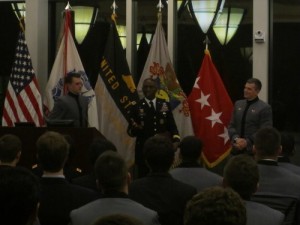 WPSC's keynote speaker and special guest was General William E. "Kip" Ward. General Ward served as Commander of Africa Command (AFRICOM) and he was the first officer to hold that position.
I did not realize how rare it was to meet a four-star general. There are only 11 four-star generals on active duty and they are currently the highest ranking officers in the army.
The West Point cadets gave Gen. Ward a hero's welcome and treated him like a rock star. What an honor to have him visit West Point's first Model UN conference!
Click "Learn More" below to see pictures and video of Gen. Ward in action!