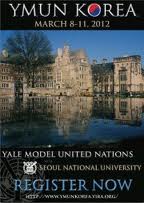 This guest post was provided by Frank Costa, President of the Yale International Relations Association, announcing the inaugural session of the Yale Model United Nations Korea conference, set to take place March 8-11, 2012.
The Yale International Relations Association is proud to join with Seoul National University to announce the inaugural session of Yale Model United Nations Korea!
After nearly forty years of a successful Yale Model United Nations conference on Yale's historic campus in New Haven, CT, we are taking the conference to Seoul, Korea from March 8-11, 2012.
We are most excited to have a uniquely diverse conference, comprised of approximately 50 different high schools from across Korea and over 5 other countries in the region, as well as delegates from as far as North America and Europe.  Additionally, there will be 1-2 college-level committees for Korean university students.  In total, the inaugural session of YMUN Korea is proud to welcome about 450 delegates next month to Seoul National University's campus.
The ten most well reviewed committees from YMUN XXXVIII will be featured at the conference, which is staffed by a veteran secretariat—including some of the most experienced delegates from the Model UN Team at Yale, and USGs, DGs and one Secretary-General from the Security Council Simulation at Yale (SCSY) and Yale Model United Nations (YMUN).
Our Secretaries-General, Yoonji Wu and Eugene Jung, are both Korean-born Yale students whose experience with MUN reaches back to high school, when they both organized and ran Model UN conferences for thousands of students in Paris and Seoul, respectively.  Our Director-General, Larissa Liburd, has served on the Dais or Secretariat of the conferences of Yale Model United Nations (YMUN), Yale Model Government Europe (YMGE), the WEMUN Expo, the Security Council Simulation at Yale (SCSY), and currently sits on the YIRA Board of Directors.
Additionally, YMUN Korea features a select group of ASGs and Vice Chairs from outstanding Korean high schools, as well as 5 USGs from Seoul National University.
Special registration for incoming high school freshmen will remain open until February 20, 2012.  For more information, please seeymunkorea.yira.org or email ymunkorea.dg@nullyira.org.
Check out some of YMUN Korea's substantial coverage in various Korean news outlets!