The Olive Branch is a monthly email newsletter on Model UN in the Middle East produced by THIMUN Qatar, Best Delegate, and Online MUN.
Model United Nations is growing rapidly across the Middle East. Students and teachers are starting MUN clubs and conferences throughout the Gulf, across North Africa to the west, as far east as Afghanistan, up north to Turkey, and down south to Sudan.
THIMUN Qatar is at the epicenter, hosting the region's largest MUN conference with over 1,200 high school delegates. TQ also hosts the Qatar Leadership Conference, is pioneering Arabic-language Model UN, and has leveraged Online MUN to teach students in other countries.
To keep you up to date on the exciting changes happening with Model UN in the Middle East, THIMUN Qatar and O-MUN have partnered with Best Delegate to produce the monthly Olive Branch Newsletter.
Subscribe above and check it out below!
June 2016: Farewell to Jesse Atkins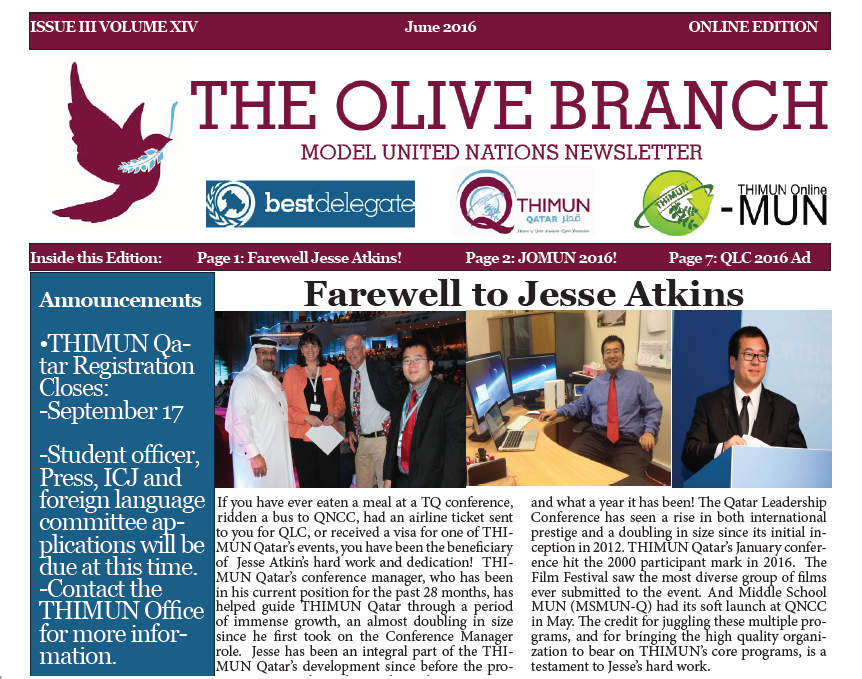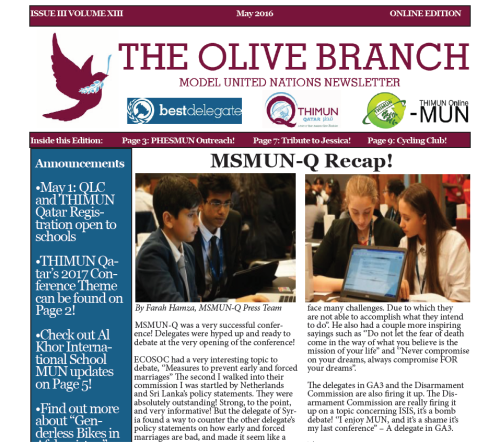 April 2016: Film Fest a Huge Success!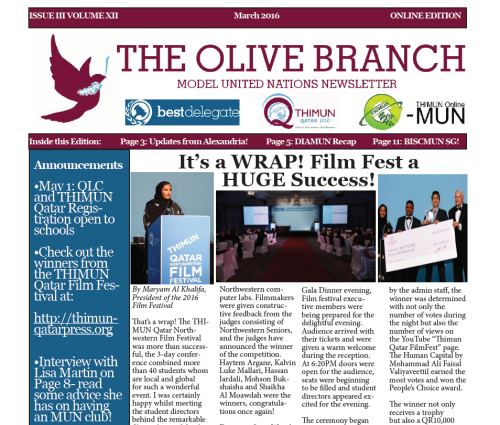 March 2016: The Special Regional Committee in Arabic at THIMUN 2016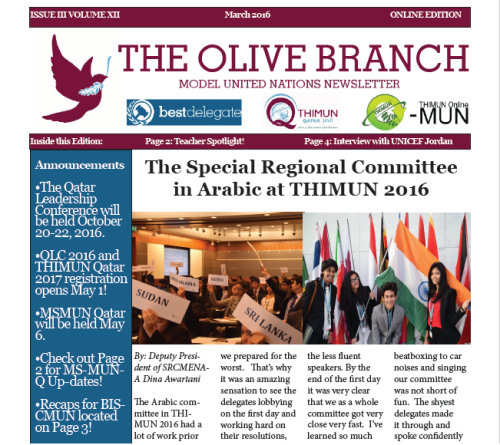 February 2016: TQ's Secretary-General Looks Back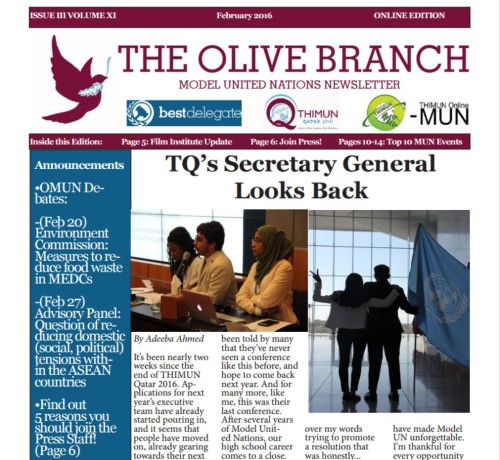 January 2016- Building communities one MUN club at a time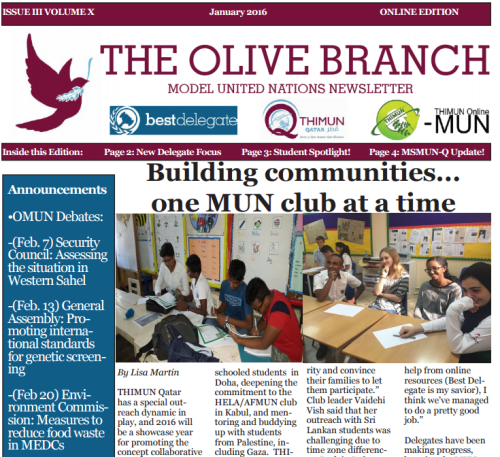 December 2015- THIMUN Qatar Countdown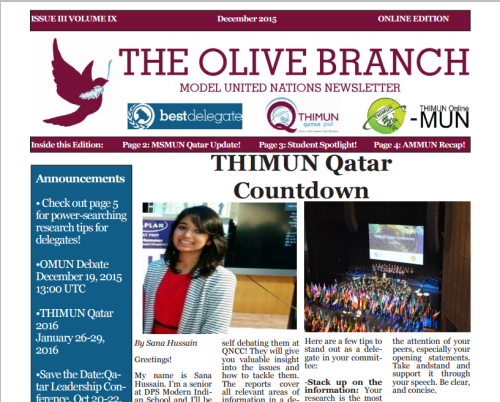 November 2015- Connecting Communities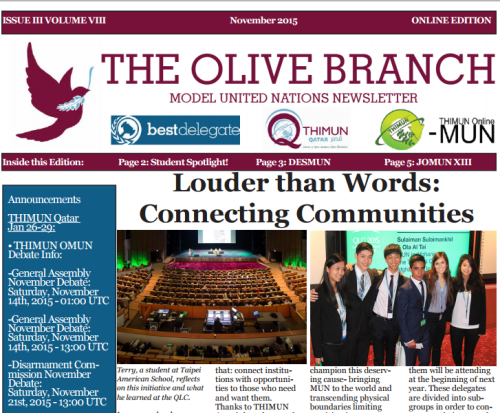 October 2015- QLC Just Around The Corner!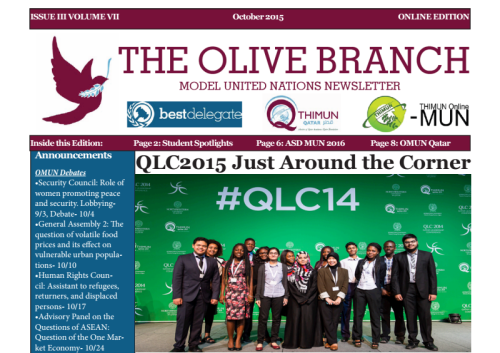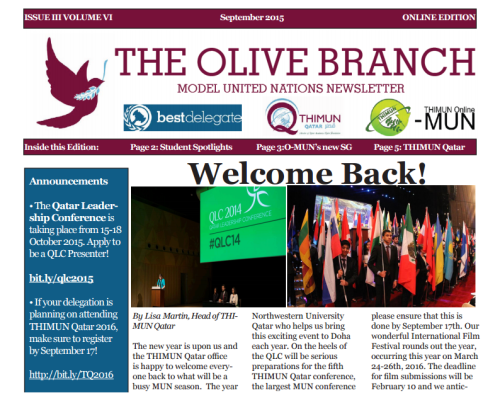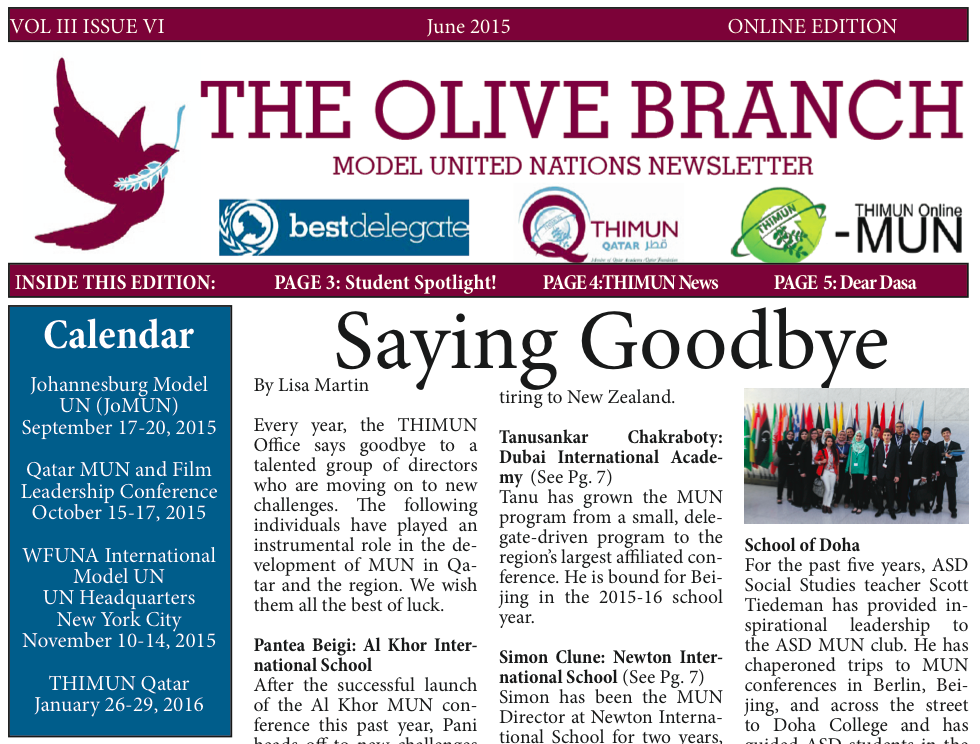 May 2015 – OMUN Sri Lanka and the Eastern Province MUN Initiative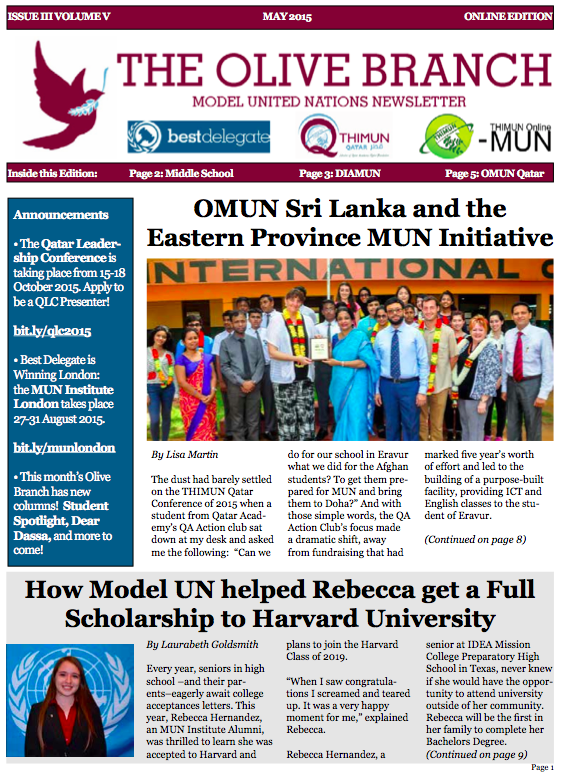 April 2015 – "And the Winners Are…" THIMUN Qatar Northwestern Film Festival Recap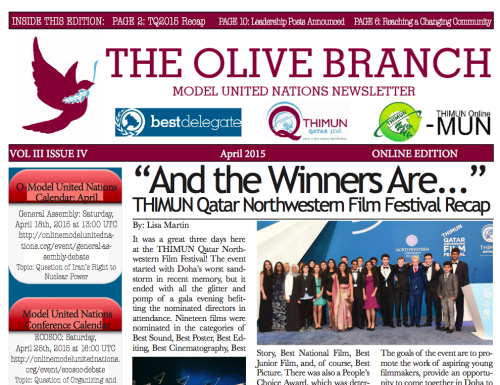 March 2015 – MSMUN-Q Team: More Than Just Pretty Faces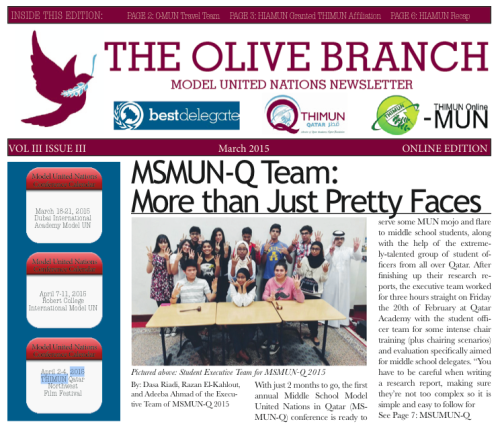 February 2015 – "Baluchistan Topic Removed from HRC1 Discussion at THIMUN Qatar"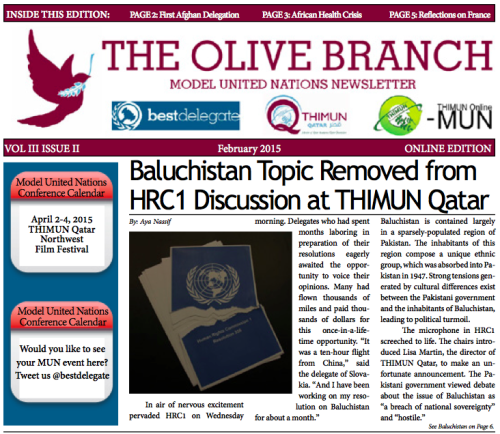 January 2015 – "Submissions Now Accepted for THIMUN Qatar Northwestern Film Festival"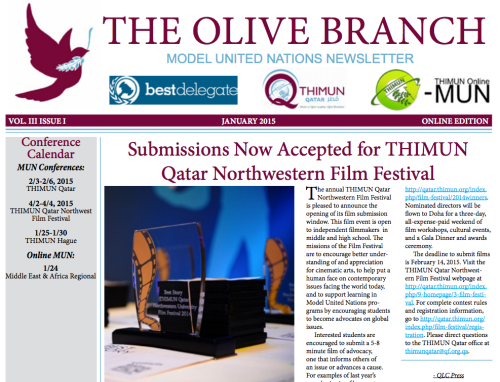 December 2014 – "Introducing the Model United Nations Institute"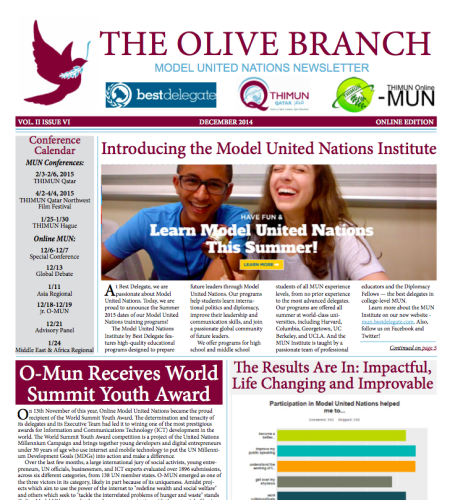 November 2014 – "QLC-Afghanistan Initiative Launched"
September 2014 – "THIMUN Qatar: Looking Ahead at 2014-2015"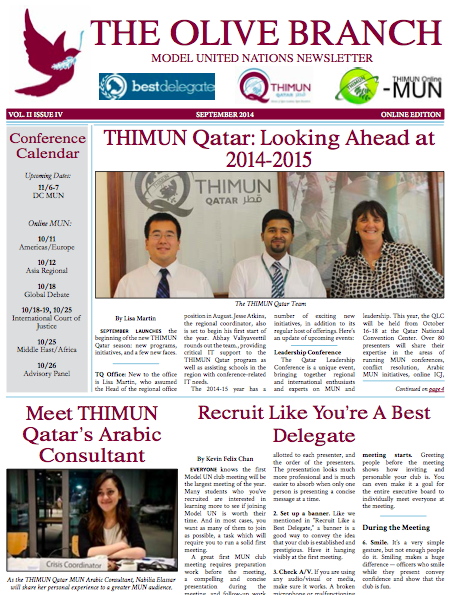 May 2014 – "THIMUN Qatar Northwestern Film Festival Winner Receives 10,000 Riyals"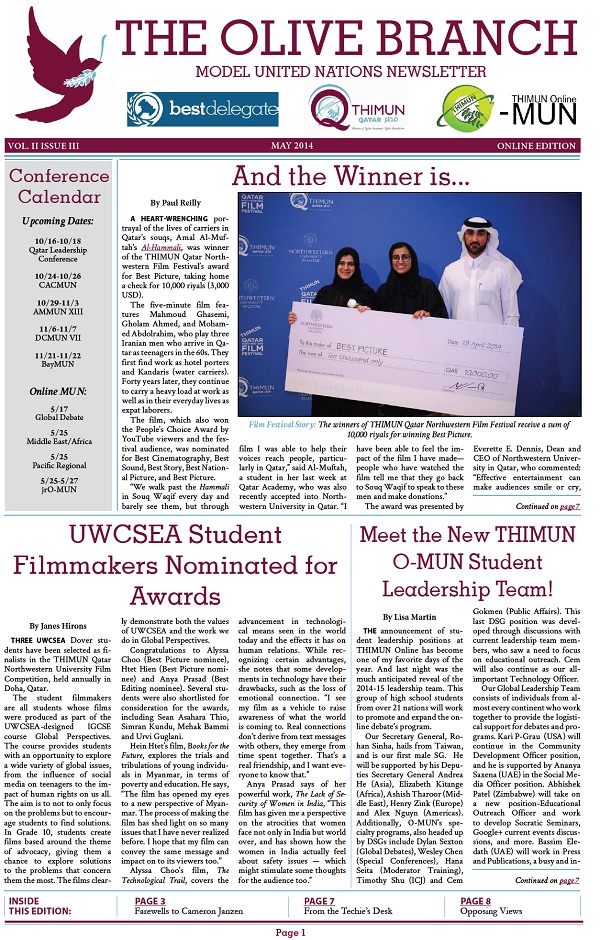 April 2014 – "Cracking the Glass Ceiling: Hayah International Academy Model UN"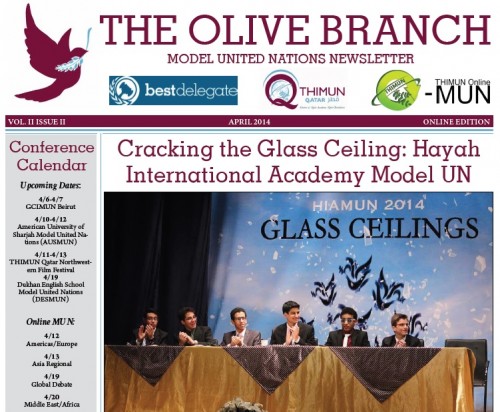 February 2014 – "The Hague International Model United Nations – Qatar 2014"
December 2013 – "Defining Success at DCMUN VI"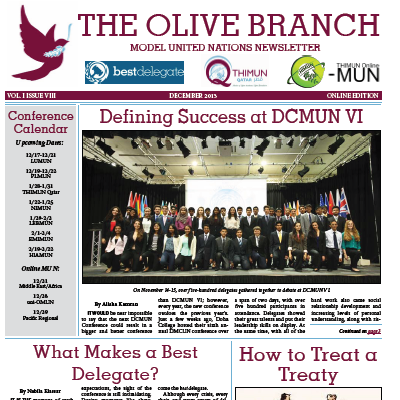 October/November 2013 – "Finding Purpose, Hope, and Community at the 2013 Qatar Leadership Conference"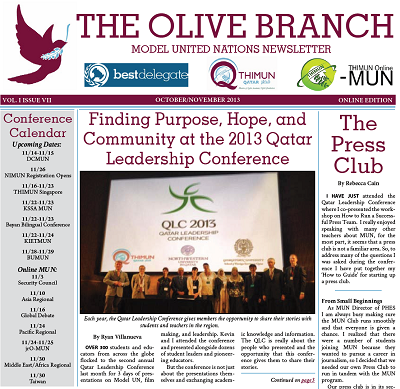 September 2013 – "Welcome Back: The Start of the 2013-2014 MUN Calendar"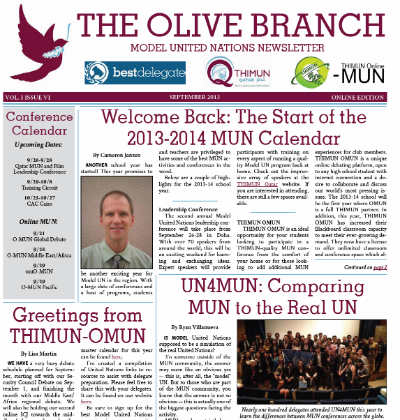 June 2013 – "jrO-MUN Revolutionizes Security Council Debate"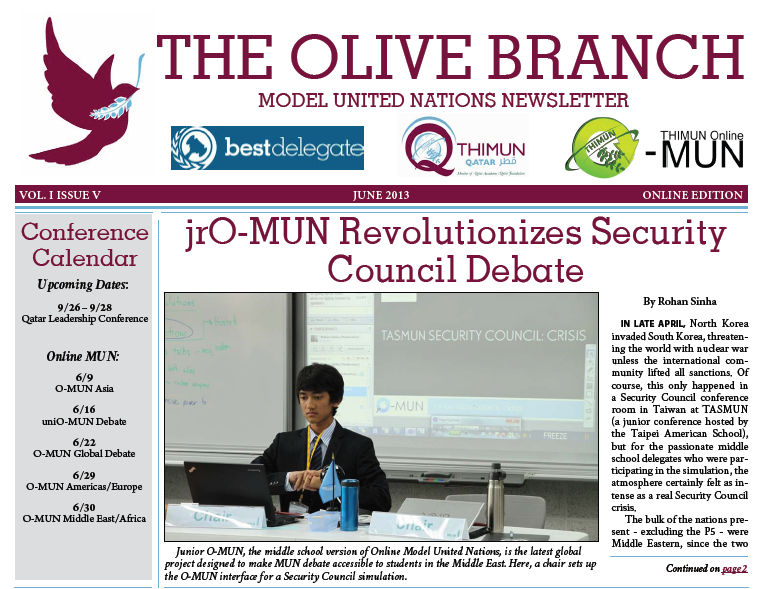 May 2013 – "Former THIMUN Delegate Crowned King"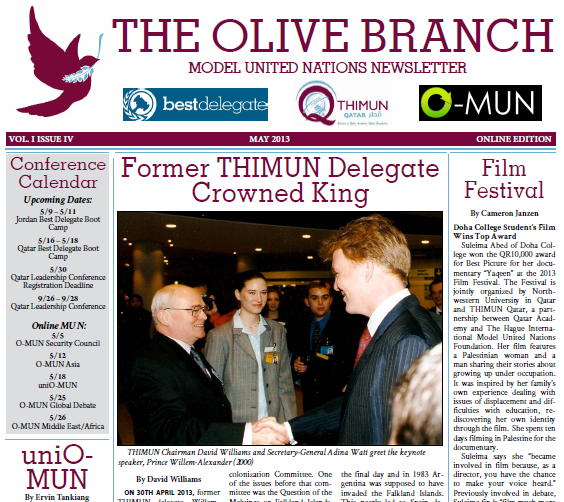 April 2013 – "Olive Branch of Peace, Tree of Knowledge"
March 2013 – "Students Converge in Doha for the THIMUN Qatar Conference 2013"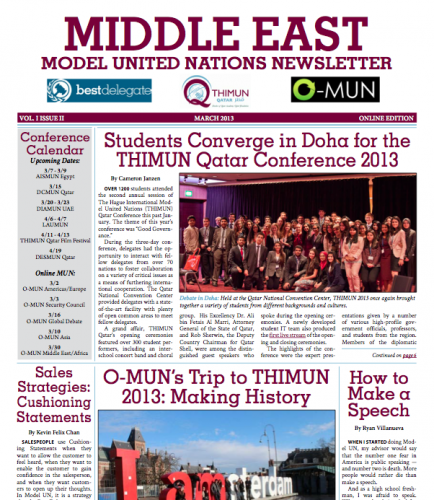 February 2013 – "Welcome to Model UN Middle East!"