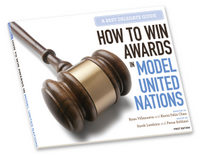 The Best Delegate team participated as members of top-notch Model UN teams when we were delegates and we continue to watch the best teams in action. We share the award-winning strategies we've learned in the Best Delegate Guide, How to Win Awards in Model United Nations.
Click "Learn More" below to see a few tips from the Guide that the best Model UN teams in America know and use.
1. Survey the competitive landscape.
"This means two things. First, figure out if your country has enemies, specifically other countries that you cannot sponsor a resolution alongside. But, also figure out what other schools and delegates will be in your committee, particularly delegates who will be competing with you for awards."
The best Model UN teams anticipate who's going to be at the conferences they're attending and which committees the star delegates will be in. Teammates share stories about their experience with other teams at previous conferences, which teaches new delegates what to expect. And between committee sessions, teammates update one another on what's going in their respective committees and they assess who the leaders are.
2. Demonstrate thought leadership.
"Thought leadership generates respect. You can do that by either providing good ideas or by adding value to others' ideas. You want to sell…why your ideas should become major clauses in the draft resolution. And you want to be the consultant of the group by constantly injecting value-added suggestions — you can offer improvement to an idea, expand upon an idea, or repeat what someone said in a different way"
The best Model UN teams know how to combine raw intelligence and social intelligence. They arrive to committee with knowledge of their topics and possible solutions, and then sell their ideas – and their personalities – through speeches and caucusing. They can frame the debate and synthesize the committee's ideas, as well as build alliances around their leadership and manage the resolution writing process as a collaborative effort.
3. Don't just win – build a brand.
"Your reputation as a delegate grows with every conference. If you perform well at one conference — regardless of whether you win an award — other delegates will take note. And if you interacted with other delegates cordially and diplomatically, they will want to work with you again."
The best Model UN teams share one key characteristic – other delegates know who they are. Just look at the comments on this blog – many dispute the individual rankings of teams but almost all agree on who should be in the top 5. These teams did not become the best overnight – they've built on their experience over many years and gradually developed a team culture that reinforces their success. And the Best Delegates win awards consistently because their reputation precedes them and other delegates want to work with them.
Interested in learning more?
Check out the Best Delegate Guide How to Win Awards in Model United Nations!