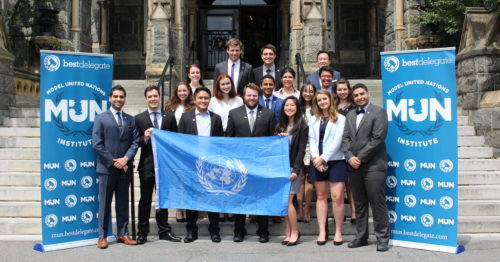 The Model United Nations Institute (MUNI) is Best Delegate's premier Model United Nations training program that takes place every summer at multiple universities across the United States. MUNI consists of a series of one-week academic summer programs that teach students about Model United Nations, and there are a variety of program types designed for different skill levels and age groups ranging from middle school and high school as well as for teachers.
Best Delegate is now recruiting for three types of positions:
The Diplomacy Fellowship is a paid eight-week summer fellowship for top university graduates or students with significant Model UN achievements, leadership experience, and interest in educating the next generation of student leaders. If you are accepted to the fellowship, you will serve in the role of a "MUN Mentor" at the Model United Nations Institute, and work as an instructor, trainer, and mentor for students that attend MUNI. This position in previous years was referred to as "Diplomacy Fellow".
The Residential Counselor position is a paid eight-week summer fellowship for top university graduates or students with significant experience in residential supervision, student safety, and recreational programming. Residential Counselors will ensure that each program is safe and fun for the students, and will run recreational programming during evenings and weekends.
The fellowship term for both MUN Mentors and Residential Counselors is from June 10 – August 5, 2017. Staff must be available during the entire fellowship term. All staff will start at Southwestern University in Texas for training and to teach and supervise the first Model UN Institute. Afterward, staff will be assigned to travel in small teams to teach and supervise at programs held in Washington, D.C., and Boston, with some staff also traveling to Los Angeles to finish the summer.
We are also hiring a limited number of spots in our English Exchange Fellowship, reserved for experienced Model UN delegates that speak Mandarin Chinese. In the English Exchange Fellowship, staff will serve as MUN Mentors for students looking to learn Model UN while improving their English skills. English Exchange Mentors can work anywhere from 1 to 3 weeks this summer from July 16 to August 5.
All staff will receive a competitive stipend, and all housing, most meals, and most travel costs will be covered throughout each of the fellowship periods.
Applications are due January 31, 2017! The application for this program is very competitive. Learn more about all three fellowship positions, and view the applications here!