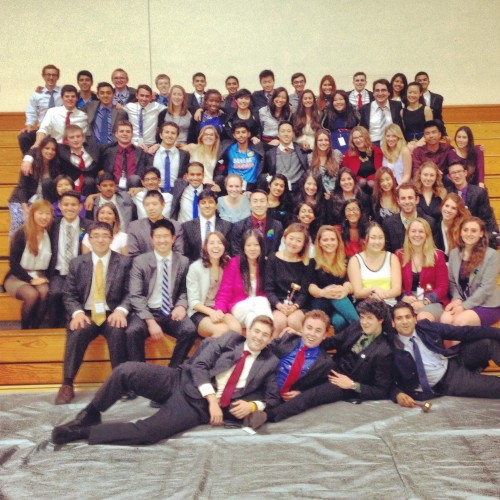 Over 1,500 high school delegates attended the Berkeley Model United Nations Conference (BMUN) this past weekend. More than 100 schools attended the conference, most coming from California, as well as Nevada, Arizona, and Canada.
Having completed its 62nd session, BMUN is the longest-running MUN conference in the world. BMUN has been pioneering Model UN since the activity's inception, and the conference continues to innovate itself to this day.
BMUN prides itself on being a "teaching conference" that features extensive resources, innovative committees, and delegate feedback. According to Secretary-General Megan Kang, BMUN has a strong educational mission:
"BMUN LXII was exactly what we set out for it to be. It was successful in being a teaching conference and incorporating feedback, from position papers and delegate summaries to having guest speakers and exciting new crises. Overall, I hoped delegates had a great experience these past three days, an experience they can carry on throughout their lives."

BMUN LXII Secretary-General Megan Kang
BMUN's educational mission was apparent throughout the conference, starting with its website, which featured extensive background guides and preparation materials, all stored on a public Google drive.
Each committee even had their own blog, on which chairs posted topic updates, research questions, and preparation tips. But what was really impressive is that delegates left comments on the posts as the representatives of their respective countries and characters, using the same language and decorum they would use in their speeches at the conference itself.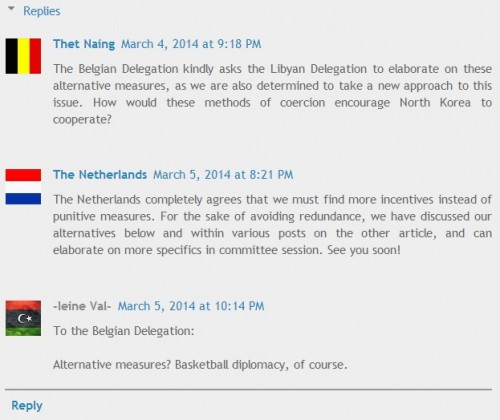 BMUN's educational mission was most evident in its choice of committees, which ranged from traditional GA simulations and crisis cabinets to bilingual committees and even a committee that used THIMUN procedure.
The conference featured two bilingual committees. The Organization of American States (OAS) was partly conducted in Spanish and the Chinese State Council (CSC) ran in Mandarin. For both committees, delegates had to write position papers, give speeches, and caucus and negotiate in Spanish and Chinese.
It was very cool to see delegates in both committees use the conference as an opportunity to develop their language skills. Many of the delegates in the OAS were non-native speakers taking Spanish as a class, and none of the delegates in the CSC were from China or fluent in Chinese.
Delegates in both committees had to learn new vocabulary in order to discuss their topics. But the chairs of both committees included fluent native speakers who did a great job pausing the committee to coach delegates and make them feel comfortable practicing their language skills.
I also thought it was cool how BMUN's committees reflected the academic interests and personal backgrounds of its secretariat.
Being one of the oldest MUN conferences in the world, BMUN pioneered American-style MUN procedure. Yet this year's International Atomic Energy Agency (IAEA) used European-style THIMUN procedure. IAEA chair Ioannis Kremitsas came from Greece and attended THIMUN conferences as a high school delegate, and he wanted BMUN to experiment with European style MUN.
The Alexander the Great committee has been the "dream committee" of chair Dimitri Dimitriou since he started doing Model UN because his family is Greek. (And fun fact: Dimitri's dad and high school MUN advisor, Dr. Jim Dimitriou, has attended more than 300 MUN conferences over the past 30 years, which is probably the world record for most MUN conferences attended.)
The conference featured a timely simulation of the Syrian Civil War, with one committee representing the Syrian Government while the other represented the opposing Syrian National Council, and crisis staffer Kareem Ascha is actually from Syria.
G-20 chair Kevin Kai is a Haas business major and his committee weighed the pros and cons of austerity versus stimulus in the Eurozone debt crisis.
And Sharon Licht is an agricultural ecology major who served on the Natural Disaster Committee of India.
BMUN's educational mission goes beyond the conference. BMUN features an extensive outreach program, led by USG Outreach Dimitri Dimitriou (who leads outreach in addition to being Alexander the Great). BMUN organizes a training conference in the Fall and secretariat regularly visit schools in the Bay Area to teach Model UN. During the advisor meeting, many advisors praised BMUN's outreach efforts.
BMUN's educational mission lasts past the conference weekend. I noted that many of the BMUN secretariat go on to teach after graduation, including former Secretaries-General Ginny Sklar, Charlene Raman, and Monica Dalton. Many alumni came back to volunteer for this years conference.
And BMUN's educational mission extends to awards and feedback. Throughout the conference, chairs updated Google spreadsheets tracking the number of each delegate's speeches and comments. Chairs evaluated and scored delegate performance and included notes for feedback. Prior to the conference, chairs provided extensive written feedback on delegate position papers, which was appreciated by advisors.
BMUN is educationally focused but still considered a highly competitive conference because it draws many of the well-established (and Best Delegate-ranked) MUN programs in California. For many of these programs, which have Model UN as a class, the Berkeley conferences comes towards the end of a long MUN season during which delegates have attended conferences once a month.
BMUN separates delegation awards into three categories: best new school, best club, and best school (i.e. class-based MUN programs). And this year's awards went to…
Best New School:
Spring Valley High School (Las Vegas, Nevada)
#BMUN Best New School: Spring Valley HS from Las Vegas @berkeleymun pic.twitter.com/h8Je8aLmdn

— Best Delegate (@BestDelegate) March 10, 2014
Best Clubs:
Upper Canada College (Ontario, Canada)
University High School (Irvine, California)
Torrey Pines High School (San Diego, California)
#BMUN Awards! Best Clubs: Upper Canada College, University HS, and Torrey Pines @berkeleyMUN pic.twitter.com/9sTHXha2wx

— Best Delegate (@BestDelegate) March 10, 2014
Best Schools:
Huntington Beach High School (Huntington Beach, California)
Cerritos High School (Cerritos, California)
Mira Costa High School (Manhattan Beach, California)
#BMUN Best Schools: Huntington Beach, Cerritos, Mira Costa @berkeleyMUN pic.twitter.com/9vNHy0tL34

— Best Delegate (@BestDelegate) March 10, 2014
Strong performers also included California High School (San Ramon, California), Santa Margarita Catholic High School (Rancho Santa Margarita, California), and Palos Verdes Peninsula High School (Palos Verdes, California).
Congratulations to all delegates, advisors, and staff on a great conference! Thank you to Megan and the BMUN Secretariat for having me visit!
* * *

Want to improve your Model UN skills
this summer?

Learn more about Best Delegate Summer Programs
at UC Berkeley, UCLA, and more!