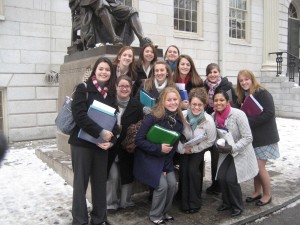 This is one of the most highly anticipated weekends of the Model UN season. Two major high school conferences — Harvard's HMUN and U. Penn's ILMUNC — will be taking place along with a major college conference in McGill's McMUN. Also, St. George's School will  be hosting VMUN in Vancouver.
Best Delegate will be visiting at HMUN, ILMUNC, and McMUN — check out our conference previews below and check back throughout this weekend for exciting blog features from those conferences!
Conference Previews
Harvard Model United Nations (HMUN)

Harvard will be hosting its HMUN conference in Boston, Massachusetts. HMUN is one of the largest conferences in the world — over 2,500 students from 200 schools are expected to participate in a lineup of 27 committees ranging from traditional UN bodies to specialized committees such as Fatimid Caliphate 1167 to a futuristic Japanese Kantei 2016 . The Secretary-General of the conference is Alec Barrett.
U. Penn's Ivy League Model United Nations Conference (ILMUNC)

The University of Pennsylvania will be hosting ILMUNC in Philadelphia, Pennsylvania. Over 2,200 students will be in participating in a lineup of 22 committess ranging from UN bodies to a Maldives Cabinet in 2050 and joint crisis cabinets between Terrorists and Counterterrorists. The conference has a commitment to charity through its Franklin Legacy program and its theme this year will be "Global Responses to Natural Disasters." The Secretary-General is Zach Stone.
McGill Model United Nations Assembly (McMUN)

McGill University will be hosting one of the largest — and most fun — college conferences in the world with McMUN in Montreal, Canada. The conference features a variety of committee types out of its 26 committees, with notable ones including Google, a joint crisis in the South Africa Border War 1988, a joint crisis of the NHL Lockout, and a three-way joint crisis between Intelligence Agencies. The keynote speaker will be Reza Aslan of Aslan Media Inc. the Secretary-General of the conference is Nida Nizam.
Other Conferences This Weekend
St. George's School's VMUN
Conference Recaps
Yale Model United Nations (YMUN )
Best Delegate was at Yale for YMUN this past weekend. Congratulations to the Hotchkiss School for winning Best Large Delegation! The Lawrenceville School won Best Small Delegation and Outstanding Delegation awards went to White Station High School and Concord Academy. Check out all the action below!
Other Conferences Last Weekend
Community News
Georgetown to Host Sixth Annual MUN in Qatar