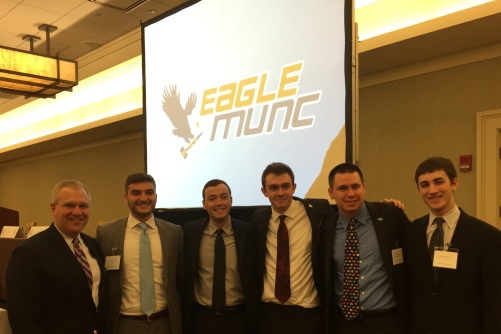 I had the pleasure of attending last weekend's EagleMUNC, hosted by Boston College Model UN.
Over 500 delegates attended the crisis-driven conference, coming from throughout New England, Chicagoland, and as far away as Panama.
Secretary-General Mike Keefe led the Boston College Model UN club to organize its third EagleMUNC, which seeks to teach delegates there's more than meets the eye in politics:
"The goal of EagleMUNC is to show students that there's more to politics and international relations than just simple committee debate where you have a resolution that you pass or it doesn't pass.

There's a whole other network of interests and realities that are going on behind the scenes that influence how political decisions are made.

We try to create a conference that brings those other things into the negotiating process. Those extra "outside of committee" things that are the basis of our 40-hour simulation.

There's more to politics than what meets the eye. There's a lot more influencing decision-makers than what you'd initially think. That's what we hope to capture here this weekend."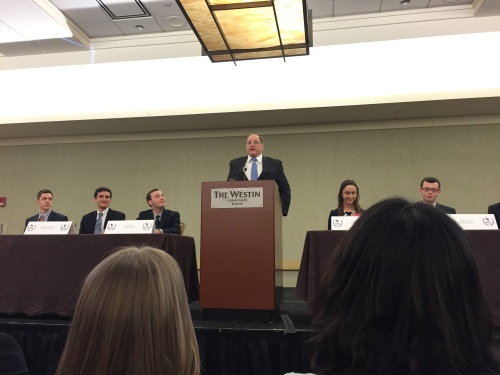 Opening Ceremonies featured keynote speaker Representative Mike Capuano. He impressed upon delegates that negotiating political decisions is hard work, but at the end of the day, "you've got to respect the people you disagree with."
At Closing Ceremonies, the delegation awards went to:
Best Large Delegation: Bedford High School (New Hampshire)
Best Small Delegation: Choate-Rosemary Hall (Connecticut)
Outstanding Large Delegation: St. Ignatius College Prep (Illinois)
Outstanding Small Delegation: Coginchaug Regional High School (Connecticut)
It was my first time visiting the conference. And by the end of the weekend, I was so impressed with EagleMUNC's innovative approach to its committees and advisor programing.
The Evolution of the Nation-State — and a Model UN Conference
EagleMUNC featured a diverse range of committees.
The conference had several modern-day GA-style simulations, including the World Health Organization and African Union.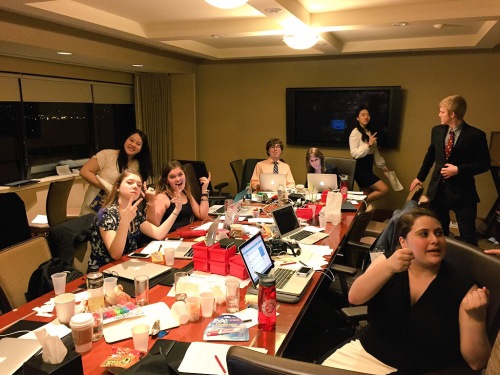 Many of the committees were crisis cabinets, including a 2016 Presidential Election JCC, and World War I JCC, and a Trojan War triple JCC (between Troy, Greece, and the Greek Pantheon!).
And the conference even had a few historical GA-style sims, including the 1648 Peace of Westphalia and the 1775 Second Continental Congress.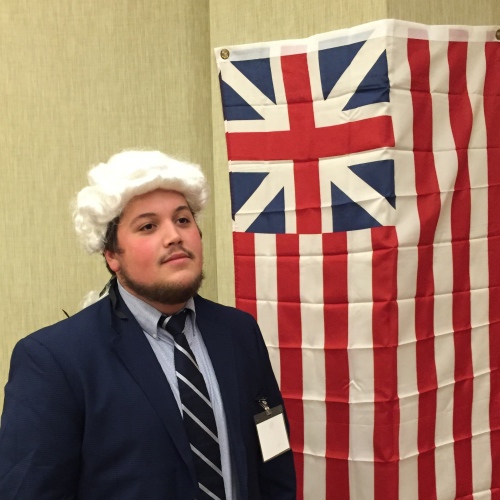 But what impressed me most was the conference's execution of its theme, "The Evolution of the Nation-State." According to USG Political Affairs Kevin Fritz, the theme came from a class he took from Boston College Professor Nakazato on nation-statehood.
Each of EagleMUNC's committees was related to this theme and a particular "sub-theme." The Trojan War JCC was a study in the "The Fall of a Legendary Nation," namely the Trojans and the Greeks. The Second Continental Congress and Peace of Westphalia come totally different eras and regions — yet they were both experiments in "The Formation of the Modern Nation-State."
The World War I JCC was a "Challenge to the Nation-State." The 2016 Presidential Election illustrated the American nation-state. And even the futuristic 2025 UNSC simulation was about the future of the nation-state.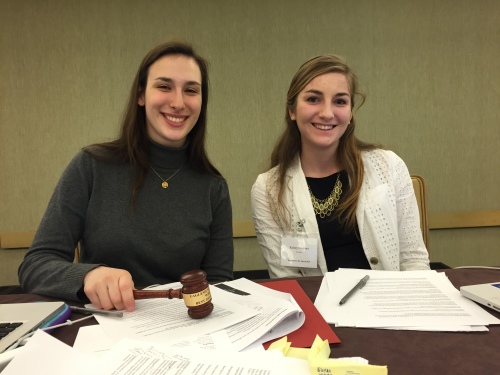 Many conferences use themes to weave together related topics across committees. Rarely do they weave together every single topic or committee.
I was impressed that EagleMUNC set a theme that tied together every committee. It showed that they put a lot of thought into the content of their conference.
They put so much thought into their committees, they even tried using historically accurate Rules of Procedure in the Second Continental Congress. This included no speaking times — I hope no one tried to filibuster!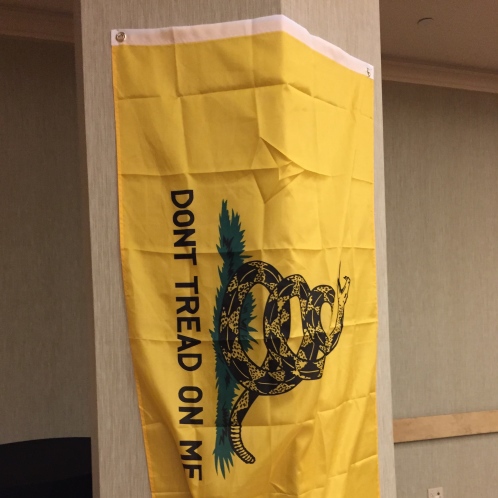 EagleMUNC is also revolutionary for it's "40-Hour Simulation" approach. As soon as the SecGen gavels open the conference, delegates are expected to be "in character," even between committee sessions.
EagleMUNC also gives every committee a budget for materials and props and it was awesome to see what they did with it. The 2016 Presidential Elections had a balloon drop; the Treaty of Westphalia could literally re-draw the country boundaries of Europe; the Second Continental Congress had colonial era flags and wigs.
But nothing was eerier than seeing a dozen crisis staffers in hazmat suits administering fake injections to a committee of facemask-wearing delegates during midnight crisis.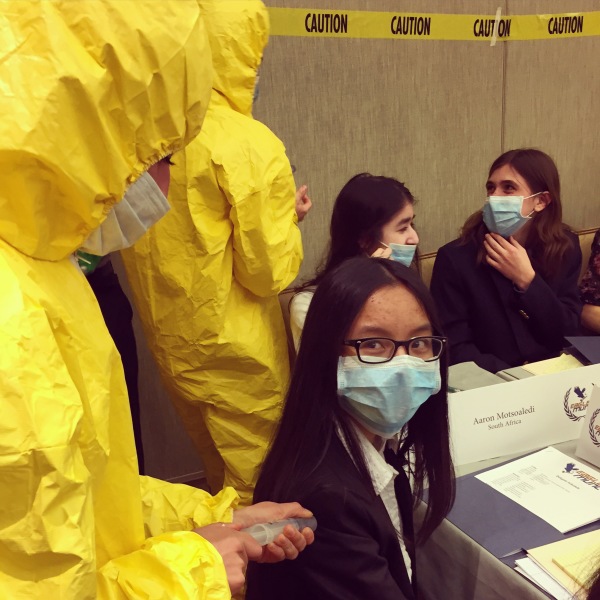 Why don't more Model UN conferences run Advisor Simulations?
EagleMUNC had great programing for advisors. Friday night featured a nice reception that allowed advisors to meet one another. Saturday included a "country draft" where this year's advisors could start selecting countries for next year's conference.
But the highlight was certainly the Advisor Simulation on Saturday afternoon. I had the pleasure of participating, and it was the most fun I've had blogging a Model UN conference — I felt like a delegate again!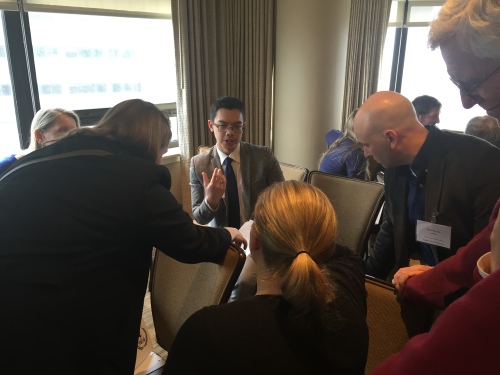 Secretary-General Emeritus Braeden Lord chaired a 90-minute Security Council simulation on Syria for two dozen advisors. We even had a crisis: a US pilot was shot down over ISIS territory.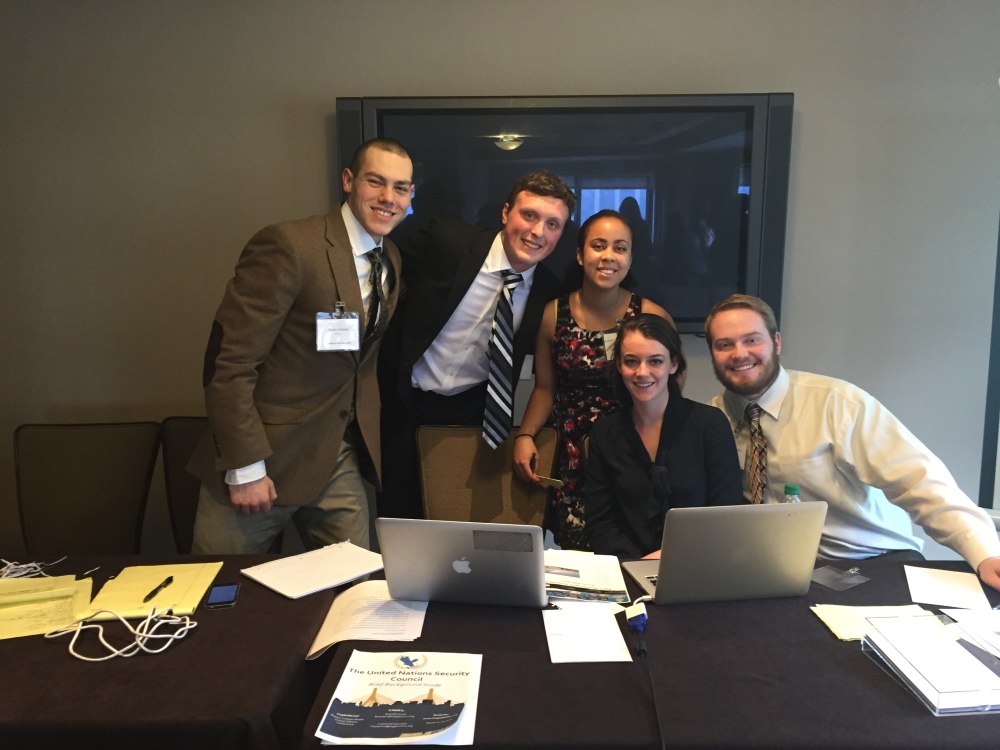 Diane from St. Ignatius took a strong stance as Russia, trying to encourage the Council to support Assad against ISIS.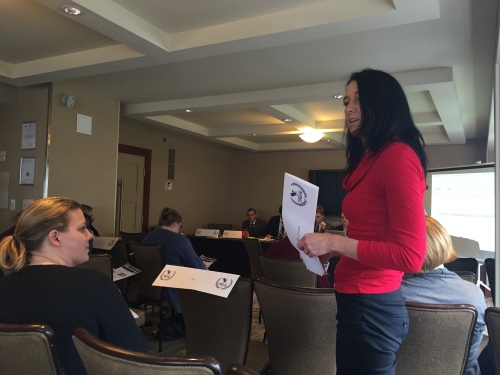 Bill from Falmouth was a highly dramatic Venezuela, trolling the US the entire time. He began his opening speech by sniffing the air — "I smell brimstone…" he said, alluding to the US.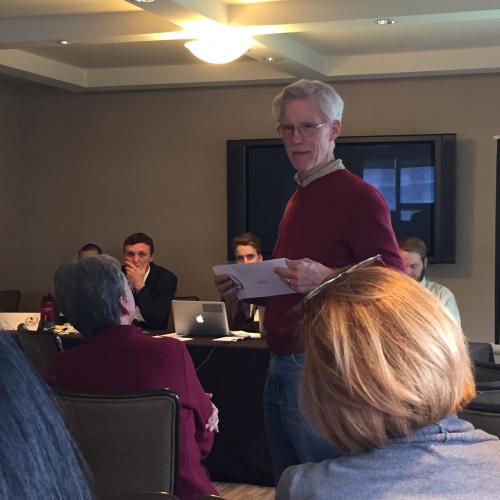 I enjoyed representing China, toeing the line between a non-interventionist foreign policy and trying to pass a directive — until it got double-vetoed by the US and the UK!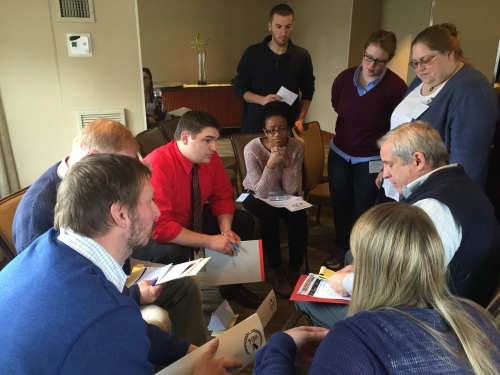 Everyone had a lot of fun with the simulation, and it also showed advisors a few things.
One advisor mentioned how exhausted she was at the end; "Now I have more empathy for my students after a long day of committee."
For advisors new to Model UN, the simulation was an invaluable experience that showed them the basics of procedure and how MUN works.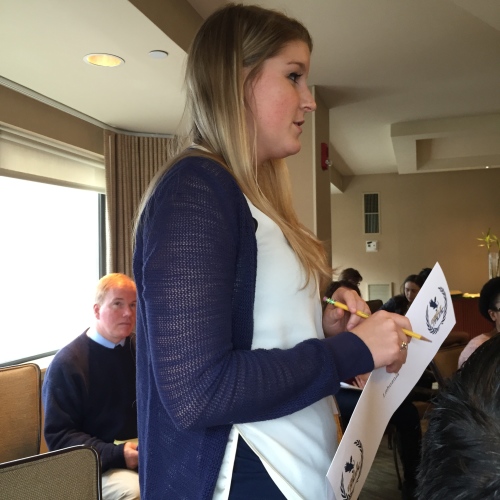 It also seemed easy enough for the Secretariat to pull off. They had a 2-page background guide prepared and made up a couple crisis updates.
Given how simple it was for the Secretariat to do, and how much value it added to advisors' experience at the conference, it's a wonder more conferences don't do this!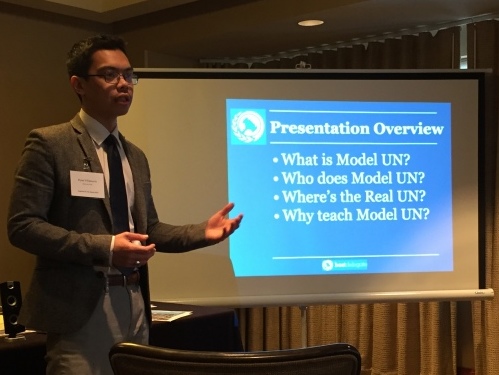 After the simulation, I gave a presentation to advisors on the latest trends in Model UN. We discussed the rise of crisis committees, the growth of middle school and elementary school MUN, and MUN professional development opportunities for advisors.
But our most interesting discussion was around UN4MUN. Advisors were eager to learn about the UN's new initiative for Model UN. They were especially curious to know how UN4MUN's consensus-based approach would work with delegates more accustomed to American procedure.
Thank you to Mike, Braeden, and the entire EagleMUNC team for having me visit! You really made me feel welcome and a valuable part of the conference.
Congratulations to all delegates, advisors, and staff on a wonderful conference!