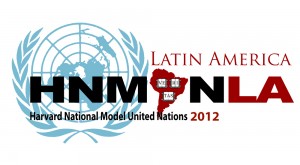 On the afternoon of Sunday, April 10th, the Board of Directors of the Harvard International Relations Council approved the establishment of Harvard National Model United Nations Latin America (HNMUN-LA), HNMUN's first-ever venture into the field of conferences abroad. The first session of HNMUN-LA will take place 12-15 January 2012 in Buenos Aires, Argentina. After working on the vision and mechanics of this conference for over a year, we are thrilled to be able to present some highlights concerning this revolutionary MUN experience. More information concerning the conference will be posted later this month at hnmun.org.
Click "Learn More" below to read about the conference's philosophy, schedule, and structure!
HNMUN-LA Mentality
HNMUN is an unparalleled educational experience, bringing together thousands of students from dozens of nations throughout the world. We are still astounded by what staff and delegates accomplished at HNMUN 2011. However, through this experience and based on valuable feedback, we realized that certain structural features of the conference prevent us from trying out a number of MUN innovations. We did not want to simply make a copy of HNMUN though, with just a few changes beyond location. We knew we had an opportunity to transform completely the way we approach MUN, so that delegates could benefit from both experiences. HNMUN-LA is designed to be a laboratory of ideas, both on the substantive and executive sides of the conference. Here are a few principles behind the conference mentality:
Cooperation, collaboration, and substantive quality as the top priorities. This is institutionalized through the absence of awards, the creation of broader topic areas, and the encouragement of bold, comprehensive, and detailed resolutions.
More intimate conference and committee sizes. With a projection of 1,000 total delegates and a cap of 200 on the General Assemblies, we seek to make the MUN experience more manageable and productive for all delegates, novices and experts alike.
Unparalleled social and cultural experience. Acting within an international setting, HNMUN is finally able to meet its full potential for social events; so keep your ears open for what's in store for delegates. And as Buenos Aires is situated at a cultural crossroads between the Latin American and European worlds, delegates have the opportunity to explore one of the world's most dynamic cities.
HNMUN-LA Schedule
If eight years of MUN conferences have taught us one thing, it's that waking up for a 9AM committee session is brutal. After considering the fact that social events are planned to extend until 4AM each night, we realized that we did not have to follow the status quo of 9AM. With that in mind, we are pleased to present the tentative schedule of HNMUN-LA. The schedule allows delegates to explore Buenos Aires in the mornings if desired, or to rest adequately before committee sessions.
12 January 2012
Registration: 9AM-5PM
Office Hours for Rules of Procedure Review: 12-5PM
Opening Ceremonies: 5PM-6PM
Committee Session 1: 7PM-10PM
Social Event: 12PM-4AM
13 January 2012
Committee Session 2: 1PM-4PM
Committee Session 3: 6PM-9PM
Committee Dinners: 9PM-12PM
Social Event: 12PM-4AM
14 January 2012
Committee Session 4: 1PM-4PM
Committee Session 5: 6PM-9PM
Social Event: 11PM-4AM
15 January 2012
Committee Session 6: 1PM-4PM
Rapporteur selected in each committee by fellow delegates
Plenary Session: 6PM-8PM
Rapporteurs present resolutions and committee proceedings to all delegates
Closing Ceremonies: 8PM-8:30PM
Honeymoon – Farewell Social Event on a boat in Rio de la Plata: 11PM-4AM
HNMUN-LA Structure
The conference mentality of cooperation and collaboration extends beyond committee culture to the conference's executive structure. Adopting a collegiate model of conference organization, HNMUN-LA is pleased to offer the opportunities of Vice Chairing and Administrative Directing to students from anywhere around the world. We seek to bring together the most motivated and knowledgeable students to help run our substantive committees and executive institutions while offering them an inside look into HNMUN's conference practices. We look forward to sharing our accumulative knowledge of 58 years and learning even more from the experiences of accepted students.
HNMUN-LA 2012 Secretary-General, Katherine Medler. Katherine served as the Under-Secretary-General for the Economic and Social Council and Regional Bodies of HNMUN 2011. Any questions about HNMUN-LA 2012 should be directed to Katherine at la@

null

hnmun.org.
HNMUN 2012 Secretary-General, Dominik Nieszporowski. Dominik served as the Under-Secretary-General for the General Assembly at HNMUN 2011. Serving as the liaison between HNMUN and HNMUN-LA, Dominik can answer any questions about the relationship between the two conferences and the benefits of attending both. He may be contacted at secgen@

null

hnmun.org.
HNMUN-LA Applications. Applications for Vice Chair and Administrative Director positions will be released by the end of this month at hnmun.org. Make sure to check the website over the next few weeks for more information concerning HNMUN-LA and HNMUN.
Thank you to HNMUN 2011 Secretary-General and HNMUN-LA Founder / Conference Advisor Ricky Hanzich for providing this information!