Harvard-Yale. Duke-North Carolina. USC-UCLA. College rivalries are epic and are meant to be fun.
College rivalries exist in Model UN too. Think of the large powerhouses: U. Chicago vs. U. Penn vs. Yale vs. Georgetown. Or the fierce rivalry between Venezuelan schools Metropolitana, Catolica, Simon Bolivar, and UCV. Or Florida State against the rest of the state of Florida.
We enjoy observing these rivalries in Model UN and therefore we have divided all of college Model UN into two divisions: the World Division and the International Division. The two divisions reflect the two circuits that has evolved in college Model UN. We've further divided each division into regional leagues to capture regional rivalries.
Check out where your school is ranked — or vote in our polls for each league below!
Editor's Note: Our Preseason Rankings is our only opportunity to be a little bit subjective — most of these predictions are done by one writer, Kevin Felix Chan. We'll go back to a more objective formula of weighted rankings (plus combined Top 25 Rankings) once we have some real results in. 
World Division
The World Division is made up of schools that primarily attend university-hosted conferences in North America and tend to emphasize competition and creativity. They often view conferences such as HNMUN, WorldMUN, and UPMUNC as their major conferences. The World Division is divided geographically into eight leagues. (Sports note: leagues reflect geography and competitive equality; teams were not placed automatically into their actual athletic conferences except for the Ivy League). 
Ivy League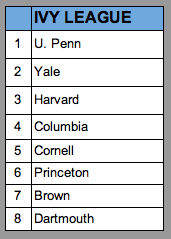 U. Penn has the best chance of winning the Ivy League and perhaps even the global #1 ranking. It attends more conferences than almost every team on the circuit and it always fields a large delegation at each conference, and that ambitious scheduling already gives it an advantage over large delegation rivals U. Chicago, Yale, and Georgetown. U. Penn star delegate Alex Haber is away studying abroad in the Fall, but head delegate Roashan Ayene has a deep bench of young talent to work with including Jocelyn Perry, Yadavan Mahendraraj, Phill Venice, Johnathan Mell, David Schwartz, and Alice Xie among many others. 
Yale only goes big and often wins big, but it will have a tighter margin of error this year. HNMUN is expected to weigh significantly more than UPMUNC this year, so they'll have to win that conference for a chance to be ranked #1. Like U. Penn, Yale also returns a ton of veterans including Eesan Balakumar, Frankie Costa, and Sibjeet Mahapatra and it should have the talent to challenge U.Penn and others for the global #1 ranking. Harvard should be in contention for a delegation award like always although co-head delegates Rodolfo Diaz and Chris Lehman will have a challenge of preventing burnout in the program as Harvard students can staff up to six conferences this year. Columbia is returning a solid roster including star delegate Chuck Roberts and should challenge West Point for Best Small Delegation honors. Cornell is up-and-coming and will compete for Top 25 status under the leadership of head delegate Ankur Bajaj. The bottom of the league is weak though — many teams in the "Atlantic 10″ league could go head-to-head with Princeton and Brown, and Dartmouth has yet to make an impact on the circuit.
Sports analogy: The Model UN Ivy League is somewhat like the college football Big XII in terms of competitiveness. It is lopsided at the top with several elite teams but the bottom isn't as strong. We can also extend the analogy to unequal funding — the top teams in this league have a significant advantage by hosting large conferences that finance their travels which leads to a competitive disparity not unlike how unequal revenue sharing in the Big XII helps cause the same result.
[poll id="2"]
"Big East"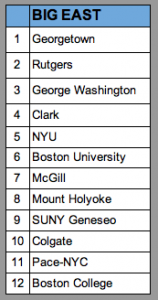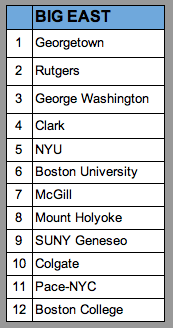 The Big East is probably the most competitive league from top to bottom and features seven teams that were ranked at some point last year. Georgetown is in a class of its own — it's stacked with head delegate Jagmeet Singh and top delegates like Dane Shikman, Arun Avva, William Handel, Eitan Paul, Michael Lopesciolo, and Peter Nesbitt — and should win the league, but it has its sights set on something bigger: a #1 ranking. They will have to win big at their largest conferences again to accomplish that since they are the only top-5 program last year that did not attend HNMUN or WorldMUN.
Competition after Georgetown should be interesting. Rutgers and George Washington will compete for top-10 status. Clark is good but needs consistency outside of HNMUN to finish in the top half of the league. NYU is rising fast and Boston University is on the rise too as both teams are starting to consistently see multiple award winners. McGill is a traditional power that had a down year last year, but head delegate Keagan Tafler should have enough talent on the team to help McGill climb back closer to the top of the league. Mount Holyoke returns several veterans who were out studying abroad last year and should also contend in the top half of this league after barely missing the Top 25 last year with a relatively young team. Don't sleep on SUNY Geneseo, Colgate, Pace, or Boston College either — they're all just a few more awards away (compared to last year's performances) from breaking into the top half of the league as well.
Sports analogy: The Model UN Big East is somewhat like the college football SEC in terms of competitiveness. The league is stacked from top to bottom with well-regarded teams and finishing in the top half of the league is always a challenge. The college football SEC also has a reputation for scheduling cupcake teams as breaks in their tough schedules and similarly many of the Model UN Big East teams find relief by not attending HNMUN despite being geographically closest to it.
[poll id="3″]
"Atlantic Coast Conference (ACC)"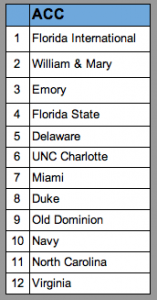 The ACC should be a fun league to watch with eight teams that were ranked at some point last year; a balanced league of equally-competitive teams; and real-life rivalries such as William & Mary-Virginia, Duke-North Carolina, and Florida State-Miami. Florida International is the pick to win the league after impressive performances at HNMUN and NMUN last year. Advisor Ray Hernandez has been guiding the team's rapid growth and if they can field another deep team of strong delegates like they did last year, then it shouldn't be a surprise if they can pull off a global top-5 ranking this year.
William & Mary will have something to say about Florida International winning the ACC though and should also be a favorite to win it. Emory will remain competitive, and we expect a maturing Florida State team led by star delegate Sara Dejam to challenge for a high ranking nationally. Delaware flew under the radar last year and is a darkhorse to pull off some upsets against more well-known teams. Miami needed a strong last-minute finish last year to get ranked and lost several good seniors — will it have enough firepower to stay in the top half of the league? UNC Charlotte and Duke are knocking right on their door and both have what it takes for a top-25 ranking. Old Dominion should be competitive as well. Navy and North Carolina will need to step up their game, and Virginia needs to make significant improvement from last year.
Sports analogy: The Model UN ACC is somewhat like the college football Big Ten in terms of competitiveness. The league is relatively balanced and deep with many solid teams that have national recognition but may have trouble beating elite teams from other leagues in head-to-head competition.
[poll id="4″]
Independent

West Point is to Model UN what Notre Dame is traditionally to college football — dominant and nationally revered — and that's why it's in a league of its own. Despite not sweeping the competition last year, West Point was still good enough to take home its fair share of Best Small Delegation awards to achieve a top-5 ranking. The team graduated a strong group of seniors though, and it will be interesting to see if a young West Point team that returns solid delegates in Elizabeth Constantino, Ross Boston, and Warren Geary can hold off the rapidly improving small delegations such as Columbia and Rutgers.
Sports analogy: We already made the West Point – Notre Dame analogy, but to take it further, Notre Dame has struggled recently in college football — will West Point face a similar scenario with its young squad?
[poll id="5″]
"Big Ten"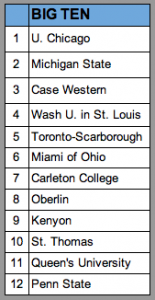 The University of Chicago should be a favorite for the global #1 ranking again and shouldn't have trouble winning the Big Ten. The team graduated several strong seniors, but it also returns many of their top delegates — Rohan Sandhu, Mrinalini Ramesh, Ben Smithgall, Clementina Lopez, Mark Mahvi, and Clara Spera come to mind — and will renew their rivalries with U. Penn, Yale, and Georgetown for Best Large Delegation honors. The team looked virtually unbeatable last Fall — will it start the season in dominating fashion again?
Michigan State has emerged as a clear second-best team in the Big Ten and as a top-10 team nationally and returning star delegate Tom Nally will look to retain that position or perhaps challenge for a even higher national ranking. Case Western is a solid team, and Washington University in St. Louis is also competitive. The rest of the league is decent but it'll be difficult to see how they stack up nationally as they do not get enough exposure in the Midwest. Toronto-Scarborough seems to have the best chance of emerging from that pack that includes Miami of Ohio, Carleton College, Oberlin, Kenyon, St. Thomas, and Queen's University. Penn State will need to improve if it wants to keep up with the rest of the league.
Sports analogy: The Model UN Big Ten is somewhat like the college football Pac-12. U. Chicago is like what USC traditionally is in college football — they're a nationally elite team that dominates a league that may occasionally have a second national contender but is otherwise average in terms of competitiveness.
[poll id="6″]
"Pac-12"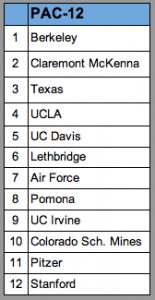 The Pac-12 has some solid teams but they will need to travel outside their region to prove it to the rest of the circuit, especially since the UCBMUN conference seems to be in some down years in terms of competitiveness. Fortunately for the league, WorldMUN is in Vancouver this year and that will be a huge opportunity to showcase the West Coast to the rest of the circuit. Berkeley was the best in the west last year after several late-season wins and should be the favorite again this year. Co-head delegates Shannon Thomas and Hayley Malcolm will lead a Berkeley team that also includes returner Tristan Parker.
However, Berkeley's win is far from guaranteed. Claremont McKenna, UCLA (led by Bhavna Mukundan and returns Chris Janney and Ethan Scapellati), and Texas (led by Courtney Lee and Alex Mackey) should also challenge for winning the league. UC Davis (led by Samantha Rahhal) is good, but Lethbridge, Air Force, Pomona, and UC Irvine aren't far behind with previous successes at major conferences and the race to finish in the top half of the league should be a close one between all the aforementioned schools. The Colorado School of Mines and Pitzer should win some awards as well. Stanford had a down year last year and it'll be curious to see if they can bounce back all the way to more familiar territory at the top of the league.
Sports analogy: The Model UN Pac-12 is somewhat like the college football ACC. The relatively balanced league has a few strong teams at the top with national recognition but most of the league including its best teams is having down years recently.
[poll id="7″]
"Southeastern Conference (SEC)"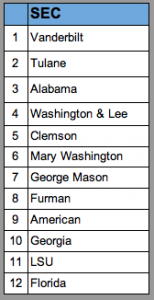 The South isn't particularly strong in Model UN and don't have any major conferences within its territory when you don't count the coastal Southern states, but nevertheless Model UN is alive and growing. Vanderbilt (with returners Andrew Maguire and Sarah Sagan) and Tulane are the two teams to watch in the SEC and should contend for top-25 rankings.
Alabama (led by Valerie Walters) is a solid third behind those two, but afterward it's anybody's guess as the gap between Washington & Lee, Clemson, Mary Washington, George Mason, Furman, and American isn't very big at all. Traditional SEC schools like Georgia, LSU, and Florida will need to step up their game if they are going to help make a name for their league.
Sports analogy: The Model UN SEC is somewhat like the college football Big East. The league can field one or two teams in the bottom half of the Top 25 rankings but overall is the weakest among the Big Six / BCS leagues.
[poll id="16″]
"Atlantic 10"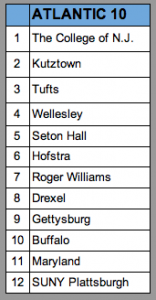 Like the ACC, this is a very balanced league and it should be fun to watch the rivalries develop in this mid-major league. The College of New Jersey and Kutztown are the favorites for now, but most of the teams in this league are equally competitive — Tufts, Wellesley, Seton Hall, Hofstra, Roger Williams, Drexel, Gettsburg, and Buffalo could all win the league. Maryland and SUNY Plattsburgh are not far behind either. The teams that can go beyond relying on their few stronger delegates will be the ones that finish in the top half of the league and can get consideration to break into the bottom half of the Big East or ACC next year.
.
[poll id="8″]
"Mid-American Conference"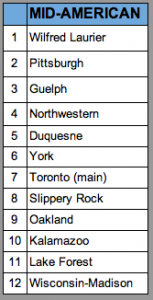 The Mid-American Conference is a mid-major league that consists of Midwestern schools that are also equally competitive with each other. Wilfred Laurier is the favorite by a thin margin as Pittsburgh, Guelph, Northwestern, Duquesne, York, and Toronto (main campus) should all contend for winning the league — Northwestern and York in particular have relatively strong talent on their teams already. Slippery Rock, Oakland, Kalamazoo, Lake Forest, and Wisconsin-Madison should all win a few awards this year. The better teams of this league can get consideration to be placed into the Big Ten next year.
.
[poll id="17″]
—
International Division
The International Division is made up of schools that primarily attend organization-hosted conferences and tend to emphasize accurate representation instead of competition. They often view NMUN as their major conference, although several schools also attend HNMUN or WorldMUN. The International Division is divided geographically (for the most part) into seven leagues. 
North America West, North America Central, and North America East
Brigham Young, Wisconsin-Oshkosh, and Texas Christian (as well as Florida International which we've placed in the World Division) are the current powerhouses in the International Division. In the West League, look for Montana, JCCC, Colorado, UCSB, UCSD, and Washington to all make a move for a higher ranking. In the Central League, Wright State and Alma College have been consistently good, and Baylor should have the talent to challenge for the top spot in the league. Patrick Henry College leads the way in the East League with Georgia State, Rider, and Bridgeport as darkhorses to move up the rankings.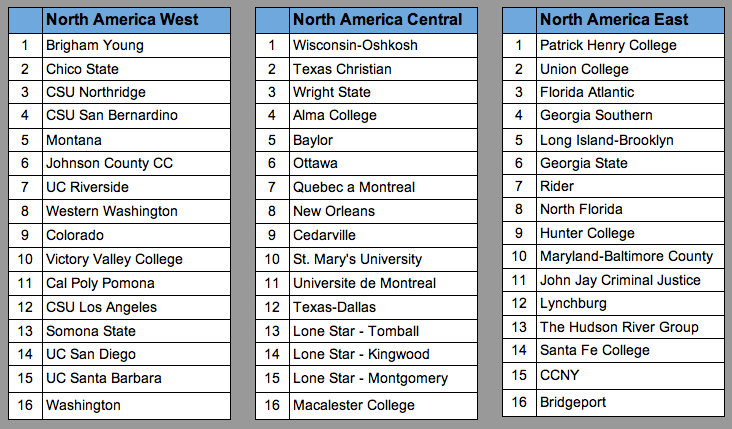 [poll id="9″] [poll id="10″] [poll id="11″]
Western Europe, Central Europe, Latin America, and Asia & Africa
MUN Society Belgium and United Netherlands are two of the world's best teams and should be the top two teams in a strong Western Europe League. Will they get a chance to go head-to-head this year at one of the major global conferences or perhaps at a European conference? University of Passau is the favorite to win the Central Europe League, although the Italian Diplomatic Academy and Bonn have the potential to challenge them this year. Passau's conference partner, the Lahore University of Management Sciences, is the favorite to win the Asia & Africa League.
Finally, we should expect the fierce rivalries between the four Venezuelan powerhouses to continue in the Latin America League. Metropolitana is the current favorite after winning Best International Delegation at HNMUN last year for the first time, but its Venezuelan rivals UCAB, USB, and UCV will work hard to surpass each other at HNMUN, NMUN, and perhaps even WorldMUN this year.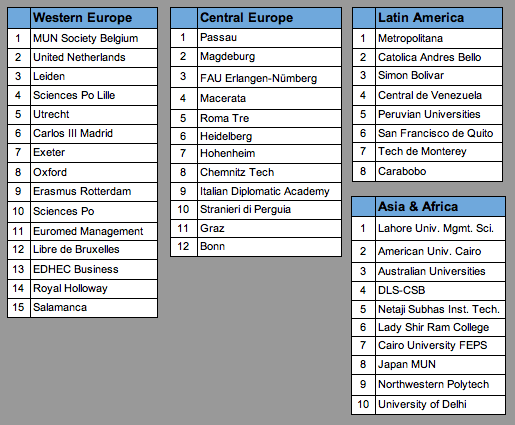 [poll id="12″] [poll id="13″] [poll id="14″] [poll id="15″]