Do you have a question about college admissions or how to talk about your Model UN experience on college applications? Best Delegate's Ryan Villanueva and Kevin Felix Chan want to answer your questions! They will post up their responses next Monday when Best Delegate launches its free eBook: How Model UN Can Help You Get into College. Email your questions for us to ryan@nullbestdelegate.com!
Conference Previews
This weekend is one of the Top 10 Weekends of the Model UN season with twelve conferences taking place across North America. Best Delegate previewed the college conferences, Penn's UPMUNC and UC Davis' DCCMUN yesterday. Today, Best Delegate will take a look at the competitive Northeast high school conferences for this weekend. Also, Best Delegate will be liveblogging at BUSUN and RUMUN this weekend! We love to meet our readers. Come find us to get featured!
Brown University Simulation of the United Nations (BUSUN)

Brown's BUSUN is the first Ivy League-hosted high school MUN conference of the year and will take place in Providence, Rhode Island. This year's conference lineup features 34 committees ranging from the traditional UN bodies and specialized agencies to present, historical, and futuristic crisis simulations. The joint crisis cabinets include the USA, Brazil, China, Pakistan, France, India, and Russian Federation and there are also cabinets of China, Korea, and Japan for an East Asian Futuristic Crisis. Other notable committees include the US Senate, NGO Forum, and the International Olympic Committee on London 2012. Jerry Cedrone and Andrew Berg are co-Secretaries-General of this year's conference.
*Liveblog Alert* – Best Delegate's Kevin Felix Chan looks forward to covering all the action this weekend!
Rutgers University Model United Nations (RUMUN)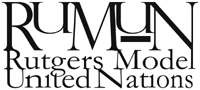 Rutgers hosts the first of its two high school MUN conferences this weekend with RUMUN in New Brunswick, New Jersey. This year's conference has a focus on sustainable recovery in the aftermath of the global financial recession and many of its 22 committees will tackle issues related to that theme. For example, the Chinese Politburo and US Cabinet will deal with energy policy, economics, and security; the Security Council will try to strengthen the rule of law in Afghanistan, and the NGO Corps will assert their role as advocates for various causes. Students tend to have good things to say about this conference and we expect it to be the same this year. Audi Syarief is the Secretary-General of this year's conference.
*Liveblog Alert*- Best Delegate's Ryan Villanueva will be covering the conference this weekend and looks forward to meeting delegates from New York, New Jersey, and beyond!
McGill University's Secondary Schools United Nations Symposium (SSUNS)
McGill is known for hosting fun and well-run conferences and SSUNS is no exception. Held in Montreal, Canada, this year's conference will focus on the theme "Defining Our New Decade" and will feature a diverse set of 19 committees that will challenge delegates to respond to unprecedented change in the new decade. Notable specialized agencies and crisis committees include the Alliance of Small Island States, the Meech Lake Accord, FEMA in 2005, and the Gabonese Cabinet in 1964. The conference will supplement the delegates' educational experience with the Isfeld Memorial Lecture Series of guest speakers. The Secretary-General this year is Olga Redko. Best Delegate has many friends at McGill staffing the conference and wishes all the staff and delegates a fun weekend! 
Pennsylvania State University's Penn State High School United Nations Conference (PHUNC)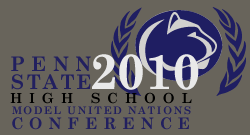 Penn State will be hosting its high school conference, PHUNC, at State College in Pennsylvania. This year's conference will include four international relations committees – DISEC, UNHCR, NATO 1995, and the UN Security Council – and three national parliaments – the British House of Commons, the Turkey National Parliament, and the US House of Representatives Foreign Relations Committee. Tyler B. Roys is the Secretary-General of this year's conference. Penn State delegates are among the active readers of Best Delegate and we wish them all a successful conference!
–
Best Delegate will be previewing the two West coast conferences tomorrow: UCLA's BruinMUN and Stanford's SMUNC!
**
Tip of the Day
Conferences in the Northeast tend to be very competitive and require diplomatic interaction with power delegates. Here are two tips on how to handle power delegates in caucus and power delegates in your own bloc.
**
Are you attending any of these conferences this weekend? Let us know what you're most excited about in the comments!