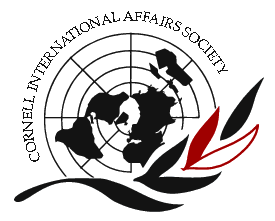 This guest post was provided by the Secretariat of the Cornell International Affairs Conference.
Hello Delegates!
After two successful conferences, the Secretariat is pleased to announce that the third session of the Cornell International Affairs Conference (CIAC) hosted by the Cornell International Affairs Society (CIAS) is to be held on October 11-14th in beautiful Ithaca, NY.  This year, as in the past, we will be continuing our tradition of innovative and creative committees.  However, unlike years past, CIAC III will be operating under a unifying conference theme.  Come experience CIAC and strive to "Rebuild your world".  Since collegiate Model UN conferences bring together many different college students with a shared interest in global affairs, CIAC will provide delegates with engaging debate as well as ample opportunity for networking.  The small, intimate nature of our conference, in addition to the unifying theme, fosters an atmosphere that will help build lasting connections.
In addition, our committees strike the perfect balance between a fun, energized environment and lively, intense debate.  They take place at different time periods, all over the world, even throughout the Seven Kingdoms.  The ultimate goal of each committee, however, is the same – create a new, lasting future for yourself, your company, country, or the world.  Some committees include Game of Thrones, 1920s Mafioso, Egyptian Cabinet, and the Amgen Board of Directors.  With this selection, there is truly something for everyone.
Our conference also promises to offer a diverse slate of social events ranging from cocktails to the delegate dance.  We are striving to create events that will enable delegates to further their bond with each other outside of committee session.  It is our hope that these events will fulfill that, and bring together the delegates in a social setting in addition to a professional one.  Perhaps the social event we are most excited about is our annual philanthropy gala!
We are also pleased to announce the speaker for opening ceremonies: Mrs. Nana-Fosu Randall.  Born in Ghana, she worked for the United Nations for 30 years, 18 as the Chief Financial Officer and Chief Administrative Officer with the Peace Keeping Forces, making her the highest ranking female African within that division.  She has helped lead rebuilding and clean-up efforts following wars/conflict in Tanzania, Iraq, Kuwait, and many other nations.  Nana-Fosu Randall has grow to believe in the promotion of peace and resource-sharing among all peoples so that all may lead a better, more successful life.
The entire secretariat of CIAC III is extremely excited for what we know will be our best conference yet!  Registration is now open on our website, ciaconline.org, and we would love for everyone to attend!  If you have any questions about registration, the committees, social events, etc. please do not hesitate to contact Eleni Konidaris, the Director of Communications, at eak97@nullcornell.edu.  Until then, we look forward to speaking with you and seeing you in Ithaca!
All the best,
The Secretariat of CIAC III