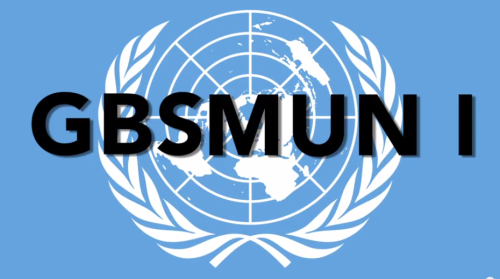 On April 25, Glenbrook South High School's held its very first conference, Glenbrook South Model United Nations (GBSMUN). Many one-day Model United Nations conference in the Midwest are labeled as a novice or training conference, without sometimes poor attraction. Therefore, as Secretary General of GBSMUN, it was our conference's vision to defy these standards and make a unique one-day conference experience.  
The conference's honorary opening ceremony speaker was Mr. Bill Schiller, a partner in the Chicago based law firm of Davidson & Schiller, concentrating in the area of US Immigration and Nationality Law. For more than 10 years, Mr. Schiller has been a Professor at Northwestern University.
In 1991 he headed a staff of attorneys conducting investigations and legal analyses for the United Nations Commission of Experts in War Crimes in the former Yugoslavia. In that position, Mr. Schiller co-authored several reports published by the United Nations Security Council on the subject of war crimes, later going on to serve as a consultant to the UN War Crimes Commission.
Throughout his speech he shed light on the realistic facts about UN work as well as the different facits of interntional law, giving a unique and educational perspective into the Law field and how it can be combined with the realm of international relations.  Lastly, were incredibly proud of our highly acclaimed opening video produced by Cameron Beach which can be viewed here!
For some tips going forward, we'd like to share what the GBSMUN Secretariat and I did in preparation for our first conference. First, We capped the conference at 250 delegates and 8 single-delegate committees with three dais members per committee (a Chair, Vice Chair, and Moderator). All dais members were juniors and seniors, in order to ensure that all our dais members were all experienced MUNers that knew what it's like to be a delegate, what it takes to be the Best, and how to spot delegates who deserve an award.
We had been preparing since the summer where we met with all dais members and collectively decided who would be the Chairs that then submitted committee ideas and topics leading to our final 8 committees (DISEC, SOCHUM, WHO, IAEA, NATO, European Comission, Security Council, and China: Period of the Warring States).
We had an expert crisis team led by our Vice President Keelan Meehan, with a crisis staffer per crisis committee and then an additional position for General Assemblies. We esnured even non-crisis committees had some sort of simulation or press release to liven debate throughout the day. Also our chairs spent weeks beforehand preparing 20-30 page background guides, showcasing their expertise and passion in regards to their topic.
Throughout the conference, GBSMUN utilized unique scenarios such as implanting a fake GBS delegate in DISEC who was eventually taken hostage and publicly dragged out of committee. Even our most intense crisis committee, China: Period of Warring States, was split into a joint-crisis committee as several dynastic States teamed up for total dominance over their enemies.
Congratulations to Lyons Township High School for recieving the Best Delegation Award and thank you to all participating schools for being a part of our first conference!  
If you would like to participate in next year's GBSMUN, please email the Glenbrook South Model UN team's faculty advisor, Mr. Jozwik.