Over 3,000 delegates from 48 countries attended the fifty-ninth session of the Harvard National Model United Nations Conference (HNMUN) this past weekend at the Boston Park Plaza. Secretary-General Gillian Farrell and her Secretariat managed over 200 Harvard students in organizing 29 committees, ranging from traditional simulations of the United Nations and other international organizations, to crisis simulations of the 1912 Mexican Revolution and the 1970 Cambodian Civil War, as well as a Press Corps and an inter-committee NGO Program.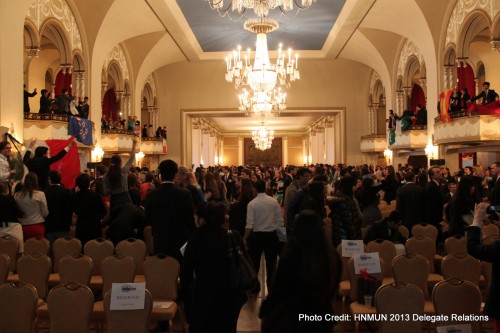 Most of the conference's 3,000+ delegates participated in large dual-delegate General Assembly committees that included more than 300 delegates representing most of the UN's 193 member states. Many of the GA committees discussed some very timely topics, including "Targeted Killings" in DISEC and "Sovereignty, Intervention, and Syria" in SPECPOL. The Third World Assembly on Ageing, on the other hand, examined long-term demographic shifts and their global impact on socioeconomics and healthcare.
HNMUN's Specialized Agencies and crisis committees spanned a range of time periods and regions. The near-future 2015 Special Summit at Chequers debated various responses to Iran's now functional nuclear program and the final collapse of the Eurozone; it may have been the conference's most competitive committee, featuring many Head Delegates and MUN all-stars. The delegates of the historical 1947 India-Pakistan JCC discussed how to build and secure their newly formed governments and countries in the wake of independence and partition. Delegates represented North Korea, South Korea, China, and the United States in a 1972 summit on reunifying the Korean peninsula. And the 2013 Executive Cabinet of Venezuela, conducted completely in Spanish, fervently debated potential coups and Constitutional crises following the death of Hugo Chavez.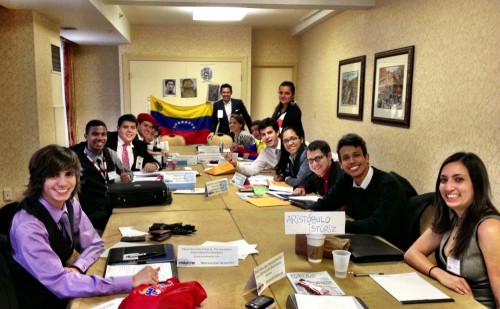 The Best International Delegation award went to Universidad Católica Andrés Bello from Venezuela. United States Military Academy at West Point was recognized as Best Small Delegation and The University of Chicago received the Outstanding Large Delegation award. And the The University of Pennsylvania MUN team swelled with emotion after being announced as the Best Large Delegation:
Among US-based delegations, strong performers included Yale University, which received many of the Best Delegate awards in the General Assembly committees, Florida International University, George Washington University, Emory University, New York University, and University of Miami.
Among international delegations, Venezuela was very well represented with Universidad Metropolitana, Universidad Central de Venezuela, Universidad Simon Bolivar, and Universidad Catolica Andres Bello Guyana taking many awards back to their country in addition to USB's delegation award. Dutch Model UN powerhouse United Netherlands performed very strongly and received multiple awards.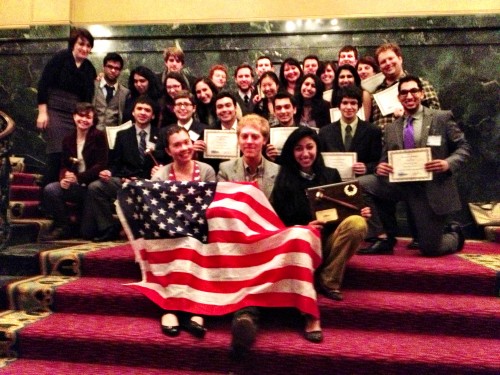 HNMUN has a reputation for being a really intense conference, with hundreds of students in suits sitting in circles out in the halls of the hotel, crafting resolutions round the clock and meeting in the early morning to merge them. The conference is also known as very competitive, between having such large committees that can pass only one resolution on a topic, and also having many Best Delegate-ranked World Division teams in attendance.
At the same time, delegates spend months preparing for this conference, and on this weekend, their hard work finally pays off. The international delegations, in particular, have to travel thousands of miles and fundraise thousands of dollars to come to the conference (and some of them come from countries that don't even deal in US Dollars).
HNMUN is about more than the intensity and the competition — it is the culmination of months of drive and dedication and passion and planning. And it comes from both sides of the dais — delegates pour their heart into attending this conference, and the staff puts a lot of heart into organizing it. HNMUN really brings out its participants' passion for Model United Nations.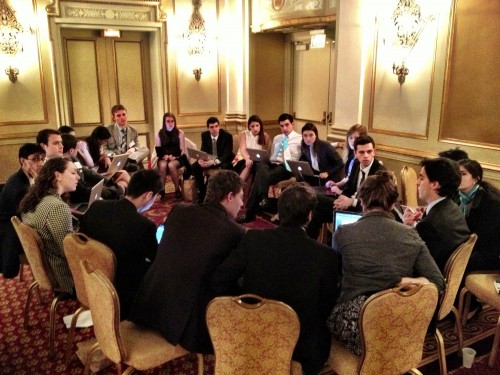 Thank you to Gillian for inviting me to the conference, and special thanks to Keren and the Delegate Relations team, who were very helpful throughout the weekend and allowed me to share their photos on Facebook.
For pictures and media of the conference, check out the HNMUN Picasa Album and Press Corps site, as well as the Best Delegate Facebook Album.
Congratulations to all delegates, staff, and advisors on a successful weekend!