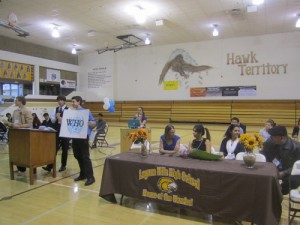 Over 500 delegates attended today's Laguna Hills High School MUN Conference. Delegates came from Orange County and Los Angeles high schools, including Mission Viejo, Tustin, El Toro, Santa Margarita, Capistrano Valley, Mater Dei, Crespi, University, Junipero Serra, and Los Alamitos.
LHHSMUN featured 18 committees, half of which were crisis committees, including an "Edge of War" committee that was simulated using the board game "Diplomacy." The conference was led by Secretary-General Sanam Ghaneeian and advisor Carri Geiger.
Also, special thanks to Best Delegate intern Jessica Shin for helping me blog the conference! Check out our pictures below!