Back in September, KFC and I taught MUN workshops at the Qatar Leadership Conference and at schools around the Middle East region. Last month, we were invited back to the Middle East to teach "MUN Training Camps" in Jordan and Qatar. Between camps, we had one-in-a-lifetime experiences seeing Petra and the Golan Heights. And along the way, we discovered why a part of the Middle East is called "the Promised Land."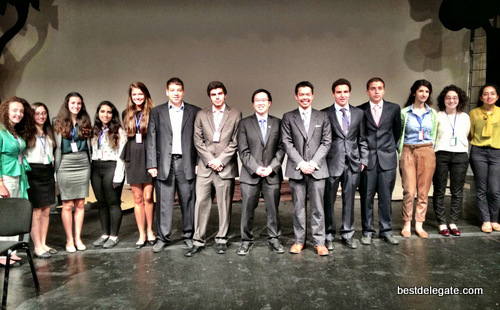 Jordan: The A-mini-MUN Conference at Amman Baccalaureate School
In Jordan, KFC and I worked with the MUN program at Amman Baccalaureate School, led by advisor Peter Carrigan. We helped ABS students prepare for their inaugural A-mini-MUN, a one-day local conference designed to introduce delegates to MUN, which was organized by student leader Jude Shammout.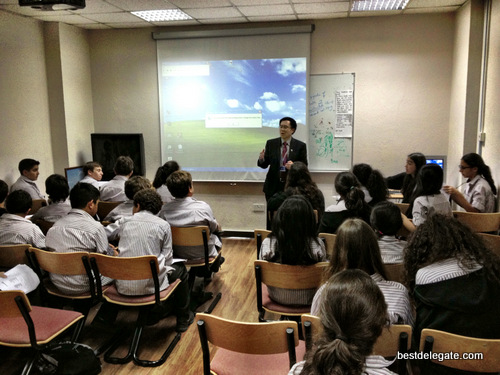 Prior to the conference, KFC and I worked with ABS' 8th grader students on resolution writing and lobbying. We also worked with ABS' 9th, 10th, and 11th grade students on officer training and chairing. We asked students to identify what distinguishes good chairs from bad chairs, and we focused on how to be professional and deliver a high-quality MUN experience. We asked students to see themselves as teachers placing themselves in the service of fellow students.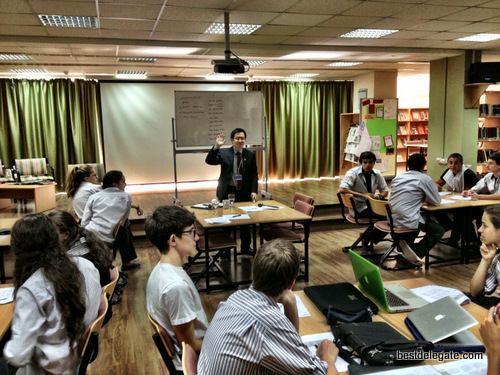 KFC and I opened the A-mini-MUN conference as keynote speakers. KFC spoke on the Importance of the United Nations, presenting the history and structure of the UN. KFC also described the UN's work and major successes in Peace & Security, Human Rights, and Sustainable Development.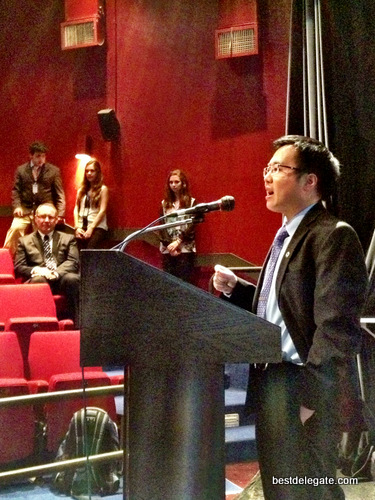 I spoke about MUN at US Universities, as many of the delegates in attendance wanted to go to college in the States. I described how university-level MUN is very different in the US; for many college students, MUN is a competitive sport and committees can be very creative, sometimes having nothing to do with the UN or even modern-day international affairs. Jaws dropped when I described the "Paradise Lost" committee at Yale's college conference, where angels and demons, chaired by Jesus and Lucifer, debated the nature of mankind and battled for the souls of Biblical civilizations.
The all-day conference went very well and served as a great introduction to MUN for delegates, as well as good practice for chairs and student officers. Other local schools were in attendance and teachers had opportunities to discuss best practices for their MUN programs and brainstorm ways for building MUN in the country.
Qatar: The MUN Training Camp at Qatar Academy
In Qatar, KFC an taught an MUN Training Camp at Qatar Academy, led by THIMUN Qatar Director Cameron Janzen. We worked with students from around Doha, including students from Qatar Academy, Qatar Canadian School, and Qatar Academy Sidra.
The camp was 3 days long, and on the first day, we worked with students on understanding the rules of procedure, resolution writing, and lobbying. We also worked with students on how to organize their public speeches so as to make maximum impact given the short speaking times that are typical of MUN conferences.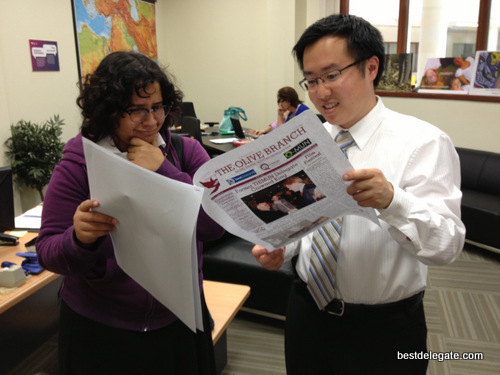 On the second day, we introduced students to college-level research methods, including how to compile research binders and write policy statements and position papers. We also gave an overview of the United Nations, including its history and structure, as well as how the UN is funded and how solutions in MUN should be funded (hint: it's not through NGOs!). We went through exercises on "framing," critical thinking, and how to use Socratic questioning to improve ideas and resolutions. And we assigned countries and prepared students for the topic of our own mini-MUN conference, the non-proliferation of nuclear weapons.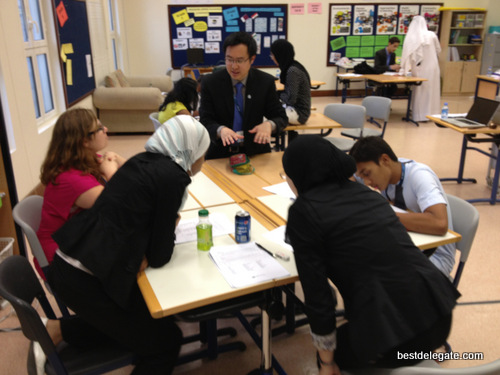 The third day was an all-day MUN conference. Students put into practice the lessons and skills that we taught them over the past 2 days. Many started organizing their opening speeches according to the structure they learned on the first day, and that made a dramatic improvement in their public speaking. Students also used our critical thinking framework to ask pointed questions, identify possible weaknesses in resolutions, and draw up potential improvements.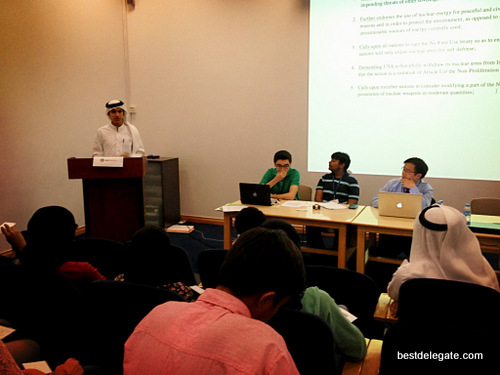 The training camp was very successful. According to one student, "I would definitely recommend the training camp to others because not only does it help new delegates, it helps people who want to initiate MUN in their schools. I would definitely like it Best Delegate came back to our school next year."
The Promised Land: Petra and the Golan Heights
Between our camps in Jordan and Qatar, KFC and I had a chance to travel around the Jordan and experience the region's beauty, both natural and man-made — and at many times, a mix of both.
Our first major sight was Petra. Many readers might know Petra from the final scenes of "Indiana Jones and the Last Crusade," where Harrison Ford and Sean Connery find the Holy Grail in the Valley of the Crescent Moon. Well we didn't find the Grail, but we did discover a sprawling desert canyon where Bible-era civilizations carved out a home among the barren rock and sand.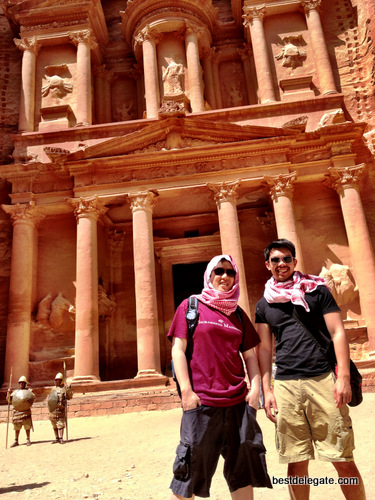 We also met up with Lisa Martin, Executive Director of Online Model United Nations, which recently became the fourth branch of THIMUN. Lisa took us up to the north of Jordan, where our local guide took us past military checkpoints up to the border. In one sweeping view, we could see the Golan Heights, Israel, Palestine, Lebanon, and Syria. We stood on a hill overlooking the Sea of Galilee, with the town of Nazareth in distance, and right next to us, a cave where Jesus hid from persecution. Our guide took us down to the Jordan River, and we came to appreciate the importance of water to the region, and the potential for conflict over it.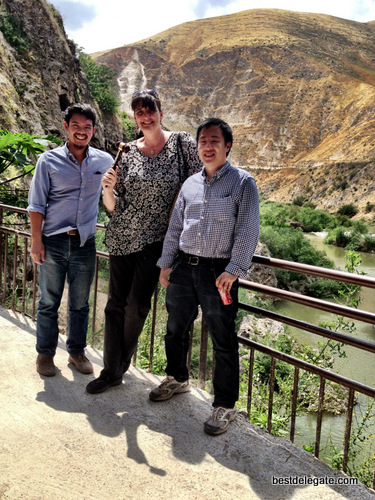 Driving through Jordan, I was mesmerized by the beauty of the region. I've never seen the sun break through the clouds and shine upon sloping cities and verdant valleys in the way it does there, as if the heavens were opening and God was reaching down to mankind. I can see now why they call it the Promised Land.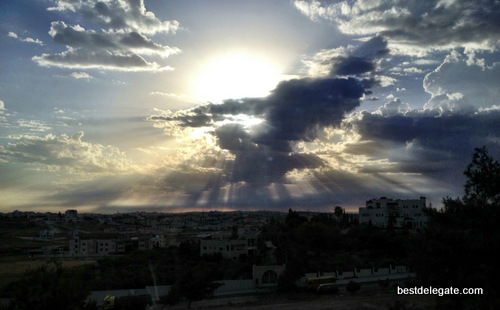 And I think there's a lot of promise for Model United Nations in the Middle East. From working with different schools and students throughout the region, to seeing the rise of conferences like A-mini-MUN, to the sweeping support of THIMUN Qatar, and the revolutionary vision of O-MUN, there is so much promise for what Model United Nations can do for students across the Middle East and around the world.