High School Conference Database: 2017-2018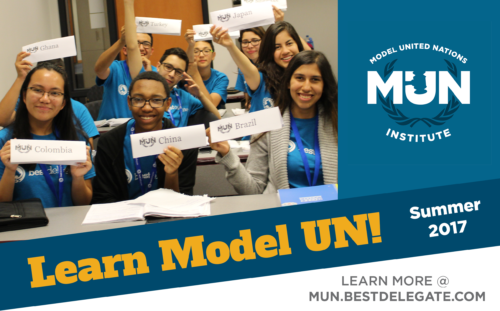 Is your conference in our database? If your answer is "no" then please read below.
Best Delegate does our best to provide the MUN Community with an up to date database of Model United Nations Conferences at both the Secondary (High School) and Tertiary (University) levels around the world. Feel free to search by geographic location (North America, Latin America, Europe, Asia, and World) and date. Additionally, feel free to use our conference database map to search for conferences based off of location. The google map can be filtered by month. Please note that dates are based on what has been announced on Conference Websites- if your conference is missing, or you'd like to change any of the information, just email conna@nullbestdelegate.com or fill out this form. Also please note that conference locations are based off of approximations on each conference's city.
This database is updated periodically and was last updated on August 31st, 2017.
Middle School students interested in attending a High School conferences can often get permission by emailing the Secretariat of the conferences they wish to attend.
Conferences may publicize themselves by writing an article that shares a success story or reflection about an experience from their conference. Please email the article and an accompanying photo to conna@

null

bestdelegate.com.
We have recently added two new tabs on the conference database for Middle and Elementary school conferences. Over the coming months we will be updating this section. Please indicated if your conference is a Middle or Elementary school conference on this form.
Need more information on how to figure out what kind of conference would be good for your team? Check out our article on How to Select Conferences to Attend!

Having a hard time finding the conference you're looking for? Go to the "World" tab, and use the find feature to search for your conference! (Command+F for Macs, Control+F for PCs).
High School Conference Database 2017-2018